Hyperautomation Overview
According to a leading analyst firm, by 2024, organizations will lower operational costs up to 30% by combining hyperautomation technologies with redesigned operational processes.
While enterprises embarking on RPA journeys showed initial signs of success, automation programs at some point reached a saturation level. The key reason for this was enterprises lacked a strategy to scale automation. Automation was seen as a tool to achieve short-term wins rather than as an end-to-end automation approach.
Today enterprises are moving from tactical routine automation to 'hyperautomation', which is more impactful in the long term and utilizes AI, ML, and DigitalOps tools for a more holistic approach.
At Infogain, automation is more than just about technology. Infogain has managed company-wide RPA programs at billion-dollar companies. We deliver performance transformation through the integration of multiple automation toolsets, processes, and technologies. Our Hyperautomation Practice is based on the tenet of driving outcomes and providing end-to-end automation that addresses desired KPIs.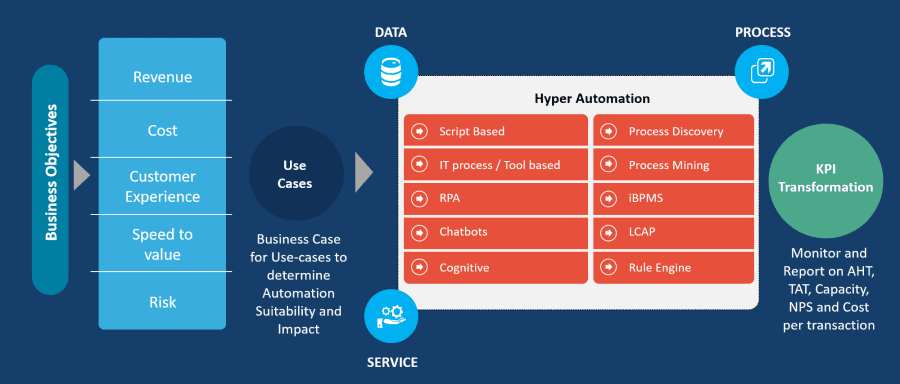 With our industry experience, we have established an Automation@Scale framework, that includes proven approaches, methodologies, toolkit & templates, best practices, and knowledge base.
Request Info
Hyperautomation Solutions
Infogain Advantages

Automation on Google Cloud
Among the first to implement automation solutions on Google Cloud

Automation on Google Cloud
Among the first to implement automation solutions on Google Cloud
Certified Experts
150 trained and certified automation experts
Certified Experts
150 trained and certified automation experts

Automation Lab
State of the art automation lab with multi-domain and process optimization experts

Automation Lab
State of the art automation lab with multi-domain and process optimization experts

Repository
Repository of artifacts with best practices and checklist

Repository
Repository of artifacts with best practices and checklist

Experience
Project experience on different RPA ecosystems: Automation Anywhere, UiPath, BluePrism, Microsoft Azure, Google Cloud

Experience
Project experience on different RPA ecosystems: Automation Anywhere, UiPath, BluePrism, Microsoft Azure, Google Cloud
Automation on Google Cloud

Automation on Google Cloud

Among the first to implement automation solutions on Google Cloud

Certified Experts

Certified Experts

150 trained and certified automation experts

Automation Lab

Automation Lab

State of the art automation lab with multi-domain and process optimization experts

Repository

Repository

Repository of artifacts with best practices and checklist

Experience

Experience

Project experience on different RPA ecosystems: Automation Anywhere, UiPath, BluePrism, Microsoft Azure, Google Cloud