Posted on :

March 28, 2019
Industry :

Corporate

Service :

Blogs

Type: Blog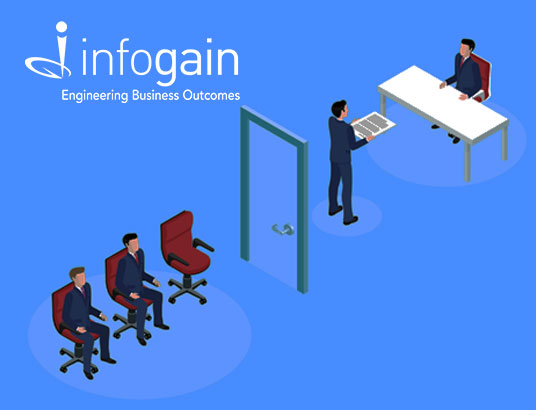 Authored by Neeraj Mehra, General Manager – HR, Infogain
Are you a recruiter, involved in helping candidates look for a job change? Or perhaps an IT executive with key openings on the team? We know that going through rounds of interviews is not comfortable – for interviewees as well as for recruiters. Every candidate wishes for a kind interviewer who can help them sail through the process to get their dream role, the best brand, and the coveted offer letter.
The first hurdle of landing a good job is clearing an interview, with flying colors. In my career of over 15 years, I have been through some interviews and selection processes; many of them felt more like interrogations than an amicable course of gauging a candidate. It can be said that it felt more like a 'war of knowledge'.
Interestingly, 'Empathy' is one of the 4 critical Human Relations Skills (Communication, Empathy, Stress Management, Conflict Resolution) for putting people at ease, but often unintentionally neglected.
I believe that making the candidate comfortable is the most crucial step in the entire processes. It can be done by simple things like offering him water, ensuring that s/he is feeling at ease and feeling comfortable with the environment. Apologize if they have had to wait and appreciate their effort in applying for a position in your company, letting them know that you value their time. One can engage with the applicant with a casual conversation about the company, introducing yourself and your role. This not only acts as an ice-breaker but makes for a good first impression. It also reflects upon your open culture, empathetic attitude towards people and boosts your employer band. However, there is a caveat here: one should not brag – it is best to talk with humility about oneself, showcase the brand with a futuristic vision, be nimble and crisp.
Now, you can brief them on the role being offered and the expectations from it. If required, an overview or the structure of the team can be given for more clarity.
Over the course of a structured set of questions, try to learn about their journey, their attitude in different situations, and make the interaction conversational rather than one-sided or interrogative. Give ample opportunity to the candidates to express themselves by asking open-ended questions (relevant to the position). Asking situation based questions may widen the scope of gauging their competencies, strengths, and weaknesses. Watch out for inconsistencies, if any!
Ensure that you give relevant feedback during or after the discussion. This helps the candidate in improving himself, irrespective of the fact that they are selected or not. This, I feel, will set a person apart from others, as most of the times candidates end up following up for any kind of response (let alone feedback), especially when they are not selected. Even if a candidate doesn't get a job offer, they may still feel good about a company that treated them well. They will always value words from a more experienced person across the table, which may aid him in future interviews or prospects.
I like to sum up the discussion and thank the interviewees for their time.
We, at Infogain, believe in ensuring a structured module of conducting an interview, exhibiting our core values when we meet people, for as they say first impressions are everlasting!
We are always looking to add more recruiters to our team if you agree with our beliefs, mail us at info@infogain.com.