Posted on :

March 31, 2019
Industry :

Digital and High Technology

Service :

Data & Insights

Type: Blog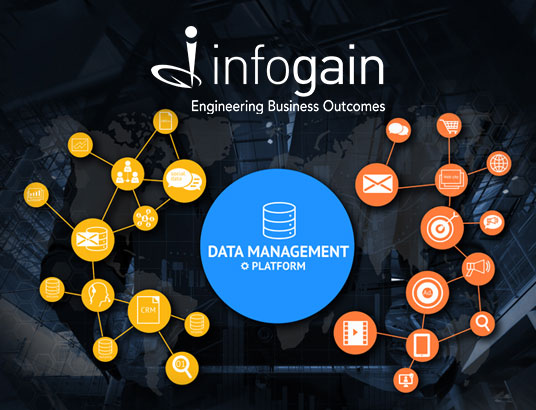 Authored by Sanjay Hooda,  Business Advisor
DMP or "data management platform" aggregates all kinds of data from various sources, including online, offline or mobile sources, by allowing users to access that data in various ways. The core idea behind a DMP is that businesses must be able to take advantage of diverse kinds of information from a variety of sources and collect that information in one central place in order to attain the business intelligence that truly benefits the enterprise.
DMP acts as a thread between a CRM, data vendors, and websites to deliver targeted content to customers and "look-alikes" around the Web.
DMP can be used for targeted advertising to customers and their look-alikes, and segment people with particular demographic or behavioral attributes. Running on the ad tech platform, DMP is to digital advertising what engines are to cars. They help forge better personalized content served on websites, emails, mobile apps and informs call center scripts. Research indicates 80% of consumers are more likely to make a purchase when brands offer personalized experiences. DMP helps companies to nurture existing customers and find new ones. According to Gartner, by the end of 2022, data management manual tasks will be reduced by 45 percent through the addition of ML and automated service-level management.
DMP can be instrumental in streamlining search campaigns by adding a layer of efficiency in several ways:
Optimized Messages and Bids for High Value Audience
Traditionally when launching a targeting campaign all searchers are treated equally. The performance report will not distinguish between someone who already researched the product and general search. In this instance, a DMP can help identify and approach these customers differently. With DMP, brands can bid on these high-value audiences that are rich with data – website visits, calls, queries, etc. by prioritizing the budget or creating different campaigns for different audiences.
Bridging the Online & Offline Segmentation
One challenge often faced when launching a search campaign is that once a prospect shows interest, there is a lack of knowledge on their offline activities. A DMP can be instrumental in the creation of campaigns that follow from website to offline experiences.
Adding Cross-Device Insights
When searches no longer have a single point of entry or continuity and has been spread across devices – laptops, mobile, tablets; mapping a customer buying journey can be tedious.
DMPs are handy in connecting users to their various devices, through both deterministic and probabilistic methods. This methodology is more transparent and gives advertisers control, compared to search engines that often don't disclose which signals or methods they are using to stitch devices together.
One Experience Across All Channels
Search as a channel is unique, low-funnel and high-intent, making the metrics very different from other digital channels. However, all advertisers want brand cohesion, where all their search campaigns speak the same language as display and social campaigns.
When these campaigns are being managed by separate teams, each operating with a unique audience database, this can be a challenging task. DMPs simplify this challenge by ensuring that the same audience definition is used across all marketing efforts.
The recent turn of event GDPR, concerns regarding privacy are paramount, since the data is better safeguarded. DMP can help by adding an extra privacy layer and privacy controls. A DMP will ensure that your data is only yours and help your brand with the insights needed to tailor your search campaign.
DMP has a use case for all kind of businesses and industries:
Industry/Business Type
DMP Use Case
eCommerce

Retargeting based on page depth

Time spent

Content consumed

Action taken on the site

Items added to the cart

Product value

Product sale value

Real Estate

Target audience in the CRM system based on email id/phone number

Collect email id of people who are filling out the form

Need to know which email ids are from our DMP

Financial Products
Targeting ads based on movement in the stock market index
Travel

Tracking the PNR number or booking number of the conversions on an airline site
Telecom

 

People who have landed on client's Facebook or YouTube pages

Targeting people whose plans are about to expire

Consumer Durables

 

Targeting users by appliances, which product did they add to cart etc.

Targeting people across Facebook and display who have visited the website, but not yet converted

Auto

 

Partnership with auto portals to pass on to audience (if we do direct deal with them)
B2B

 

Ability to find audiences that are similar to our current audience - HR professionals, CIO/CTO etc.
FMCG

 

Ability to target a demographic audience precisely. For example, female 25-35 accurately (DSPs also work with 70% accuracy)

How to achieve 90% accuracy by intersecting DSP targeting, third-party data & data from women oriented websites
Several data management platforms available right now:
Oracle BlueKai
Adobe
Lotame
Simpli.fi
Salesforce DMP
Synthio
ClicData
MediaMath (TerminalOne OS)
The Trade Desk
Mapp
Digital Journal has predicted 15% CAGR growth during the forecasted period and USD 3 billion by the year 2023. That statistic alone tells us that DMP may be the answer to the success of your future marketing campaigns, by helping to bridge cumbersome cornerstones. When you use data to inform and optimize search campaigns, brands can drive search campaigns that are relevant, interesting and informed.
Infogain helps Data Management executives and CXO's to achieve business objectives. We invite you to connect with us at info@infogain.com.