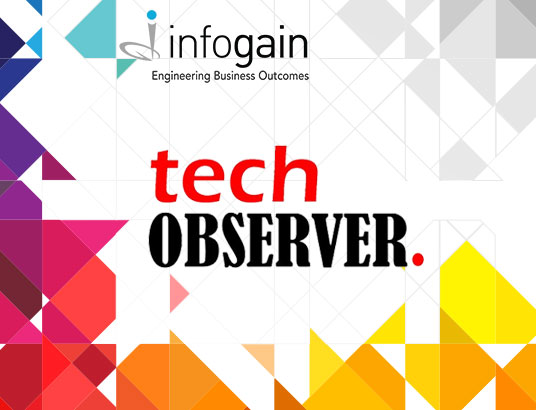 With proliferation of Internet of Things (IoT) there is significant traction in verticals like industrial manufacturing, automotive, retail, logistics, transportation, hospitality. With strong expertise in hi-tech, retail, travel & hospitality, and auto, medical insurance sectors, Infogain is keen to explore newer opportunities.
How do you look at AI and IoT space in India? What are the opportunities Infogain sees in this area?
Artificial Intelligence and Internet of Things go hand in hand. In fact one can say AI and IoT are inseparable as AI is transforms the colossal amount of data being captured by IoT devices, into actionable information.
With the ability of turning raw data into usable information, AI and IoT are set to sway all industries in a big way, influencing how we use or perceive consumer behaviours, productivity, and experience. The change will be experienced globally, and specially so in India. The adoption of IoT and AI in India will be more visible in the retail, manufacturing sector with industrial automation, power, and energy segments.
The supervisory control and data acquisition (SCADA) has been in use by industrial organizations to control industrial processes locally or remotely, monitor, gather, and process real-time data, as well as interact with devices (sensors, valves, pumps, motors, and record events into a log file. The IoT based sensors and decision management platforms will bring in better device interoperability easy, and bring forth 'Industry 4.0' the next industrial revolution. The impact in consumer driven areas will take a while before the whole ecosystem evolves and matures.
Infogain's core focus verticals are retail, travel & hospitality, insurance, and hi-tech manufacturing. In all these areas, we see opportunities in building smart enterprise software system, driven by AI. The emergence of IoT has created need to make computing platforms vastly distributed where micro-services based architecture is appropriate. At Infogain, we have been developing competency and assets to support enterprise software platform to process huge volumes of data with cognitive ability and make informed decisions anywhere, anytime.
At this moment, what are the key challenges with IoT?
Large scale implementation of IoT can be complex, it needs to be precision based, scalable, with a high adaptability, secure and finally flexible without being overtly costly. It has several layers, hardware infrastructure layers: data management layer, decision management and visualization layer. This requires various skills to build comprehensive IoT solution. Therefore, building a consortium of contributors with appropriate skill set in all layers of IoT value chain is key.
As IoT exists today, there are no set or unified standards, which further means there is limited interoperability of IoT solutions from one industry to another. Solutions have been custom built and are not scalable. With the lack of interoperability increased adoption of IoT shall create the need to focus on data security, adherence to data compliance, social and ethical issues.
IoT will not only create huge data but it will also increase number of devices. What is your view on their security. Will the security at chip level become key?
Security is not only a big but an obvious key issue. As IoT is a multi-layer ecosystem, data security becomes more complex. A comprehensive security framework should include device provisioning, data encryption, and secured access control algorithms at various layers of IoT.
Can you tell us about any real use cases of any of your clients where IoT has played significant role?
We have helped customers with our enterprise-ready software platform to convert sensor-based data into actionable information. We developed a device-driven mobile application with analytics, for continuous glucose monitoring. Similarly, we helped a large global ATM manufacturer to generate cognitive analytics based on sensor-based data collected from ATMs located in several parts of the globe.
What are Infogain's focus this year?
Infogain has been predominantly a product engineering company and are now focussing on platform engineering keeping the vision on "Engineering Business Outcomes". As part of the strategy, we are enhancing the enterprise software platform to support configurable AI, ML modelling, edge computing, and enhanced user experience (UX).
What are the key verticals where you see significant traction?
Industrial manufacturing, automotive, retail, logistics, transportation, hospitality are key verticals that will adopt IoT at a faster rate. We are focused and have expertise on High Tech, Retail, Travel & Hospitality, and Auto/Medical Insurance sectors.
IoT, in conjunction with AI and blockchain technology, enables a massively large connected-device network to drive better decision and control. At the same time, it's imperative for governments, regulatory authorities, and industry leaders in close collaboration to make IoT interoperable, secured, and compliant with data governance and regulatory norms.