Posted on :

November 30, 2019
Industry :

Digital and High Technology

Service :

Hyperautomation

Type: Blog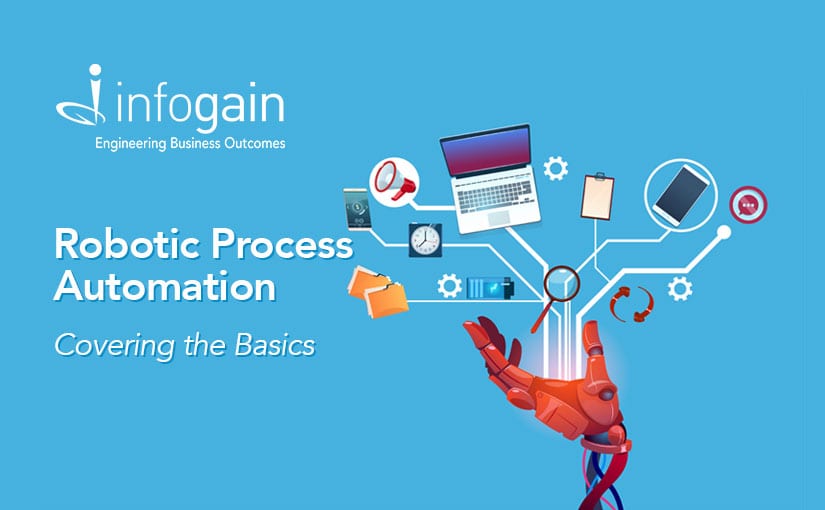 Robotic Process Automation (RPA) is a type of business process automation software that deploys robots to automate manual, repetitive tasks. RPA allows anyone to define a set of instructions for a robot or 'bot' to perform. RPA bots are capable of mimicking most human-computer interactions to complete a vast number of error-free tasks at high volume and speed. In simple terms, Robotic Process Automation frees employees to focus on more interesting and challenging human centered work.
RPA has proven its ability to deliver meaningful results and is leading to an era of Intelligent Automation through the integration of AI/ML. Some real-world examples and calculations of hours are saved with Infogain's Intelligent Robotic Process Automation, including:
PO Processing: 1300 hours per year manual effort reduction
Report creation and distribution: 3800 + hours saved per year
Monthly revenue reconciliation process: Reduction of 800 hours per year
Foreign exchange rate adjustments: 80% reduction of manual efforts
Month end close: Reduction of the process from 6-7 days to 8 hours
Purchase requisition workflow: Yearly saving of 14,000 manual hours per year
RPA technology provides significant benefits for organizations, including:
Lower cost of operations with cost savings of 25-30%
Enhanced precision and improved productivity by up to 80%
Uninterrupted business flow with non-intrusive, disruption-free RPA integration and implementation
Automated processes that minimize manpower dependency
Accelerated business value creation
Infogain delivers the expertise, tools, and frameworks to accelerate the digitalization process with RPA. Our holistic approach to automation includes end-to-end methodologies, process selection, ROI measurement, vendor recommendations, reusable automation frameworks, training kits, and launch plans.
Contact an Infogain RPA specialist here.
Case Study: Infogain deploys and integrates the RPA platform to Google Cloud, providing a robust platform for cognitive and on-demand automation. Read more here.