MS Ignite Conference 2019 - Recap
Posted on :

November 28, 2019
Industry :

Corporate

Service :

Cloud Services

Type: Blog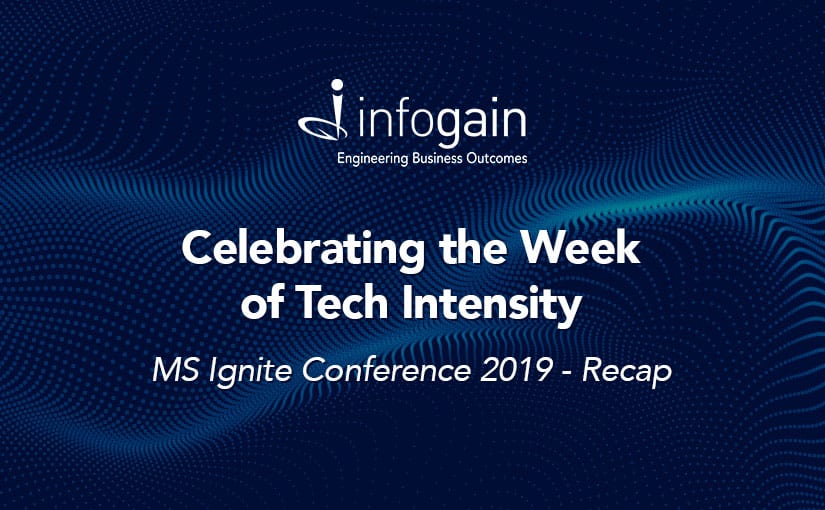 Authored by S. Ravi Kumar, Technology Advisor 
A couple of weeks ago, Microsoft had organized its weeklong annual conference for developers and IT professionals - MS Ignite, in Orlando, Florida. The entire conference was focused on celebrating the week of Tech Intensity. Satya Nadella CEO Microsoft described Tech Intensity as a mixture of 'Tech adoption,' 'Tech Capability,' and 'Trust.' This is set to empower every person & organization to achieve more and transform an organization into a technologically advanced company.
The conference was packed with new announcements across all of Microsoft's offerings, along with sessions that showcased the capabilities, features, and benefits of these new announcements.
Here are a few of the announcements from the conference that we are excited about:
New products in the Azure Stack Product Suite: Microsoft has expanded the Azure Stack product suite. Since Edge computing requires processing data closest to its source, the Azure Stack products help customers meet their Edge computing needs. During Ignite, following new products were added to Azure Stack Product Suite:

Azure Stack Hub: Azure Stack has been renamed to Azure Stack Hub. It allows you to run all Azure services such as serverless computing with Azure Functions, Azure Kubernetes engine to simplify containerized deployment, management, and many other Azure services on-premises in a connected and disconnected mode in user's datacentre.
Azure Stack HCIis a hyper-converged Windows Server 2019 cluster device that lets the user deploy high-performance VMs in their own software defined datacentre and connect to Azure for cloud services like Azure Backup, Azure Monitor or Azure security center, etc.
Azure stack hub rugged series is the expansion of Azure stack devices which provide all services of Azure stack services in extreme disconnected environments.

Launch of Azure Arc: Azure Arc is the new suite of services that gives enterprises a single platform for managing resources across their own data centers and large clouds - including Amazon Web Services and Google cloud. Along with extending the current features of Azure to local Azure Arc enabled datacentre, Arc provides the following new features:

Option to create single security policy to manage both Azure and local data centre resources.
Custom or default updates like regular Azure services.
Scaling up or down the local data center resources based on available capacity.
Geo-Replication services for copying one datacentre resources to another location or even on AWS.

Launch of Azure Synapse: Azure Synapse is a service for building and managing end-to-end data analytics. It's a mix of two data Integrations, data warehousing and big data analytics at cloud level. It provides the following services:

Integration that enables data capture from different services.
Ability to query data that is scattered in large scale relational and non-relational database.
Capability to run concurrent data queries on scattered data in large scale relational and non-relational databases.
Default integration of power BI in Synapse workspace to build power BI reports & enterprise semantic models.
Default integration of Azure data share in Synapse workspace, to ensure its secure inside or outside of organization.
Synapse supports a serverless query service and a cluster-based form factor to support both Apache Spark and ANSI SQL enabling all analytic workloads.
Default integration of Azure Machine Learning in Synapse workspace to manage machine learning models and predictions.

New Capabilities to current Azure Developer services: New capabilities have been added to the existing Azure developer services:

Dev Spaces connect feature in Azure Kubernetes Services.
Azure Security Centre is now integrated in Azure Kubernetes Services.
Azure functions now support development in .Net Core 3.0, Python 3.7, PowerShell and a new premium plan which gives no cold start feature to Azure functions to save initial load time.
App Service now provides free SSL certificates for its services.
Java developers can now develop SpringBoot based Java applications on Azure cloud.

Visual Studio Online General Availability Preview Announced: Visual Studio Online is an on-demand development environment in cloud accessible from any web browser. Apart from integration with Visual Studio Code desktop, its features include:

Support for all Visual Studio extensions
Live Share
Intellicode support
GitHub and Azure DevOps integration to create a dev environment on cloud on the fly

Project Cortex Announced: A new service in Microsoft 365 Services Suite, Project Cortex integrates Microsoft graph with AI to make the documents an interactive knowledge repository, it:

Automatically highlights new keywords in an email and creates wiki containing data related to the keywords.
Removes background noise in video from Microsoft video streams.
Shares whiteboard in Microsoft Teams.
Natural language search in Outlook.

Launch of Endpoint Manager: Microsoft is combining its ConfigMgr and Intune services that allow enterprises to manage PCs, laptops, phones, and tablets they issue to their employees under the Endpoint Manager brand. It is also launching several tools and recommendations to help companies modernize their deployment strategies. ConfigMgr users will also get a license to Intune to enable them to move to cloud-based management.
New privacy features in Chromium-based Edge browser: Microsoft's chromium-based version of edge will be generally available on January 15. The release candidate is available now. Several new privacy features have been added to Edge, including a newly enhanced InPrivate browsing mode. Edge's business users are likely to benefit from its deep integration with an updated Bing engine, which can now surface business documents
Microsoft has made available most the sessions from the conference online and they can be accessed here.
Watch out this space for details as we schedule a MeetUp session soon and share demos based on these new announcements.