Industry :

Digital and High Technology

Service :

Digital Transformation

Type: Blog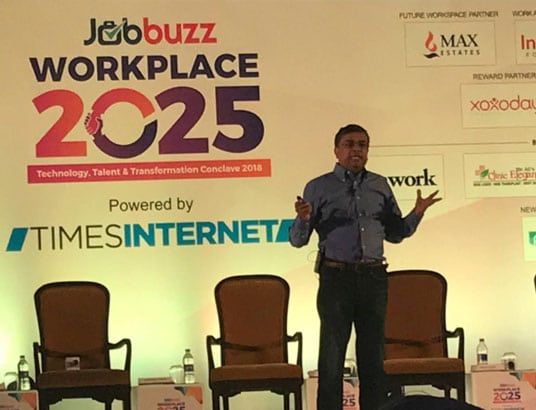 Have you ever imagined the future of work? Do you envision robots in workplaces and Artificial Intelligence replacing human tasks?  Which people skills will be valued most?
JobBuzz Workplace 2025: Technology, Talent & Transformation Conclave 2018 hosted India's leading CEOs, CTOs and CHROs to discuss how organizations must prepare for disruptions in recruiting, employer branding, employee engagement, learning, technology and the future workspace.
Ayan Mukerji, Infogain's President and COO, gave an eye-opening presentation entitled "The Impact of AI in Transforming Talent Management."
Here are key takeaways from the presentation:
What is driving the adoption of intelligence and automation? Cost.
Artificial Intelligence(AI):
Lowers the cost of Knowledge: With free and limitless access to data in terms of breadth of topics and depth (amount of data), the right use of information can enable desired intelligence in automated systems.
Lowers the cost of Compute:

Storage is drastically decreased from over 100K dollars per GB in the 1980s to 2 cents per GB in 2017
Processing: The rapid growth in computing power has enabled miniaturization of smart devices. Smart devices have more computing power than all of the computers combined in 1969.

Lowers the cost of prediction: Today, ML algorithms are widely accessible and free. TensorFlow is a leading open source library. AWS and Azure offer similar repositories.

How is skill linked to automation?

Think "Intelligence-driven, judgment-oriented".

Tarun Amarnath, a high school student at Saint Francis High School in Mountain View, CA, for example, worked on a model to diagnose schizophrenia using multimodal brain imaging data.

Numerical data collected from MRI and fMRI brain scans can be analyzed to determine whether a patient has schizophrenia without performing invasive surgeries or having a doctor present.

This study was published in Microsoft's Cortana Intelligence Gallery and has been viewed or downloaded by more than 1,000 data scientists around the world
The accuracy of this method is about 80%.

Describing Intelligence-driven, judgment-oriented process

All human activities can be described by five high-level components:
The Skill and Judgment Continuum in HR
Recruitment is more rules-based – minimum qualifications, years of experience and exposure to technologies. Another similar aspect is Reporting & MIS – for example, the number and types of leaves that can be taken vary with roles and by location.
Performance Management and Career Development are more dynamic and require exercising judgment, while also displaying sensitivity, as each employee's case is different from the other.
The Benefits of Automation in Talent Acquisition
Companies can realize huge savings when automating tasks that are rules-based and repeatable, such as sending notifications when leave has been applied for and approved.
The automation of each step in the process of talent acquisition saves both cost and people hours. The people hours saved can be used by HR teams to do more value-added work and/or work that requires creativity.
AI in HR: Who is using it and how?
There is a diverse customer base of AI in HR in a variety of industries, including media, aviation, apparel, telecom, hotels, and retail/e-commerce. Examples include:
HireVue

Video interviewing, scheduling and assessments
Customers: Hilton Worldwide, Unilever, Under Armour, Vodafone

Pymetrics

Quizzing candidates and employees, identify strengths and weaknesses, and match with certain types of jobs
Customers: Tesla, Unilever

InFeedo

Helps employees feel valued with predictive analytics; one example is of a bot that chats with employees and finds those who are unhappy or likely to leave
Customers: TimesInternet, Vistara (Indian airline), GE Healthcare, Makemytrip

ai

Primarily for technical hiring; coding assessments, personalized outreach (made possible with AI), video interviews
Customers: Facebook – also KPMG, TCS

Pomello

Quantifies culture; culture mapping, discover underlying motivations, identify at-risk employees, create customized KPIs
Customers: Hershey's – also Dolby, Evernote
How is Digital Disruption impacting the Talent Management Process?
The Impact of AI in Transforming Talent Management – Case Studies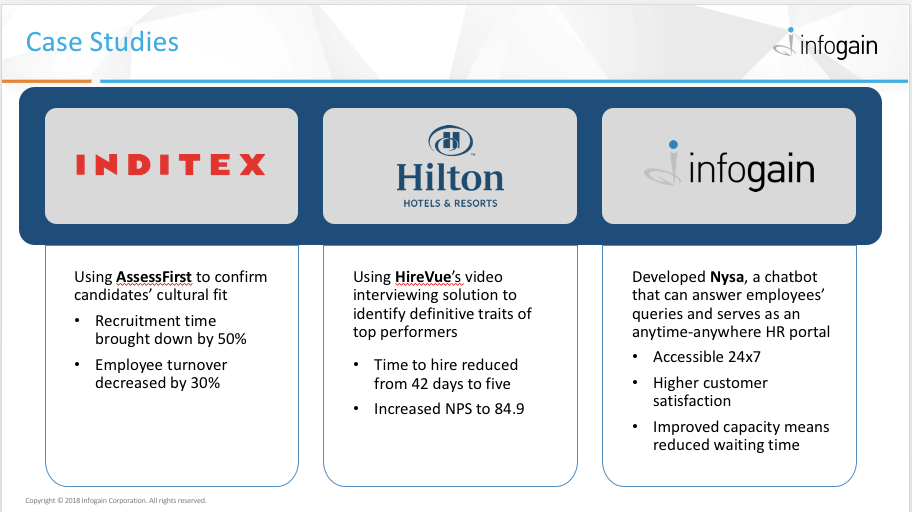 How can your business benefit from AI for Talent Management?
Those interested in further discussions on this can contact us at digitaltransformation@infogain.com.
Infogain (www.infogain.com) provides front-end, customer-facing technologies, processes and applications that lead to a more efficient and streamlined customer experience for enterprises in the US, Europe, the Middle East, Asia Pacific and India. Offering solutions for the high-tech, retail, insurance, healthcare and travel & hospitality verticals, Infogain specializes in areas such as software product engineering, digital service automation, cloud, mobility, testing and business intelligence & analytics. The company has 9 delivery centers and close to 4000 employees globally. Infogain has a customer retention rate of 90%+ over a five-year period.