Posted on :

November 11, 2020
Industry :

Corporate

Service :

Corporate

Type: Blog
With the rapid adoption of Cloud, CIOs of large organizations with on-prem legacy applications are at a critical juncture. They must show courage and pull the trigger on a complete overhaul of their legacy platforms. Only companies with such fearless CIOs will be able to compete with new age cloud-first companies, and failure to do so will reduce the ability of companies to scale new services and offerings with the ever-increasing customer demands.
Temporary solution and the challenges posed:
A common misconception around cloud strategy is that its main driver for adoption is the cost advantage it offers. However, cloud adoption rose to prominence because it helped companies respond to consumer demands faster.  Early adopters were organizations that wanted to respond quickly to changing customer demands for example for retailers to meet increased demand during the crucial fourth calendar quarter. Today adoption of Cloud is inevitable, with nearly all organizations looking to migrate applications to the Cloud.  However, there is a caveat; the existing business applications were created using the traditional IT paradigm, and as a result, these applications are typically monolithic and configured for fixed/static capacity in a few data centers. Simply moving them to the Cloud will not magically endow them with all the dynamic features of the Cloud.
Our observations show, that there is a general desire to opt for an architecture that keeps core systems on premise, for example legacy mainframes or core ERP and supply chain applications that are too risky to move as they are core to the business operations.  However, microservices can be developed and exposed through API Integration Layer to connect these core applications to cloud services.
As customer and user demands change, more changes in the architecture will be needed, and at some point, such changes will make the whole system untenable. Many enterprises are stuck. They are supporting both their inefficient, traditional data-center environments and their inadequately planned Cloud implementations that are not easy to manage nor as cost-effective as they were perceived.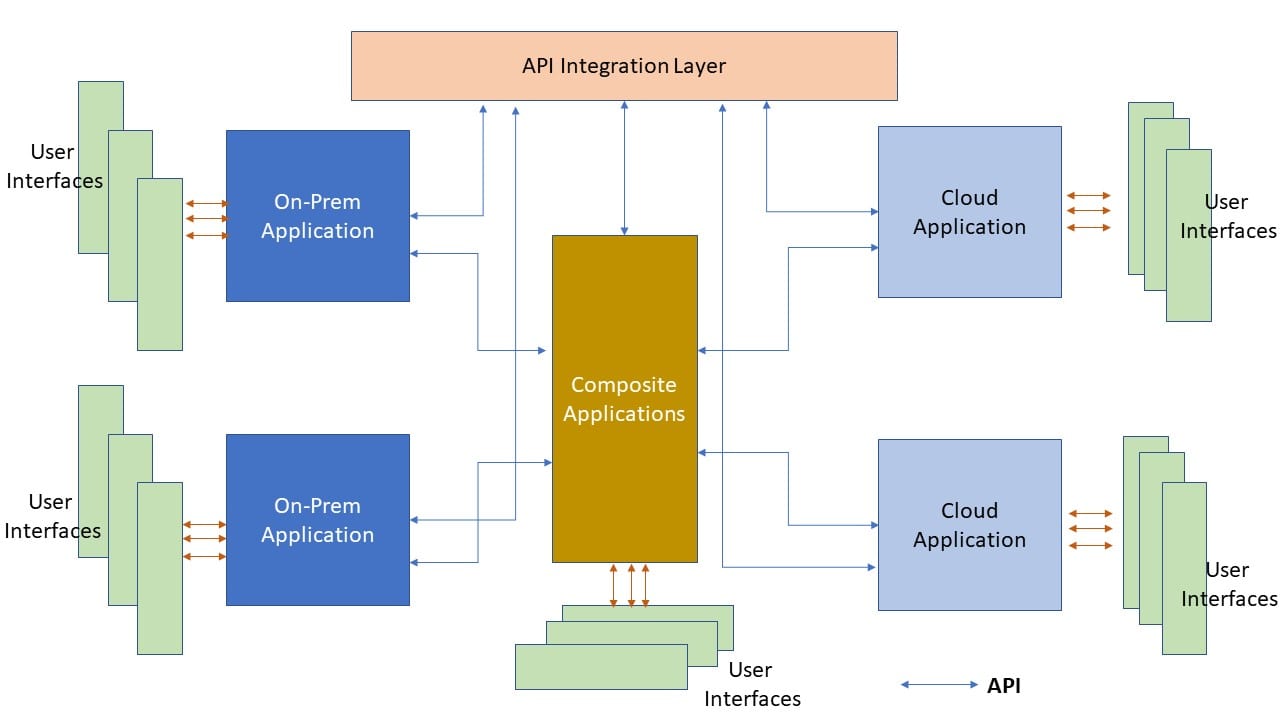 Cloud-first companies are challenging legacy organizations:
Many newer companies are cloud-first companies, and they may eventually overtake older organizations purely because they will be able to respond to customer demands faster. CIOs of established organizations therefore need to step up and show the courage to look at completely overhauling their internal systems, while considering that they must not overly disrupt business as usual, through an orderly approach that involves "No Big Bang".  CIOs will need to look at their internal systems dispassionately or invite a third-party consultant to chart out this journey. This starts with first rationalizing an IT portfolio, including retiring legacy applications that can be replaced with more modern, and cheaper, SaaS offerings, that are cloud native. Another approach is 'Servicification, ' leading to 'Cloudification'(Moving a service to the Internet or the Cloud). While embracing the Cloud can have a significant upside, it requires substantial investment in a multi-year journey. For this reason, such a transformation approach needs active commitment from all at the C-Level with a clear mandate given to the CIO and his/her team.
CIOs who have shown the courage: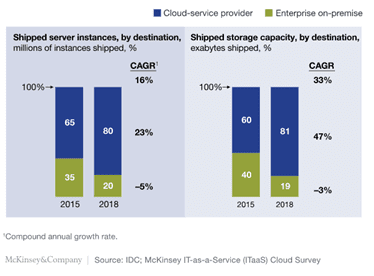 The inset diagram shows how compute and storage demand is moving to cloud services providers and away from enterprise on-prem. Netflix is one of the most known examples of this kind of commitment to and investment in the cloud-enabled, next-generation infrastructure. It spent seven years on its transformation, adopting a cloud-native approach, rebuilding all its technology, and restructuring the way it operated. As a result, service availability has increased, nearing the company's stated goal of 99.99 percent uptime. This approach has helped Netflix reduce their streaming cost to a fraction of what it was in their own data center. Spotify, which initially chose, for strategic reasons, to have their own IT infrastructure systems, is now opting to move to the Cloud to leverage the scalability and the higher-order functionality it offers. Spotify and Netflix are not the only examples; many well-established enterprises have realized this and are making this commitment too. Maersk is migrating its legacy systems to reduce the cost and operational risk while leveraging advanced analytics to streamline operations. Another company migrating computing and storage capacity to a public cloud is GE Oil & Gas, while Capital One is running its mobile application on AWS.
How can service companies help:
IT Services and engineering companies have been supporting CIOs and CTOs in this journey. This often starts with a workshop that leads to roadmap planning including performing a technology portfolio rationalization. The teams conduct workshops to identify how to make this journey in a phased manner. Generally, such exercises will help get a dispassionate view on how to rationalize the company's application portfolio. What applications can be retired, what can be replaced with SaaS solutions, what can be migrated as is or with some degree of modifications or that must be re-written. This exercise will help to come up with a clear cloud enablement roadmap design that also meets business and ITs needs, including meeting security and compliance needs. We are also helping CIOs re-architect their legacy architectures, delivering microservices based architectures to meet future scalability needs.
The Final Word:
The companies that will succeed in the next decade will be those whose CIOs who dared to steer their organization to become cloud-centric companies, but did it in a strategic approach that involves no big bang, and engage a partner, such as Infogain, to take them through their journey.
For questions and comments, or to speak to an expert, contact us
here
.