Posted on :

February 27, 2020
Industry :

Corporate

Service :

Robotic Process Automation

Type:

News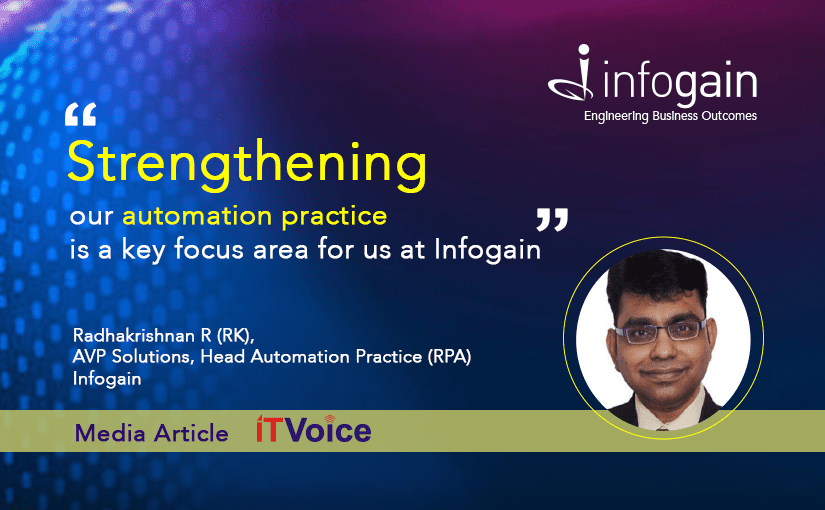 In an exclusive interview with ITVoice, Mr.Radhakrishnan R (RK), AVP Solutions, Head Automation Practice (RPA), Infogain, reveals his strategies for business in India.
Nisha Harshwal: How has the adoption of RPA technology in the Indian market been? Which vertical industries are the early adopters?
Mr.Radhakrishnan R (RK): According to the Economist Intelligence Unit's survey, 86% of the Indian respondents confirmed they were satisfied with automation technologies; business leaders expect their company's financial results to improve as a result of automation. And the exciting part, RPA in India, is still teething! In the coming years, India will present itself as a goldmine of opportunities for RPA.
With this potential and the emergence of multiple service providers, RPA will soon find its way into organizations across a wide spectrum of industries. This is an era driven by improving customer experience, and it would be fair to believe that the local markets will soon be brimming with the need for customized RPA solutions to deliver on convenience, accuracy, productivity, speed-to-market, etc. Also, the evolution of RPA will see it scale and expand across organizations regardless of their size.
As per a recent report by Forrester spends on RPA tools will reach $1.5B globally in 2020. Additionally, according to a recent market study by Kenneth, the RPA market in India will see a 20% CAGR growth between 2019-2025. Companies in the tech-driven future will need RPA to flourish and prosper. While the BSFI sector is currently the frontrunner in the implementation of RPA, there is immense potential in sectors such as Telecom, BPO, Travel & Hospitality, Insurance, and Manufacturing.
Nisha Harshwal: RPA is a niche segment and requires specialized skill sets. How much of your focus is on up-skilling and re-skilling in this technology?
Mr.Radhakrishnan R (RK): Strengthening our automation practice is a key focus area for us at Infogain. With our continued efforts, we have recently earned Automation Anywhere's Gold Partnership in October of 2019. Furthermore, Infogain is also Automation Anywhere's designated Centre of Excellence.
According to a recent TimesJobs survey on the 'Future of Workforce,' 85% of survey respondents to the survey think that automation will make the future workforce more competitive. And, 65% of companies integrating AI and such tech are also reskilling their employees. With such growth, focus on training has become more centered too.
At Infogain, employees are offered training sessions conducted with the support of our partner networks and RPA vendors. We provide training & certification in RPA to our employees, cross-training them in a whole suite of automation technologies as well as other complementing technologies needed to provide a holistic automation solution to our clients. This includes training with support from a partner, hands-on training at our labs, getting certified through our internal certification program to ensure they are ready for real projects. These programs ensure that our engineers are up to date with the technology, which gives us the edge to be agile and competitive.
Nisha Harshwal: What are some of the challenges that could occur during an RPA deployment at a customer end?
Mr.Radhakrishnan R (RK): The implementation of any new technology at scale could potentially stir up a storm and leave several issues in its wake. Companies need to be ready to tackle multiple challenges that may occur through the deployment phase. While some problems may be basic, some may be unprecedented and could derail the entire activity. Careful assessment and planning is required to wade through such issues that may arise due to various factors like the specific tool to be deployed, a task to be closed, expected results, etc.
Over the years some of the issues we have seen are-
Lack of resources and local support for the implementation
Identifying misfit processes for automation
Ownership and decision making
Unrealistic Client expectations
Infrastructure and platform related issues
Realizing the benefits as anticipated
Resistance to new technology
Nisha Harshwal: Please share some of the use cases/sectors where you have already deployed RPA solutions?
Mr.Radhakrishnan R (RK):At Infogain implemented and deployed solutions for our clients across domains that include – Retail, Insurance, Hitech, Travel & Hospitality.
Across these industries, some of the processes that we have automated for our clients include:
Travel & Hospitality
Competitor pricing analysis
Guest data processing
Payment processing
Property Onboarding
Banking & Finance
Reconciliation
New business quotes
Application processing
Closing policies
New account verification
Data validation
Customer account management
Financial claims processing
Report creation
Form filling
Change of address
Loan application processing
Order to Cash
Procure to Pay
Insurance
Claims processing
New account creation
Renewals
Policy Administration
Retail
Inventory Control
Compliance and Audit
Loyalty and Rewards Programs
Human Resources
Employee Onboarding and Offboarding
Travel Expense Mgmt.
Employee Credential Mgmt. and System Access
Nisha Harshwal: What kind of handholding is required in terms of training and enablement for the deployment of the solutions?
Mr.Radhakrishnan R (RK):Partnering with an expert is the most advisable way to deploy RPA in a business. An expert service provider can help integrate automation with minimal intrusions to a workflow. By creating a detailed roadmap and by clearly outlining the roles, responsibilities, plausible risks, and mitigation techniques, the partner can provide holistic support through the process and can even offer training and support.
To maximize benefits that can be realized from RPA and set realistic ROI objectives for the business, it is advisable to review processes after deployment periodically.
To maximize RPA benefits and set realistic ROI objectives for a business, it is advisable to review processes after deployment periodically. RPA as a tool needs to be regularly mapped, managed, and recalibrated to ensure success post the preliminary implementation. This is an on-going process. A partner can help with the monitoring of the solution, all the while seamlessly onboarding and training internal teams and personnel.
Nisha Harshwal: How have you geared yourself to address the growing market opportunities?
Mr.Radhakrishnan R (RK):We have a dedicated CoE (Center of Excellence), with an expert team along with other support functions teams that enables us to help and address our customer's problems. We offer a full spectrum of automation services, including enterprise integrations, to help achieve operational success with improved productivity for our clients.
Infogain's automation practice comprises expertly trained and certified developers, and our team consists of subject matter experts, analysts, modelers, developers, data analysts, and architects. Building capacity and capability of our teams to meet our customer demands even at short notices.
In the age of growing demand for automation solutions, our holistic training and hiring, programs, and our lean and agile business model will help us serve our customers better. In addition to this, we are working with industry leading vendors and partners such as UiPath, Automation Anywhere, and BluePrism to offer all possible automation solutions to our clients.
Nisha Harshwal: What are the critical factors to successful deployment of RPA at the organizational level?
Mr.Radhakrishnan R (RK): Industry 4.0 is heavily dependent on automation today. Businesses are increasingly integrating technologies like RPA into their machinery and process to help drive efficiencies to the last mile. The need for automation is undeniable. For growing companies, deployment of automation will soon mark the difference between success and failure. Yet businesses must pace themselves when looking to implement RPA. Planning plays a huge role in the overall process. It is essential to weed out the uncertainties and chart the purpose, method, and end goal to ensure that automation works for the company. When it comes to large scale changes, 'Planning trumps Pace.'
Finesse and preparation are the only ways for implementing RPA in real-world enterprises. Some considerations to keep in mind to ensure success are:
Strategy first, it is vital to have the right strategy that aligns with the organization's goal and objectives, before starting an automation program
Setting up and operationalizing a Center of Enablement (CoE)
Alignment of Business and IT
Institutionalizing an effective change management process
Nisha Harshwal: Any key trends in RPA that will be seen in the coming year?
Mr.Radhakrishnan R (RK): With the evolution of new-age technologies continues, AI and automation will be strong drivers of business in the years to come. Organizations will need to integrate RPA solutions to build capabilities to offer better customer experience and value. The RPA market is set exponential growth in the coming years. It will soon shed the tag of 'new' technology and become an essential tool for all companies, helping them forge through the next phase of growth.
We will notice a few key things happen-
Companies looking to explore AI will start with RPA as the primary touchpoint and the entryway to other automation technologies
Till now, companies have experimented with RPA without a guarantee on investment, but it is set to turn into an investment driving ROI for the companies in the next phase of adoption.
RPA will be used as part of more massive automation machinery that will complement and support other digital technologies aiding in the digital transformation of the enterprise
Model of operations with service providers will shift, and demands for outcome-based engagements will increase
Nisha Harshwal: Going forward, how are you looking to capitalize on the growth that you are witnessing in this domain?
Mr.Radhakrishnan R (RK): Robotics Process Automation is a stepping stone for companies when it comes to embracing automation. So, we are focused on building comprehensive automation solutions for our clients to help them achieve their goals and address their specific business needs. The second wave of automation is right around the corner. Soon we will observe the integration of cognitive elements and smart automation techniques that will be an expansion of the basic functional automation. We are currently in the process of going to the market with the next level solutions and offerings and are therefore making significant investments in this space.
This is an interview with Radhakrishnan R by IT Voice, to view the original article, follow this link.