Posted on :

February 26, 2020
Industry :

Travel and Hospitality

Service :

Corporate

Type: Blog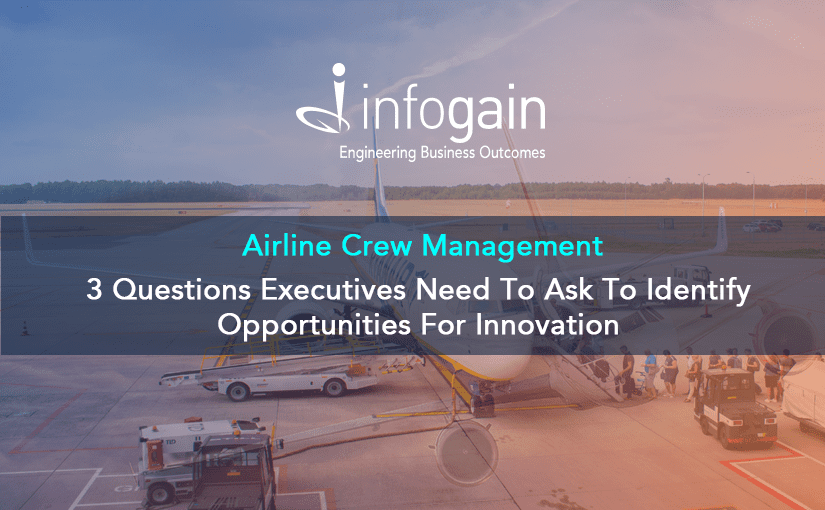 Co-authored by
Rohit Nagpal, Sr.VP & Global Head - T&H and Retail 
Dhiraj Jagota, AM, T&H Vertical 
The airline industry is, by far, one of the toughest industries there is. It faces several headwinds such as volatile fuel prices, strict flying regulations, price-sensitive travelers, arm twisting by pilot unions, and cutthroat competition [1]. It is also usually the first victim of global events such as terrorist attacks, disease epidemics, and civil unrest [2]. To survive in this ruthless industry, the airline executives have been focusing on innovating the traveler experience and rightly so. But, in the race to enhance the traveler experience, executives overlook the other side of the equation - the crew! The crew experience directly impacts a traveler. Not only this, managing crew activities is one of the highest operating expenses for any airline [3]. It can thus be said without reasonable doubt that the crew management function can create multiple areas of innovation for any airline striving to gain a competitive edge.
So, how can airlines capitalize on this opportunity? Well, to get any airline, irrespective of its size, business model or strategy, started on this journey, following are three questions that executives can ask themselves. Finding answers to these questions will serve as a starting point to carry out an in-depth analysis of their airlines' operations and subsequently help them in identifying and executing on possible ideas.
Question #1: What are the manual tasks that stakeholders from each department carry out despite the presence of technology systems?
The crew management function in any airline has a lot of moving parts, for instance, the planning team provides crew schedulers with flight routes and schedules, the aircraft maintenance team tracks the list of planes for maintenance, the business team controls internal costs and the cabin crew including the pilots bid for their preferences in a roster.  At any given time, a lot of cross-functional information exchange happens. There are numerous occasions during this period where the crew-stakeholders, as mentioned earlier, access multiple software systems or 'enter' data from one system to the other. It thus becomes important for airline executives to monitor the manual tasks that the said crew stakeholders perform despite the presence of software systems. One reason to do this is to explore the possibility of using robotic process automation (RPA). A simple use case can be using bots to enter data in crew management software. Uploading and entering data from one software to the other is already prevalent in the finance and retail industry. It is about time that aviation benefits from the same.  As a global technology services company, Infogain, too, has worked with clients to provide them process efficiencies leading to savings of up to 80%.  Read a  detailed case study here.
Question #2: Are there any systems in place that reduce the probability of occurrence of an "Irregular Operations" (IROP) instance?
Irregular operations can manifest in several scenarios; there could be too much traffic at the airport or a cabin crew member on a "planned flying" schedule might have called in sick, or there could be unfavorable weather conditions. All such cases can be extremely tricky for crew schedulers to manage, but ultimately, they need to staff the aircraft as per regulations and inform passengers about possible delays. The cost of an IROP can be huge for airlines; thus, it would serve them well to introspect and innovate in this space. Airlines can use analytics to identify patterns related to IROPs and anticipate contingencies to better prepare themselves for this. Reports can help determine if the crew needs to come in early at specific times owing to seasonal patterns and past data. Similarly, flight delays can be reduced by tracking the location of the vehicle that picks up the crew from their home base. Any system that empowers the crew schedulers with proactive information is bound to create a point of differentiation for an airline in the market.
Question #3: How mature are the knowledge management systems for Cabin crew and crew schedulers?
Airline executives need to question and evaluate the maturity of their knowledge management systems since they form the backbone of the crew stakeholders' growth and enable them to carry out their job efficiently.
Every airline cabin crew member needs to complete training and pass certificate exams as per global regulatory authorities. The airline executives can think about innovating the delivery mechanism of the training content; using mobile applications for the same is already an established practice in multiple other sectors, and the same can be replicated in aviation too.  A few digitally savvy airlines such as Qantas and Lufthansa plan on using augmented and virtual reality as well for making the training experience productive, enjoyable, and effective [4].
Crew schedulers can benefit from an easily searchable knowledge management systems to access regulation documents, standard operating procedure documents, and cabin crew records to handle rostering and IROP instances.
In conclusion, we can say that while these three questions can help determine an area of technological enhancements, this is by far just the tip of an iceberg. These questions are intended to make the industry professionals think and come up with questions of their own. They also provoke the airline stakeholders to carry out a rigorous analysis of every member of the crew experience cycle (cabin crew, pilots, crew schedulers, etc.) and develop robust, technology-backed solutions for the identified areas.
To partner with Infogain on this journey, please reach out to us here.