Industry :

Digital and High Technology

Service :

Human Resource

Type:

News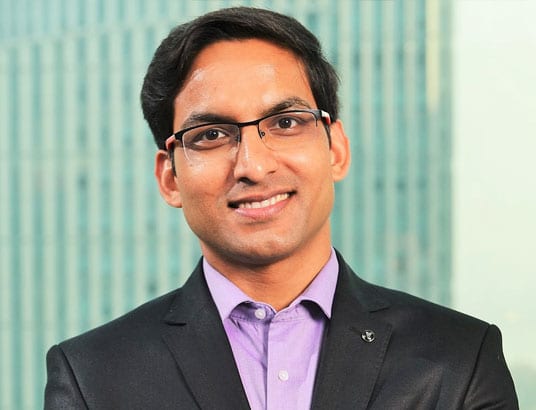 1. How would you describe your experience of working for this company?
Response: It was only two months ago that I joined Infogain and I am excited to be part of the organization's transformational journey. Our mantra is "Engineering Business Outcomes". This is exciting, when you understand that our success is intricately linked to our clients' success in a digital era. There is a lot of positivity and commitment in the organization to build the solution that has directly impact the customers' business. Infogain has a strong clientele base with many long-lasting relationships. We are currently serving 5 of the World's largest 50 companies and delivering new age digital solutions to 24 companies in the Fortune 500. We have an inspirational CEO who is truly a "Chief Exciting Officer" and radiates an energy of positivism, excitement and inspiration. I am excited to be part of the organization which has such a clear business focus and the right leadership team.
I have also found the culture at Infogain to be very open, flexible and friendly. I was touched with the warm welcome I received across all our offices in India. Also, I found employees to be very helpful and cooperative.
2. What are the pressing problems on which you and/or your team are working?
Response: The transformational journey in any organization involves a lot of changes and challenges to deal with. At Infogain, we are strengthening our culture to ensure that we have the right alignment with everybody's actions towards the organization growth and success. We need to transform and adapt to the changes in order to build a future ready organization. We are redefining our core values to ensure that we have a culture of accountability at all levels in the organization. During this journey, we want to provide a positive employee experience in the overall lifecycle of an employee in the organization. Employee motivation, engagement, development and retention are key focus areas.
3. How does your company develop leaders?
Response: Leadership capability is very critical for our business success. Having the right balance of leaders; those who have been nurtured, grown internally and leaders who join from another organization are crucial to having the right synergy within the organization. The larger part of leadership development is managed with home grown leaders. To ensure we have an effective leadership pipeline in place, we believe in the 20:70:10 Model for Learning and Development. While we understand that 70% of the learning happens on the job, our focus remains on providing varied levels of opportunities to our leaders so that they have an enriching learning experience. 20% of the learning happens through mentorship, guidance, leadership coaching and exposure and visibility provided to these budding leaders. We also provide cross functional opportunities to our leaders to leverage their strength in the new functional areas. 10% of the learning comes from developmental process. We have a self-learning competency development program. We also have a Manager Development Program which is focused on developing leaders at different stages, starting from Emerging Leadership to Impact Leadership.
4. In what ways does the HR department add value to the company?
Response: HR is a strategic partner to business. In the IT industry, people are the assets and starting from hiring, retention and employee productivity, HR works very closely with the business. There are various topics which are critical for an organization's success and HR is the custodian in the process, some of these are as follows –
1. Culture and Change Champion: HR professionals need to manage both change and culture. By championing both change and culture, HR professionals need to ensure transition happens at a smooth pace. Today the need of the hour is to have high performing and accountability driven culture. HR needs to play key role in crafting the right organizational culture to deliver organizational outcomes. Today when organizations are evolving at a faster pace than it used to be in the past, HR plays a vital role in enabling and leading the culture of change in the organization.
2. Human Capital Curator: HR professionals offer integrated and innovative HR solutions for managing people in the organization. HR focus areas include drawing the Talent Landscape, identifying the talent, developing the talent, developing the leaders. It also includes establishing the right performance standards to drive the performance.
3. Strategic HR: Strategic HR role requires HR to be well versed with the business context of the organization including expectations from all key stakeholders starting from Employees, Customers and Shareholders. The ability of HR to be able to evaluate both the external and internal business contexts and translate those evaluations into practical insights help the organization to be successful.
4. Analytics for Decision making: HR owns the data of employees in the company. Adopting the right process and tools to generate meaningful insights helps HR to influence the decision-making process. Analytics goes beyond collecting data and having scorecards to using data to improve business decisions.
5. Employee Experience: Today we live in the experience economy. HR needs to continue to provide an experience in the overall employee lifecycle in the organization. This starts from the first touch point with the prospective employee to alumni of the company.
6. Learning Culture: Building a learning culture is very important in the organization. This enables organization readiness to shift with the change in business needs and technological advancement. Reskilling, upskilling and continuous learning really help business to manage the resource specific challenges from a business continuity point of view.
5. What issues do you typically face while managing the workforce?
Response: I have worked in the IT industry throughout my career. Right talent is always the hunt for the companies. This adds to a lot of challenges for the orgnaisation. Some of the major challenges that I have faced are as follows –
1. Recruiting talented employees and retaining them: The hunt to get the right talent is always a challenge. While the pool may appear to be big for generic skills, but finding that one right talent can be difficult. Even if a desired candidate is selected, there is no guarantee that he/she will eventually join the organization. Due to this, it puts a lot of pressure on business continuity. Similarly, retention of talent becomes equally challenging. There is always a leakage of talent in every organization. It hurts the most when the company loses the high performers. In the product development work, brain drain affects the overall customer offering adversely. Retention becomes very critical issue due to the same.
2. Managing higher compensation demands: In general, every individual in the corporate world feels their compensation and increments are low. It is a challenging task to manage the compensation expectations and demands of the employees. There is always a limited budget and the same needs to be distributed basis company's compensation budget, individual contribution, positioning to market, potential and the skills. Meeting the expectations of every single individual is a difficult task for anyone in HR.
3. Leadership Development: This is one of the single biggest issues that I have encountered across all the organizations I have worked for in the past. The transition from technical or functional specialist to leadership role becomes a big challenge. It takes a lot of years, time and investments to build leadership levels. The change in mindset remains to be a big challenge despite of people's movement to higher roles. They may retain their legacy approaches and fail to understand their broader roles. Building the leadership capability which could work towards enhancing the business growth and leading and inspiring teams is a big issue to be dealt with effectively.
4. Managing the Change: Managing the change is an issue faced by many organizations today. People don't want to challenge the status quo, leaders are often reluctant to pursue the change and lead their own teams in challenging times. Due to lack of commitment and ownership, organizations fails to manage the change effectively.
5. Culture of Performance: Due to increased competition and pressing demands from the customers, organizations need to continue to enhance their performance bars. There is a serious need of putting accountability in the system to ensure that every single employee is accountable for his/her actions and contributions. We are still living in the mindset of following a Pareto world where we believe that the top 20% people make 80% business impact. Imagine, what would be the outcome if all 100% people contribute significantly.
6. What strategies does your company follow to retain the employees?
Response: Our philosophy of HR is to hire right talent, nurture, develop, engage, and transform them. We focus on the following –
a). Attracting and hiring right talent
b). Nurturing the talent by enhancing their learning experience
c). Creating engagement and experience in all the touch points of employee lifecycle
d). Enabling transformation of our talent employees for collective success and better good of the organization
7. Any special talent retaining strategy to sustain in the competition?
Response: Employees spend a lot of time at their workplace. My personal objective is to make their overall experience a pleasant one. They should feel satisfied and happy with both cognitive as well as emotional satisfaction levels during their tenure with the company. I would like to have employee experience as a key differentiation for us.
8. Are there any exit interviews administered in your company? If so, how are these conducted and analyzed?
Response: For exit interviews, we follow a very well defined process. The interviews are taken into 2 phases. The first interview is taken within the 48 hours of employee's resignation. The data facts and intention to separate is gathered through this meeting. The prime objective at this stage is to understand the possibilities of retention of the employee. HR Business Partners work closely with the business team to explore possible retention of the employee.
The second round of interviews is conducted on the last working day of the employee. During this discussion we seek detailed feedback about the organization, the work experience and the actual reason which triggered their exploring opportunities outside. We also administer a small exit interview feedback survey in an online portal to capture some of the details which form an essential part of our analysis around building a more sustainable work culture. All this data is processed for meaningful analysis which forms part of decision making process.
9. Given the increased role of technology, what are the special skills required to be successful in HR?
Response: With the increased role of technology, there are a few skills which have become essential for HR professionals to possess. These are as follows –
1. Technology Integrator: Ability to use the technology to facilitate remote and mobile workforce and leverage the same for improving the overall employee experience and improving workforce productivity.
2. Social Media Champion: We live in the world of talent branding. The ability to leverage social media for enhancing branding, and enabling social collaborating platforms for enhanced collaboration at work are essential skills for HR professionals
3. Predictable Data Analytics: HR professionals must use analytics to impact decision making. Adoption of technology and drawing impactful results and analysis become very critical in today's time.
10. What piece of advice would you like to give to the youngsters who want a head start their career?
Response: Your life changes when you step out of an academic institution and enter in the corporate world. They are completely two different worlds and it's important for youngsters to understand the key criterion which will enable them to transition this change effectively. Some of the principles one must need to follow are listed below –
a). Focus on building the foundation of your career. Remember a multi-story building is strong if it has solid foundations. Your focus should be on learning. Don't run after employment, but become employable so that everybody else runs after you.
b). Don't follow the rat race, always leverage your strengths. Follow the career stream which matches your strength so that you could build more on the same.
c). Your focus should be learning for initial few years, and don't get attracted to fancy titles or compensation. If you are able to create a solid foundation, everything else will follow automatically. The initial three to four years are critical to building a solid foundation.
d). Always have an enabling attitude. Remember your attitude drives your knowledge and skills.
e). Understand the organization's business, culture and core values of the company you are joining. Adapt yourself in accordance to the same.
f). Last but not the least, never limit yourself. Have aspirations and curiosity to learn and contribute. Reach out to people, seek guidance, have mentors and remain open and transparent.
11. Would you like to add any other point?
Response: none.