Industry :

Digital and High Technology

Service :

Digital Transformation

Type:

Events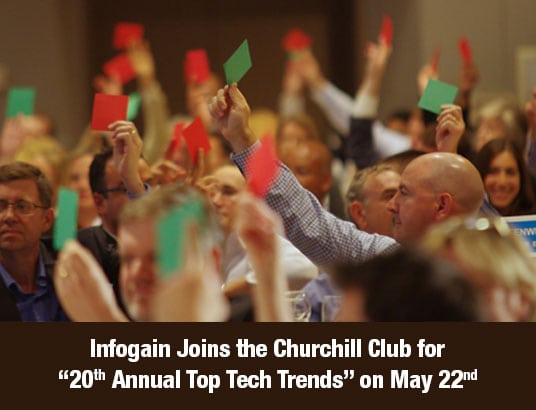 Infogain has sponsored a reserved table at the 20th Annual Top 10 Tech Trends, presented by Churchill Club and Forbes on May 22, 2018 at the San Francisco Airport Marriott Waterfront. Attendees will gain deeper insights into the latest tech trends that have the potential for explosive growth in three years. The spirited conversation begins when the distinguished panel of technology and business luminaries rate and debate their top 10 trends. The live audience of Silicon Valley's best and brightest will be asked to agree or disagree.
Registration and reception starts at 5:30pm, followed by dinner at 6:00pm, and the program at 7:00pm. If you would like to join us, please send a request to events.us@infogain.com.
For more information about the event, please visit the website at https://www.churchillclub.org/events/top-10-tech-trends/