Posted on :

February 23, 2017
Industry :

Human Resource

Service :

Human Resource

Type:

News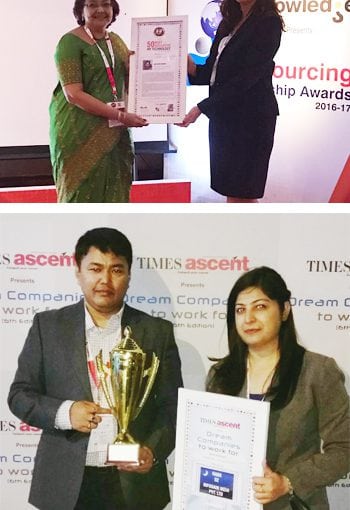 Keyuri Singh, VP, Human Resources named one of "50 Most Innovative HR Technology Leaders"
New Delhi, February 23, 2017: Infogain, a leading provider of technology solutions and services received two prestigious HR Awards at the 25th Times Ascent World HRD Congress event held last week at Taj Lands End, Mumbai. Out of 750 companies that participated in a survey, Infogain was ranked as the "52nd Dream Company to Work for – 2017" in the organizational award category.  Following the first level of screening from a survey completed by 750 companies, Infogain was selected by a panel of jurists that ranked the company based on criteria that included innovative HR practices, company values, work culture and more.
In addition, Ms. Keyuri Singh, Infogain's VP, Human Resources was named one of 50, "Most Innovative HR Technology Leaders" at the event. Only individuals who accomplish extraordinary people-centric work in the industry are chosen for this award. "Our congratulations to Keyuri for receiving well deserved recognition, in addition to our India HR team, who continuously work harder to help Infogain achieve higher milestones," said Phil Johnson, Head of Global Resources at Infogain.
Celebrating its Silver Jubilee 25th this year, the goal of the not-for-profit World HRD Congress is to provide a platform showcasing Human Resources talent that enables professionals from across the globe to learn best practices from leaders in their industry.
Eddie Chandhok, President of Global Delivery at Infogain commented, "We are excited and honoured to be acknowledged for both awards and reiterates our goals of providing a world-class employee friendly culture within Infogain. We want to give Infogainers a happy work-life balance in a team-oriented environment that is attuned to client success and company growth."
 About Infogain
Infogain (www.infogain.com) provides front-end, customer-facing technologies, processes and applications that lead to a more efficient and streamlined customer experience for enterprises in the US, Europe, the Middle East, Asia Pacific and India. Offering solutions for the high-tech, retail, insurance, healthcare and travel & hospitality verticals, Infogain specializes in areas such as software product engineering, digital service automation, cloud, mobility, testing and business intelligence & analytics. The company has 9 delivery centers and more than 4000 employees globally. Infogain has a customer retention rate of 90%+ over a five-year period.
For more information, contact:
Infogain