Posted on :

February 21, 2017
Industry :

Insurance

Service :

Corporate

Type:

News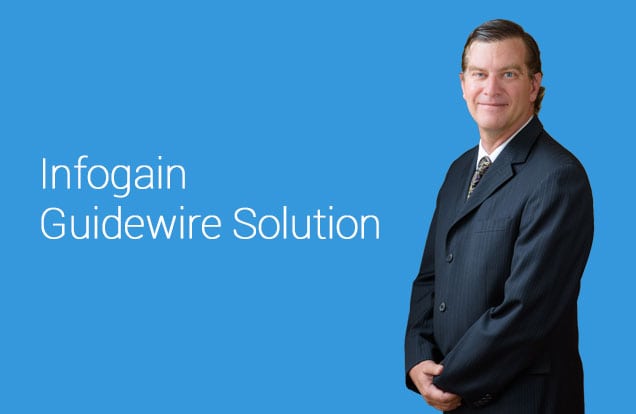 Las Gatos, CA, Feb 21, 2017: Infogain, a leading provider of technology solutions and services today announced the appointment of James Patterson as Guidewire Head. Reporting to Girish Kannalli – VP & GM, Insurance and Healthcare BU, he is responsible for strengthening Infogain's solutions and services around the Guidewire platform.
Kannalli commented, "James is a fanastic addition to the Infogain team and will help us to increase our presence in the Insurance domain. The industry has been rapidly adopting modern IT systems such as Guidewire, and Infogain plans expand its services and solutions around this technology."
James brings to Infogain more than 25 years of experience as a product and development expert and strategist. He specializes in rapid application development, customer needs assessment and maximizing return on development investment. In his previous role, he was part of the Guidewire implementation team at Ernst and Young (E&Y). Prior to E&Y, he spent 4 years with Guidewire, initially as Solution Architect implementing Guidewire's suite of products, later moving to Guidewire's product management team. His Mitchell International experience includes more than 10 years in the Software Engineer and APD Product Management positions.
James holds a Bachelor's degree in Economics from the University of California, San Diego. He is a certified Scrum master and holds a certification in Guidewire Software, Policy Center 7.0.  He is based at Greater San Diego Area, US.
Leveraging 12 years experience in the insurance industry, Infogain provides Digital Transformation solutions in P&C for auto claims, workers compensation claims and specialty P&C programs. Our services and solutions improve decision-making, leverage technology innovations and integrations, leading to a better customer experience.
About Infogain
Infogain (www.infogain.com) provides front-end, customer-facing technologies, processes and applications that lead to a more efficient and streamlined customer experience for enterprises in the US, Europe, the Middle East, Asia Pacific and India. Offering solutions for the high-tech, retail, insurance, healthcare and travel & hospitality verticals, Infogain specializes in areas such as software product engineering, digital service automation, cloud, mobility, testing and business intelligence and analytics. The company has 9 delivery centers and more than 4000 employees globally. Infogain has a customer retention rate of 90%+ over a five-year period.
For more information, contact:
Infogain 
Cathy Chandhok
VP – Marketing
Cathy.Chandhok@infogain.com
(408) 355-6028
Sudeshna Mukherjee
Corporate Communications
sudeshnam@infogain.com
+91 7738574137