Infogain's services leverage its proprietary NAVIK AI Product Suite to power intelligent business decision making
Posted on :

January 30, 2023
Industry :

Corporate

Service :

Corporate

Type:

News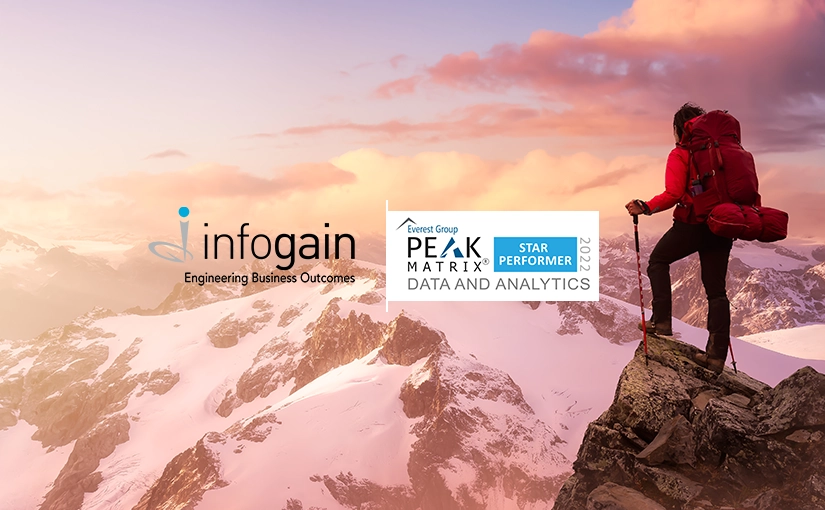 Infogain has been positioned as a Star Performer and a Major Contender in Everest Group's Data and Analytics (D&A) Services PEAK Matrix® Assessment 2022. The evaluation was based on specific criteria that analyzed the company's overall completeness of vision, capabilities, and market impact.
Infogain's recognition as a Star Performer represents top quartile performance improvement, on a year-on-year basis, in terms of market impact and the ability to deliver successfully, among 30 Data & Analytics (D&A) service providers.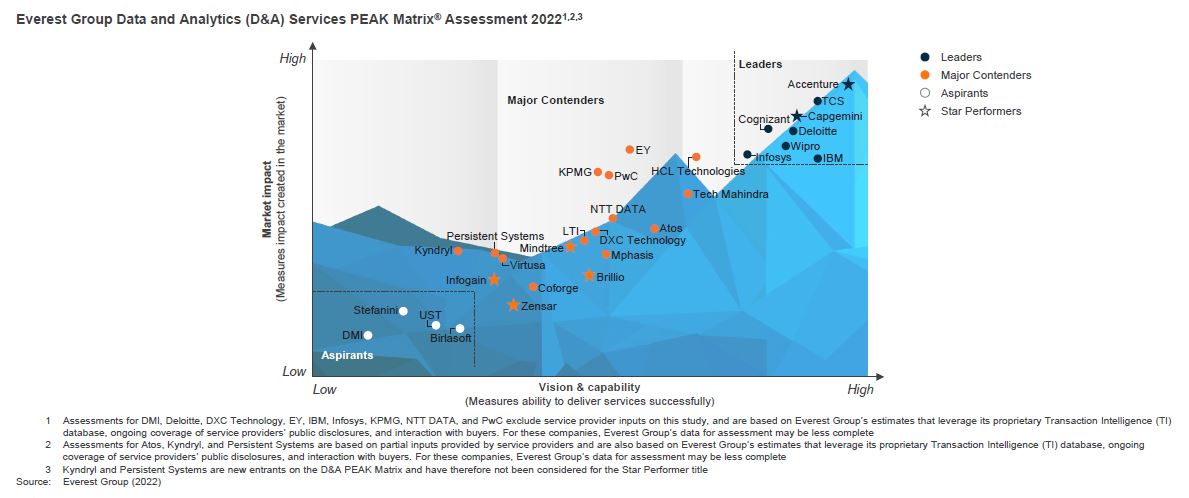 Today's businesses want intelligent digital platforms and extensibility to build a competitive edge and scale. Unfortunately, many are forced to juggle different point solutions or platforms that fail to unlock meaningful experiences for them and pose friction in interaction between businesses and their customers.
Infogain's focus on building human-centered digital platforms through data platform modernization, business intelligence, and AI capabilities bridges the critical gap between data and decisions. The value of this approach is demonstrated by the consistent improvement in revenue and profitability that customers can achieve.
Infogain's Data and Analytics (D&A) services leverage its proprietary NAVIK AI product suite, accelerators, and advanced analytics capabilities to extract meaningful insights, augment decision-making, predict complex outcomes, and innovate products and services. Infogain's enterprise-class NAVIK AI product suite includes ready-to-use AI-enabled solutions NAVIK Sales AI, NAVIK Marketing AI, NAVIK Telecom AI and more.
In addition to Infogain's differentiators in D&A capability, the responsiveness and flexibility in challenging and thinking beyond original scope to deliver strong value have been recognized and appreciated. The "Star Performer" achievement reflects Infogain's significant advances in proprietary frameworks and strong leadership qualities in harnessing intelligence at scale.
Infogain has significantly expanded its Data & Analytics (D&A) capabilities through multiple recent acquisitions (including Absolutdata). Its flagship IP - NAVIK AI platform features in-built function specific AI solutions and has been widely appreciated by the clients. Infogain has also built a strong partnership with Microsoft (Azure is a key cloud partner), and clients have highlighted their skill sets and understanding of Microsoft's technology stack as a key differentiator. This has helped Infogain emerge as a Major Contender and a Star Performer in Everest Group's Data & Analytics (D&A) Services PEAK Matrix® Assessment 2022.
Infogain uses data as part of designing and building intelligent platforms that enable authentic interactions between businesses and their customers and deliver a measurable impact on business outcomes. Infogain acquired Absolutdata, a San Francisco Bay Area-based advanced analytics and AI company, in December 2020. Anil Kaul co-founded Absolutdata and continues to serve as its CEO in addition to his responsibilities as Chief AI Officer at Infogain.