Posted on :

August 14, 2017
Industry :

Human Resource

Service :

Human Resource

Type:

News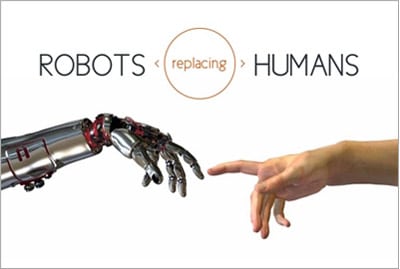 In an age of Human vs. Robots, automation is soon displacing many job roles, thus eliminating the need for human intervention, while HR professionals on the other hand strongly believe that automation is the game changer, requiring next-gen workforce to develop new-age skills.
In a candid conversation with Mr. Anupam Jauhari, Vice President – HR, Infogain, we at HR in Asia unveil future trends in HR and how technology will revolutionise workings and workplaces of tomorrow. Read on…
With AI tools and technological advancements threatening jobs and infusing fear on the minds of most employees of being displaced, how do you foresee the future of hiring?
This has been one of the most talked about topics in the recent past, whether automation or robots will take up human jobs. I think this is still at an early stage and it would be incorrect to say that we will see mass unemployment due to automation.  There will always be demand for skilled workers particularly those in the technology space.
We are witnessing shortage of talent in the most sought after, lucrative jobs in the tech industry – data scientists, analyst, web developer, security architect and others. Organizations may need to focus on learning where employees can get trained on new technologies, upgrade their skillsets and stay more relevant as per the market demands.
Individuals also need to take on more responsibilities, upgrade themselves, and be more inquisitive rather than being a passive employee. Mass hiring in IT has gone down and there are multiple reasons for that – challenges in the global marketplace, changes in the business model where TNM model may not be relevant to clients, more emphasis on hiring local talent, etc.
IT industry is evolving and there will be changes in the business model, the way services are delivered, or a change in the skill set required to survive.We need to adapt to the changing market needs.
What are the hiring trends witnessed by IT sector in Asia Pacific in 2017? What will be the skills on-demand in 2018 to 2020?
We see a remarkable change in the recruitment industry on the part of the employer and job seeker. While employers are connecting with potential candidates on social media platform, doing background checks through their online profiles, job seekers are more active to search the company's reputation on Glassdoor, connect with existing employees on LinkedIn to gather feedback.
Some of the hiring trends we can witness are:
Demand for Niche Technological Skills: Some of the evolving technical skills are in demand and people with those skills are highly valued.
Source it internally: There is more inclination on part of the HR and top management to see, if a fit can be found internally for a position rather than seeking outsiders.
Dynamic interviews: There is more inclination on the part of a job seeker to understand the role, responsibilities, and see if it fits their work styles rather than accepting an offer blindly.
Freelancer/part-time workers: While organisations are looking for freelancers and part-time workers that fits their budget and help them to source a niche skill. Many people are opting for the same where they feel they can work as per their wishes, there is no tie-up and they can move out at any point of time.
Benefits more than a pay package: Employers are constantly emphasising that they offer more than a pay package in terms of organisational culture, learning and development, interesting project and work-life balance.
Some of the skills in demand are:
Security Architect
Business Analysts
Data Scientist
UI Architect
Digital Marketer
Mobile Architect
With rapidly ageing workforce and emergence of new working models coming to play, how can HR managers work in sync with technology to manage multigenerational workforce demands?
The role of HR is to create a work environment that satisfies the requirements of both the generations and build a collaborative workforce where they learn from each other's experience. As per survey conducted by Randstad India in 2015 managing a multi-generational workplace is one of the biggest challenges faced by HR leaders.
We need to understand that the aspirations and value systems of both the generations are very different, while millennials may be more comfortable with technology and have an independent style of work, older generation may not be as tech savvy. HR need to device ways so that they work in cross functional teams and gain from each other's area of expertise.
There has to be multiple mode or channel of communications as each generation may be comfortable in different styles. Even there need to be different learning methods – while millennials prefer self-learning, the earlier generation is an advocate of classroom training. Collaborative platforms can also help to share information and knowledge. Technology will aid us to bridge the generational gaps by creating new communication, learning platforms.
What according to you are some of the main reasons for lack of women in STEM careers?
Though the representation of women in IT sector is still low, I think we have witnessed considerable changes in the last 10 years. There is more than 300% increase in women engineering graduates in India as per the last census of 2011.
NASSCOM in its recent report 'Women and IT Scorecard – India" mentioned that technology sector is the second largest employer of women in India. 34% which is 1.3 million women are part of the IT industry. There is a change in mindset and with the IT industry offering a very flexible and conducive work environment, I am sure we will have many more women encourage to take up and pursue STEM.
See: Reshaping HR and Businesses through Automation and AI
How can IT leaders and CTOs of the industry work towards empowering and encouraging women to scale up and assume leadership roles in IT?
I don't see the challenge in lack of women opting for STEM, but a higher proportion of them leaving careers in the longer run. The ratio of women joining the workforce as freshers is sizeable in number, but we lose them in the process of career progression due to marriage, childbirth and other social impediments.
It needs an all-round support, change in corporate policies and a change in the mindset of society, where a women's job is still relegated as secondary.
There are multiple ways organisations can retain them and senior leadership plays a key role by formulating suitable policies for women. Few of the measures that can help to retain and encourage women employees to take up responsible positions:
Extended maternity leave helps you to cope up with the stress of child birth and allows you to join back workforce once they recover completely.
Work from Home: Helps save on commute time and spend more time with the family. Enables one to be more productive even on days, when there is a family crisis.
Flexible Timing: Let employees come and work as per their convenience. As long as they are delivering, we should not have a policy to deduct their leaves on the pre-text of late coming.
Change in Mindset: Often women are put in an insignificant role after they join back from maternity, which acts as a de-motivator. Assuming that women will not be able to perform, they are being put in positions where they can't grow or utilize their capabilities.
Encourage women to take up responsible positions: Women are not outspoken and often hesitant to take up promotions or responsible positions fearing that it may disrupt their family life. Encouragement, support, push and counselling from senior colleagues, managers or family members can help them move out of their comfort zone and take up senior level positions.
Do you think its right to entirely blame or fame HRs for shaping up an organisation's workplace culture?
I think HR acts as a facilitator in building the culture or promoting the values that are set by top management or leaders of the organisation. HR plays a critical role by formulating polices, practices, organising activities, giving suggestions to the top management and being a guide, mentor to employees.
For example: Infogain is an advocate of open culture, how do we create and strengthen that culture across the organisation?
Organising town halls for employees where they are free to ask questions to the CEO about their concerns, we also keep a question box a day or two before the town hall, so that employees who don't want to disclose their identity but are keen to ask questions can do the same.
There seems to a widening gap between employer expectations and employee demands, in terms of benefits and wellbeing culture from a workplace, how can HR managers help bridge this gap?
We need more frequent, in-person and longer discussion that focuses on employees' professional as well as personal aspirations. Most of the day-to-day discussions with the manager/supervisor are related to work and the appraisals are conducted once in a year.
Many of us work in global organisations where the communication is only through e-mails or phone calls with our supervisors. There is a gap in understanding each other's expectations.
That's why many of the organisations are coming up with real time appraisal, where the feedback is instant rather than waiting till the end of the year for the performance appraisal cycle to finally discover that the employee is unhappy, and there are certain impediments due to which he has not been able to perform.
HR needs to be more proactive, encouraging managers to meet with their subordinates regularly and even during informal meets such as off-site visits to understand them better. HR can also play a crucial role by being a partner or counsellor to employees – listening to them, understanding their requirements and setting expectations right as per the organisational guidelines.
As companies transition to embrace all digital in their process workings, how can HRs ensure seamless communication and transparency?
Digital technologies will make businesses much more agile, and communication transparent. I don't see any major challenge as majority of the workforce is millennials, who are more prone to adopt and use technology. With technology, HR can now build a more collaborative and interactive work environment.
While technology is helping HR to bring in more efficiency in their operational processes like recruiting, profiling or appraisal, it can also help HR to build a two-way communication, engage and empower employees.
Infogain has an internal chat application called InfoTweet. We also have an interactive platform with multiple forums on technology and HR, where employees can ask a question, post their blogs and opinions, or can learn about new technologies, changing market trends, etc.
Transitioning at times does involve organizational restructuring, which does impact employee engagement, performance, motivation levels and productivity. How can HRs work alongside employees to prevent voluntary employee turnover during the process?
I don't think this transition can impact employee engagement and lead to mass turnover. Every business evolves and goes through different phases.
Digital is part of the evolution and organisations can bring in greater positive impact in the life of their employees. What we need to do is coach people, guide them, and enable them to use the new technologies by proper training and re-skilling.
What will be the future of HR in the Smart Machine Age?
Recent advances in artificial intelligence (AI), automation, machine learning or advances in digital technologies are bringing a change in business models, disrupting well-established multinationals while empowering start-ups to be billion-dollar organisations.
HR has to play a key role in guiding the workforce of the future changes and helping them to reskill, acquire new knowledge. Learning and development will be core focus, where each employee may have a development plan on how they are evolving or enhancing their capabilities.
At the same time, it needs to gauge the skillsets required for the future and source talents, which may match the changing requirements of the business.
Also read: 63% HR Leaders in APAC Expect AI and Automation to Impact Organisations by 2022
Content rights: This exclusive interview content is produced by HR in ASIA. Any redistribution or reproduction of part or all of the contents in this interview is prohibited. You may not, except with our express written permission, distribute or commercially exploit the content.
News Originally Posted on: HR In Asia