Posted on :

August 14, 2017
Industry :

Insurance

Service :

Digital Transformation

Type:

News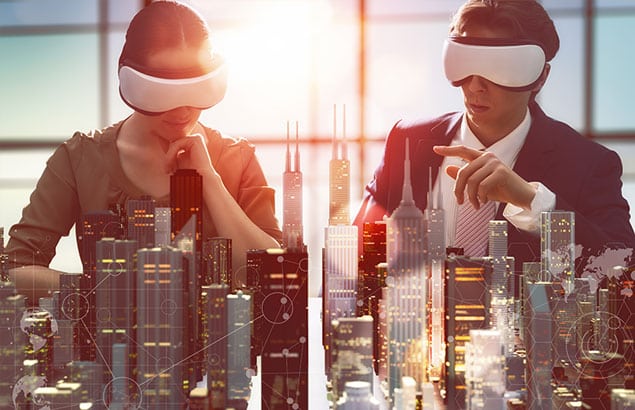 Augmented Reality (AR) and Virtual Reality (VR) offer an innovative way of interpreting the world around us, and shape up the global insurance industry.
The term Virtual Reality (VR) implies 'near reality'; i.e. it presents you with a simulated version of a real life situation generated by computers. Augmented Reality (AR) on the other hand, demonstrates the real world to you by superimposing the digitally-generated images or videos with the help of smart glasses. VR connects you to a virtual world and AR complements it by overlapping data from real world.
In order to cater to the demands of the tech-savvy Millennial customers, more and more industries are utilising both AR and VR applications and the insurance industry is no exception. AR and VR have the potential to revolutionize the insurance industry globally by propelling innovation and driving better customer engagement. What's more, AR and VR can help insurers deliver real-time business value for improving customer experience and thereby, spur growth.
Both AR and VR technology presents myriad opportunities to different verticals of insurance industry—be it life insurance, auto insurance, retirement insurance, or health insurance. For example, before an auto policy is sold to a new customer, a virtual driving test with the help of AR/VR application can help agents assess the driving ability of the customer so that the agents can make a decision about the level of insurance coverage the new customer should be given. Auto Repair shops could train in VR simulations;
Similarly, AR/VR technology has been playing a crucial role in health insurance industry too. Many healthcare insurance providers have incorporated telehealth services in their health insurance policies. Initially, such virtual consultations carried out via webcam or telephone were performed occasionally owing to the huge costs involved. Thus, insurers used to offer coverage only to remotely located patients who needed non-emergency services.
Presently, the use of advanced 3D VR technologies is taking medical consultations to a new level. Digital consultations have become the most effective and handy approach, as both healthcare providers and patients are embracing this technology with opens arms. Since lower expenses are involved in virtual visits, insurance providers are witnessing a massive kickback in premium savings too.
Though AR and VR are at a nascent stage in the insurance industry, they have been serving a spectrum of purposes in the following areas—
Experiential Learning: At the present times, Property and Casualty (P&C) insurers construct houses and buildings exclusively for training insurance claims adjusters. By leveraging AR and VR, insurers will get the advantage of creating a wider range of circumstances so as to allow claims adjusters to experience the situations through AR and VR applications and learn through a virtual simulated environment.
Underwriter Training: Property and Casualty underwriters should have a comprehensive knowledge about the property or motor vehicles they assess. Similarly, life insurance underwriters that draft policies for healthcare insurance must be well-informed about medical and health conditions. VR application is useful for training such underwriters as it can effectively demonstrate the different ways in which vehicles are constructed and different roofing techniques besides demonstrating virtual immersive 3D illustrations of human anatomy.
Safety and Loss Control Training Program: VR and AR make it simple for insurers to provide loss control training. Moreover, they also enable insurers to offer safety training to commercial clients.
Evaluation of Risks: During the evaluation of risks, AR can assist the risk evaluators in gaining access to the accurate information from a remotely located expert. For example, AR mobile apps can speed up auto insurance claim processing by taking an image of the damaged vehicle and instantly overlaying measurements of damaged areas.
AR mobile apps can also detect damage and calculate repair costs precisely. Such apps also help in analysing the environment in real time and pointing out the weak spots that require considerable examination. In order to make the process of assessment trouble free, the field risk evaluator can record notes instantaneously during inspection using a Head-Up Display glass with AR.
Damage Assessment: As for the assessment of property damage, AR and VR applications helps in overlaying accurate information. Such applications are capable of identifying damaged areas of a property during the physical assessment. AR utilises drones to assist claim adjusters in measuring the dimensions of the damaged building for assessing damage without being physically present at the site. AR apps can also capture images for generating 3D-images for helping out adjusters in carrying out comprehensive evaluation remotely.
Saves Money: Besides reducing training and hiring costs, AR/ VR applications facilitate virtual reality tours through homes and buildings without the need of the adjuster to be physically present at the site. Thus, VR/ AR technology not only saves travel costs of insurance companies but also helps insurers complete the evaluation process more efficiently.
Sales and Marketing: Insurers these days do not count on mass sales pitch as AR and VR applications enable insurers to illustrate real-life circumstances for showcasing value to existing and prospective insurance customers in an innovative way. Besides illustrating different insurance plans, AR and VR applications can persuade customers by demonstrating how to simplify pension plans besides illustrating the importance of saving for retirement.
Brand Awareness: Insurers have been embracing AR and VR on websites as well as smartphone apps to enhance market penetration and elevate their brand. AR and VR also enable customers to initiate virtual recreation simply by scanning a QR code. This can go a long way in enhancing customer engagement and reinforcing customer loyalty.
The Way Forward:
By the year 2020, AR and VR' are expected to become a multi-billion dollar industry. Their dominance in the insurance sector will grow considerably as AR/VR will be made available to the masses. Nevertheless, these exponential technological advancements will engender multiple risks such as cyber threats, privacy violation, virtual harassment, and cyber-security risks. Thus, insurance companies should stay vigilant while considering the use of AR applications and VR headsets.
In order to eliminate the risks, it is advisable for insurance companies to partner with AR /VR developers so as to create robust and revolutionary solutions that will help insurers illustrate real life situations and identify possible risks, damages, fraudulent claims and much more. A comprehensive cyber strategy to safeguard critical information about their business and clients can help insurers protect their reputation and responsiveness besides reaping the benefits of these next generation computing platforms.
Rajeev Nagpal, vice president and delivery head – Insurance & Healthcare at Infogain
News Originally Posted on: Infotech Lead