Posted on :

January 22, 2018
Industry :

Digital and High Technology

Service :

Digital Transformation

Type:

News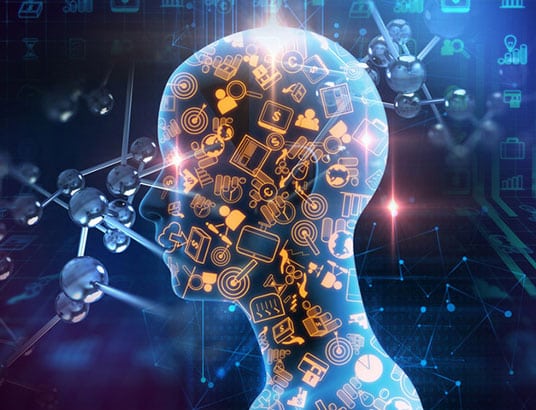 As the year draws to a close, we are taking a look back at technologies that topped the charts in 2017, where experts weigh in with their opinions
The race to attain the most coveted title of the 'Disruptor Tech' has never been more competitive than this year. In the year 2017, we trekked through a suite of technologies, both existing and new ones. We witnessed a lot of action around technological innovations disrupting businesses. A lot that was just talked about in 2016 came to reality in 2017. Beginning from a swarm of intelligent technologies such as AI, advanced machine learning, intelligent apps, and intelligent things, there were many other hot buzzwords as well like blockchain, data analytics, and AR and VR.
Combining all, let's take a look at the innovations which had the most potential to dramatically disrupt businesses and industries in 2017:
Artificial Intelligence and Machine Learning
2016 was a historic year for AI start-up acquisitions. It continued to mark its importance in 2017. From global tech companies to SMEs, all were engaged worldwide in grabbing AI talent. The year saw these two tech trends accelerate at high speed. Many of its adoption are really making ground breaking results on some of the platforms. Ramesh Subramanian, CTO, Infogain, says that AI and Machine Learning were perhaps the most hyped and talked about technology in 2017. "With the last bastion of human expertise in games to fall when Google's AlphaGo beat Ke Jie, Machines are now considered as intelligent as, and more powerful than human intellect at least in some areas. The ability to cobble together vast networks of processors, in an adaptive network, the rise of ever more powerful algorithms to take advantage of these and other hardware advances resulted in your smartphone acquiring the 'smarts' to recognize your face as well as your voice." he said.
Giridhara Madakashira, CIO, Altimetrik points out its use cases saying, "The insurance companies have started leveraging the power of AI & ML to such an extent that there are algorithms that predict the loss and risk of a car crash even before one happening. Large amount of data is analysed like driver's age, educational background, his driving pattern etc., for in-depth analysis." It is true that trucks and cars can now drive themselves anywhere, and measurements of mass markets can be done at an individual level, all thanks to AI. Another instance which gained importance was how a humanoid named Sophia produced by Hanson Robotics became the first robot citizen to ever exist. All these are the result of investments made in AI and ML, and are harbingers of ever more disruption in the days to come.
IoT and intelligent machines
It is amazing how any information can be retrieved and communicated in varied ways with the help of a device; it only needs to be connected. We have already seen some major steps forward for IoT in the year 2016. We all heard about the forthcoming revolution of Internet of Things in 2016 but in past one year it became a full-fledged reality. Due to the basic need of connectivity, competition turned into collaboration and it resulted into the launch of tons of solutions. Narinder Kumar, EVP, Technology Services, TO THE NEW says, "More and more things became connected with applications for managing health, cars, or homes. Healthcare industry has used it in varied ways for automating flow of data from multiple devices and remote monitoring of patients. Even in everyday life, people have got accustomed to smart devices starting from using a Fit Bit for monitoring your steps to a Tesla reminding you to leave for next meeting."
The increased machine-to-machine communication which is many times built on cloud computing and network gathering sensors through virtual or mobile connections is as smart as is sounds. IoT has transformed just things to smart things and it is the way forward. "IoT which was not a mainstream technology earlier has now become the go-to technology for many traditional problems. As a company we have done several implementations in this space, so we can say it is becoming a business model than just a technology. It is becoming more and more feasible as the computational, network and storage costs have significantly come down." says Giridhara.
Analytics
Data and analytics went mainstream this year. The exponential growth of data and intelligent things in an environment of prevalent internet connectivity is enabling a revolution of data analytics. Gone are those days when users were offered analytics as a service through dashboards. Instead, today, everyone have their own platform where the business users can compose their own models and carry out analytics using a simple drag and drop UI. "Today customers have full control on how and where they want to interact with the brand. In addition, the customers demand for personalized and contextual experiences. Data and analytics are the main technology drivers behind the science of building superior customer experience. Companies are using predictive algorithms, recommendation engines, filters and much more to segment data for a personalized experience." adds Narinder.
Not only does it help foster a culture of empowerment but governance as well. Analytics helps a team to review existing data analytics of employee practices and then define new and better process for improving their productivity. The analytics based cultural shift towards data driven decision making even helped businesses in improving sales. Cognitive, predictive and prescriptive analytics got embedded into systems and processes all over the world.
Blockchain
As we near the close of 2017, there seems to be a breathless hype for Bitcoins, the flag-bearer for blockchain technologies; there is also a lot of ink spilled and words spoken about it. "There were over a thousand startups working to develop private or public blockchains, or exploit existing blockchains, with an average valuation of over $4.5Million (angel.co). There were some significant governmental investments this year, resulting in the possibility of eliminating some vexing inefficiencies in multi-party value chains, such as for the insurance industry." says Subramanian.
Though most people are still uncertain if bitcoins are legal or illegal in India, but even that is not enough to stop them from investing in it. All eyes are on the fate of Bitcoins, caught as they were between sceptical regulators and fantastic valuations (over $4000 per Bitcoin, as we write this). These encrypted blocks of codes which act as digital currency, called cryptocurrency gained a lot of traction in past one year. At a time when there are still no clear regulations on cryptocurrencies and bitcoin exchanges, people might be trying their hand at tax evasion. Earlier this week, it was reported that the income tax department is about to issue notices to some 5,00,000 high net worth individuals trading on the major bitcoin exchanges across India. The numbers say it all.
Immersive Technologies
The physical realities and their digital counterparts got all blur this year with immersive technologies like Augmented Reality and Virtual Reality. AR/VR usage has gone beyond gaming and entertainment as businesses have extensively leveraged it for enhancing their customer's journeys, improving marketing activities, and enhancing product offerings. Narinder expresses that the technology has made its move in travel, transportation, manufacturing, healthcare, retail sector and many others. AR/VR enables people to actually try products virtually, experience places in a virtual setup and even view houses virtually for making purchase decisions.
Dash Button by Amazon acts as a simple solution that is helping customers in connecting with a physical product to its digital representation. Even in manufacturing, workers can directly interface with inventory and backend system without having a need for complex interfaces or workflows just with the help of such a tech at hand. Subramanian says, "Technology that has the potential to re-define customer experience and bridge the gap between the real and the aspirational world have always had a demand. This year saw some advances in making such devices more powerful and less "artificial", resulting in higher interest levels."
Giridhara agrees that immersive technologies are really becoming popular. "AR and VR are finding use cases in training and field support. It is becoming more viable now to provide digital experience for service technicians, wherein they can get into a digital factory and get trained on servicing some of the machines. This will eliminate the need to maintain the physical assets." he adds.
Automation
2017 was all about the surge in anxiety over automation killing manual jobs and especially in the IT sector. People feared a lot about automation this year. Many actually got panic attacks thinking about robots taking over their lives. Well, sorry to break it to you but they are already here. Automated systems are everywhere and they might be the next top disruptive trend is of 2018.
"Earlier software releases used to take a lot of time, but now with DevOps adoption, it is possible to deploy software updates several times a day. With the advent of modern-pipeline in software engineering, now one can achieve higher quality through consistent environments and TDD (Test Driven Development) approach." added Giridhara.
News Originally Posted on: BWCIOWORLD