Posted on :

January 20, 2017
Industry :

Digital and High Technology

Service :

Digital Transformation

Type:

News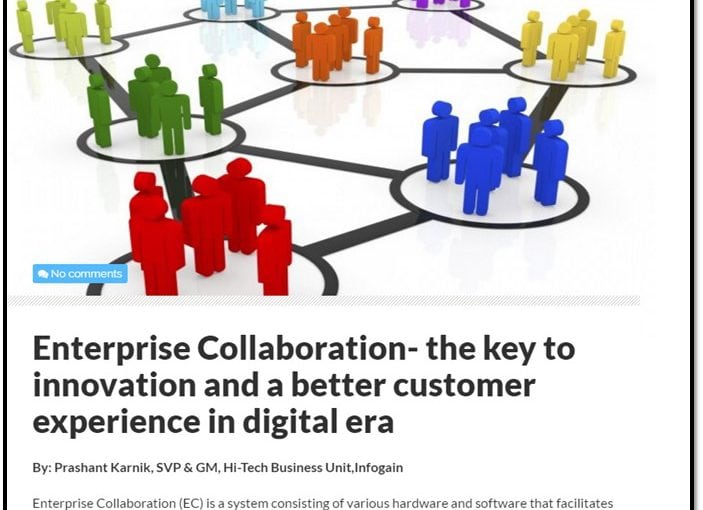 By: Prashant Karnik, SVP & GM, Hi-Tech Business Unit,Infogain
Enterprise Collaboration (EC) is a system consisting of various hardware and software that facilitates efficient sharing of knowledge and resources among corporate teams so that they can work collaboratively from different geographic locations. Other than email and video conferencing tool, Enterprise Collaboration System entails the use of various enterprise communication tools such as collaborative software, project management software, enterprise social networking, public internet, and a corporate intranet. The features of enterprise collaboration system tools are similar to that of social media sites.
Enterprise Collaboration System holds a significant position in today's digital age. According to popular market research firm MarketsandMarkets, the EC market will reach $70.61 bn in 2019 from $47.30 bn in 2014. As per geographies and revenue, Europe and North America are likely to be the largest market, whereas Europe and Asia-Pacific are likely to experience strong market foothold throughout the forecast period. A study conducted by Cisco Collaboration Work Practice Study revealed that increased productivity is the most important advantage of EC system, as cited by 60% of respondents. Besides increasing productivity and fortifying workplace relationships, EC plays an instrumental role in fuelling innovation and enhancing customer experience.
Collaboration Technology and Innovation:
EC system is significantly transforming the way businesses communicate in and outside the office. The modern workforce prefers using technologies that make their work easier and hassle free. The prolific use of mobile and cloud technologies have been driving innovation in the collaboration field, thus, transforming the face of communication. Collaboration cloud services along with mobile and real-time technologies are empowering the modern workforce to become collaboration system experts without the assistance of an internal IT staff.
Executives are adhering to the following strategies to drive innovation through collaboration tools—
Embed collaboration tools within business practices: By embedding collaborative technologies within business practices, using collaboration tools become a normal and customary part of the job for workers. For example, social workflow platforms offer a collaborative set-up to guide groups through a uniform work plan. Gradually, team members learn to use the collaboration platform to share updates, get approvals, carry out discussions, or hand off work.
Mould the collaborative behaviors that propel results: Deploying collaborative tools in an organization is not enough. It is highly imperative for the management to get involved in change management activities to promote the utilization of collaborative tools.
Enterprise collaboration is growing by leaps and bounds, and considering its advantages, several companies across the globe are utilizing EC systems to explore more innovative ways, so as to facilitate better communication with their workers and customers.
Collaboration Technology and Customer Experience:
Technology has empowered marketers as well as customers equally. The modern customer demands more and wants his voice to be heard. In order to survive in the market, businesses strive to satisfy their customers by looking for ways and means of improving business processes in a cost-efficient manner. Collaboration technology tools are highly essential for improving customer experience, which acts as a crucial aspect of any business. For example, if a customer is not willing to interact with the customer care executive of a company, they can opt for social media, web chat, or seek assistance on online forums to find out how other customers have solved similar issues. Thus, a large number of organizations are employing ground-breaking collaboration solutions to interact with their customers in different ways so as to improve customer experience.
Collaboration technology enhances customer experience by—
Providing outstanding service to customers across multiple channels in a timely manner;
Solving customer issues in real time;
Strengthening customer relations; and
Providing new experiences to customers.
Collaborative tools facilitate interaction through social networking tools, web self-services, and video interaction which are used for communicating with customers to address their queries, solve grievances, and to get their valuable feedback. For example, many organizations are making use of video interaction as a collaboration platform to provide favorable customer experience so that customers can interact with them in real-time. This provides a superior communication experience to customers as it enables them to collaborate with product experts so that they can troubleshoot their issues visually.
Similarly, some companies are exploring crowdsourcing platform to help customers seek the assistance of other customers, as and when required. For example, if a customer is facing certain issues with a product, they can visit the website of the company wherein they can enter their postal code to search other customers of the same brand in their locality. They can discuss the product issues with them either online or by meeting them in person. Thus, instead of seeking assistance from customer care executives to answer their queries, customers can now depend on the collective knowledge of other customers to resolve issues.
In the digital era, businesses are becoming more customer-centric to provide their customers with the best customer experience. Collaboration technology provides businesses with the right channels so that they can reach out to each and every customer. However, the era of empowered customer makes the challenge of providing efficient customer service more complicated. Nevertheless, by leveraging cost-efficient collaboration platforms such as video communication or crowdsourcing, companies can successfully provide exceptional customer service, thus, enhancing overall customer experience.
Originally Posted in: DQIndia