Posted on :

January 7, 2022
Industry :

Corporate

Service :

Corporate

Type: Blog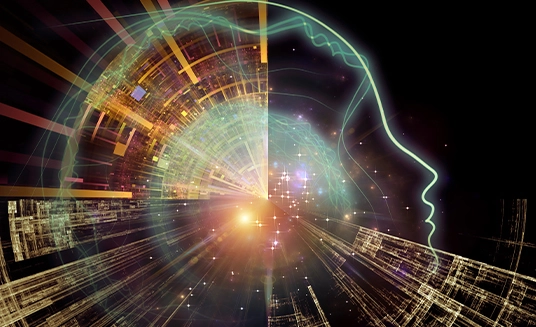 The future is now! In 2022, concepts that were "interesting" or "showed potential" during last year's strategic plans and whitepapers, will be actionable tactics shrewd businesses will use to compete with the industry leaders. Here are some key trends that I predict will define business in the New Year.
Digital Twin Technology means the more virtual representation of physical objects, humans, processes, operations, or any other functions in real-time. For instance, Infogain's in-house analytics platform NAVIK Digital AI solutions for Retail and CPG.
Leveraging Data Fabrics to manage siloed data and make decision intelligence more precise will witness an increase. According to Gartner and our data gurus at Absolutdata, data fabric can use analytics to learn and actively recommend where data should be used and changed and can in fact reduce data management efforts by 70%.
Artificial Intelligence will speed up exponentially. Whether in creativity, workplace automation, cybersecurity, Low-code/No-code, or metaverse, digital enterprises will rely more and more on AI-created use cases to differentiate and define the time to market their service portfolios. Get ready as more and more enterprises prioritize AI and introduce Chief AI officers. I'm glad Infogain is already a few steps ahead and recently appointed Anil Kaul as its Chief AI officer.
Cloud-native, the concept of building and running applications to take advantage of distributed computing, will continue to be a significant technology expense for enterprise and technology companies. With the digital transformation push expected in 2022, the modern landscape of human-centered complex applications — where users expect continuous innovation coupled with unparalleled responsiveness — will rely more and more on Cloud-native technologies & platforms to remain agile and flexible (Read more: Infogain recently acquired NNT - Cloud-Native App Development Company).
Cyber Security will remain at the top of the radar for CIOs, CTOs & CDOs. One trend to keep a close watch on is Cybersecurity Mesh, a flexible and arranged architecture that integrates distributed and disparate security systems.
Workplace Automation will help companies by increasing employee morale and productivity. And labor shortages across all industries and tech adoption of metaverse will create the need. For example, AI-driven drive-throughs for restaurants, Self-service kiosks at airports and hotels, etc.
Hybrid is the new normal, and we must align our infrastructure and culture accordingly. It will require new metrics for customer satisfaction and employee camaraderie. Quoting a Harvard Business Review article, "Organizations who will win know that workplaces designed for people and the resiliency of their organizations will help them move forward, learn, and remain competitive." And it will affect existing metrics such as productivity, quality, and performance.
Blockchain will become louder. Utilities like smart contracts will bring more business transparency and potentially become the 'New Normal' in no time. (Read the Sunday Economic Times article as Infogain delves on AI use cases of blockchain, the revolution of Web 3.0, and why blockchain matters.)
Human-Centered Experience, Infogain's core business integrates user, customer, and employee experience across all channels. We will continue to drive and deliver growth and will feed into the appropriate selection and adoption of the technologies, framework, processes for enterprises to leverage the true Human-Centered Digital Platform magic.
Key Industry trends
Insurance & Healthcare to get more connected & personalized
Travel & Hospitality to accelerate the adoption of AI, ML, and metaverse technologies
CPG & Retail to adopt more Digital Twin & Data fabrics to create new offerings.
Embracing these trends requires understanding innovation, managing it, and a platform that executes it. Those three are the interlocking layers of the Infogain Value Delivery Framework. We transform businesses with innovations customers see, supported by an infrastructure that allows for intelligent, nimble change.
To speak to the experts from across the service offerings, email us here.