Posted on :

January 8, 2022
Industry :

Corporate

Service :

Corporate

Type: Blog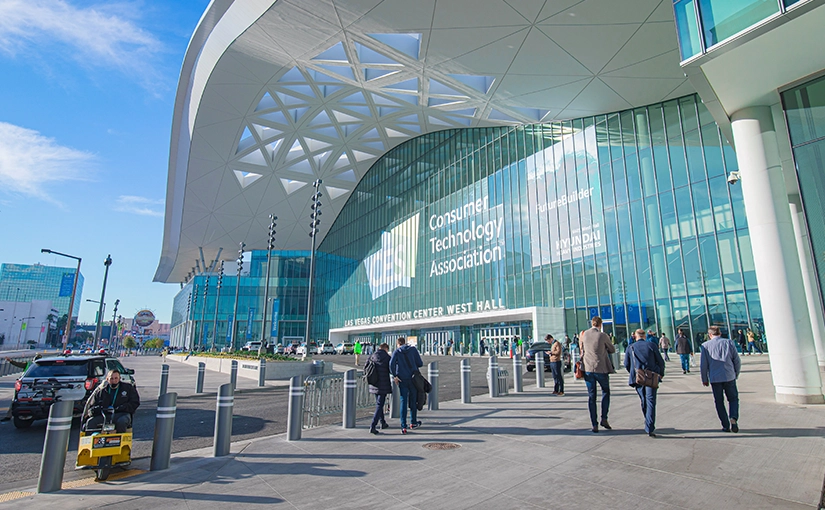 CES 2022, called "the most influential tech event in the world," held its first in-person conference in two years in Las Vegas from Jan 5-7, 2022. The event connected innovators, decision-makers, media, influencers, visionaries, and potential customers from across the globe. Over 44,000 people attended the conference, which included 2,279 global exhibitors and 105 sessions. Many products were represented by the consumer tech industry, including 5G connectivity, AI, AR & VR, smart cities, sports, digital health, robotics, and more.
Key highlights included sessions on product launches, innovation strategies, business plans, and sustainability practices. Here are a few highlights:
Samsung steers towards hyper-connectedness and personalized services for a sustainable future
Samsung introduced its vision for the future, "Together for tomorrow," stressing the importance of the co-existence of technology with people and the planet. The company is making sustainability practices a part of its daily function with the goal of conserving resources, reducing wastage, and promoting reuse.
Samsung is building on what it terms everyday sustainability, customized experiences, and seamless connectivity to include the following:
Helped reduce carbon emissions by nearly 70,000 tons by introducing different initiatives throughout its production cycle.
In 2022, it aims to use 30 times more recycled plastic for screens than it did last year.
Enhanced SolarCell Remote is now being used across home appliances and TVs with the goal of eliminating more than 200 million batteries from landfills.
Introducing tailored experiences across consumer product categories to cater to the diverse needs of its customers and expand its vision to smartphones and large-screen devices.
Expanded its SmartThings services to include monitoring of electricity usage and recommends ways to save energy and bills based on user habits.
General Motors (GM) push towards an EV future with its Ultium Effect.
With a focus on all-electric vehicles for the future, GM endorses the notion of zero crashes, zero emissions, and zero congestion to ride with the next wave of change in mobility. The company provided insights into the different strides being undertaken to create a better future for future generations through its Ultium Effect. The Ultium Effect, or multi-purpose EV platform, is focused on redefining ways to move people and freight efficiently and quickly.
GM spoke about the various measures it's working on to stay at the forefront in the EV industry with these initiatives:
2024 Chevrolet Silverado EV – its first all-electric pickup truck. Slated for launch in 2023, the full-size EV pickup has been developed from scratch and leverages the power of GM's Ultium Platform. Chevrolet's EV fleet will also include the Equinox EV – an affordable, functional, compact SUV for both fleet and retail. A larger Chevrolet Blazer EV SUV is also expected to hit the market in 2023.
Companies like Walmart and FedEx are taking various steps for sustainable last-mile delivery services using BrightDrop's (GM's commercial EV business) electric delivery solutions.
GM showcased its vision of multimodal luxury travel with the expansion of Cadillac's Halo Concept Portfolio with the InnerSpace and OpenSpace autonomous vehicles.
GM is the first company to use Qualcomm Technologies' Snapdragon Ride™ Platform for advanced driver assistance technology.
Abbott Laboratories' implementation of next-generation technologies for improving human wellbeing
With the demand for new tools for health monitoring, Abbott seeks to digitize, decentralize, and democratize healthcare. It seeks to bridge the gap and give more control to the patients to monitor their health and well-being. At CES 2022, Abbott unleashed some of its new products and services, and solutions, including the following:
Abbott is developing a new category of consumer bio-wearables called Lingo which, through sensors, helps translate eccentric body language into actionable insights to assess general wellness. The technology is designed to help track key signals in the body, such as glucose, ketones, and lactate. Lingo's technology aims to expand glucose monitoring to people looking to manage their weight, sleep, and increase energy.
Through its BinaxNOW COVID-19 Home Tests, Abbott helped United Airlines passengers fly safely and confidently.
The company's first-of-a-kind network called the "Abbott Pandemic Defense Coalition" is working from Brazil to Senegal and Thailand to identify and stop new viruses before they have a chance to spread.
The Nutrition R&D division at Abbott shared how the science behind the microbiome can help optimize your overall health with personalized nutrition.
CES 2022 was an interesting platform for both technology enthusiasts and business investors to learn about major innovations which are expected to revolutionize industries and provide resolutions to issues ranging from healthcare, agriculture, and consumer, to sustainability and beyond. The event accentuated the various initiatives being undertaken by leading companies to make human lives simpler, connected, digital, and viable.