WhatsApp Messaging, Slack Canvas, Huddles Co-Working, and More Presented at the World's Largest Software Conference
Posted on :

October 11, 2022
Industry :

Corporate

Service :

Corporate

Type: Blog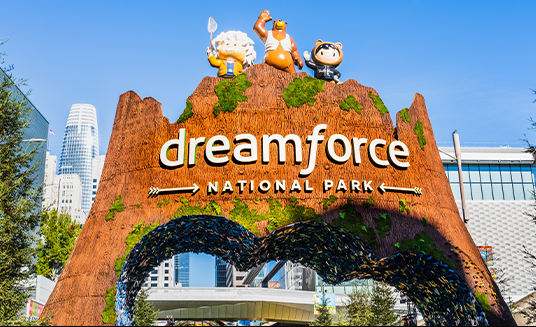 Salesforce showed off big plans at the company's Dreamforce event that featured innovations, product launches, new technology partnerships, and more.
Salesforce Dreamforce drew 40,000 to San Francisco to celebrate the company's 20th anniversary. Here is a rundown of notable news from the event:
New products
Salesforce Genie: Hailed as the most significant Salesforce innovation in the company's history, Salesforce Genie offers highly personalized customer experiences delivered in real time. Genie ingests and stores massive amounts of real-time data streams and combines them with Salesforce data, giving businesses unparalleled insights about individual customers across apps. This is expected to pave the way for personalization on a hyper-scale.
Slack Canvases and Huddles Coworking: After being acquired by Salesforce, Slack has seen accelerated innovation this year. Some of the new offerings include:

Slack Canvas: A Slack Canvas is described as "a surface to capture and share knowledge with the ability to access and take action on Salesforce data directly in Slack." Quip has been integrated with Slack which offers an interactive board that pins key information related to the channel.
Huddles Coworking: Further bringing to life the in-office experience through the convenience of remote digital operation, Huddles Coworking allows users to jump into quick conversations from any channel or DM. Huddles have been enhanced to include features such as video and screen sharing, pop-out windows, chat-in threads, post-huddle threads, and reactions.

Net Zero Cloud (+ Marketplace): Environmental protection was a theme that dominated the event. Salesforce has put its environmental protection plans into action through initiatives like:

The Ocean Research Program: Salesforce is scaling up this program which involves AI for monitoring ocean health and the protection of endangered whales. The tackling of plastic pollution in the oceans and the expansion of marine parks were also discussed during the event.
The Great Reforestation: Salesforce aims to sequester 200 gigatons of carbon with 1t.org (the platform for a trillion trees community) by conserving, restoring, and growing 1 trillion trees by 2030.
Net Zero Cloud: With the help of 'What-if Analysis' (powered by Tableau) and Einstein Recommendations, Net Zero Cloud is a Salesforce product that helps organizations meet their sustainability goals. It offers functions such as management of sustainability data and automation of supplier emissions tracking, enabling organizations to forecast and reduce their environmental risk.
Net Zero Cloud Marketplace: The Salesforce Net Zero Marketplace (powered by Commerce Cloud) will connect buyers and ecopreneurs, offering a seamless e-commerce experience for purchasing a catalog of products. The marketplace is set to launch in 11 countries with 90 projects.

Hyperforce and the External Encryption Ecosystem: Hyperforce is a platform architecture that securely delivers the Salesforce 'Cloud' products on major public clouds like Google, Azure, and AWS. It is currently available in 10 regions. Hyperforce is projected to reach 17 countries by the end of 2023. The two primary aspects of Hyperforce are data security and data residency and using cryptography. With these products, Salesforce gives customers complete control over their data.
Customer demos
Ford and the Ford + Plan: During this demo, the capabilities of Salesforce Einstein and Salesforce Genie were explored through integration plans with Ford. In the Ford + Plan, users can get real-time reminders from Genie to charge their car. They can use Einstein Next Best Action to schedule upcoming service appointments and get the care delivered with the help of Field Service Genie. All this can be done without the customer having to interact with anyone – as all this is executed through Einstein and Genie.
L'Oreal: In this demo, Genie and Einstein's capabilities to enhance the user's experience were highlighted. Citing an example – if a fashion influencer sees an advertisement for L'Oreal products on Insta and adds them to her cart but then forgets to purchase it, in that case, Salesforce Genie makes a note, and the Salesforce Einstein chatbot arranges for a virtual trial of the products. Through augmented reality, the influencer can try those products and purchase them. Thus, with the help of Salesforce tools, ignored items in the cart can be instantly converted into successful purchases.
Strategic partnerships
Salesforce will offer its customers – WhatsApp-first business messaging – to enhance customer engagement, increase sales and provide better customer support outcomes. By effectively leveraging WhatsApp, Salesforce will provide an omnichannel marketing and customer service experience.
AWS and Salesforce deepened their collaboration with innovations that substantially reduce the time-to-value for custom AI investments and simplify the training and deployment of ML models for production use. In addition to the existing Einstein capability, customers can now use Amazon's SageMaker and AWS's machine learning modeling service to build customized AI models. These new integrations are all driven by Salesforce Genie.
The event was also virtually accessible via Salesforce+, an all-new streaming service, allowing another 150,000 online viewers to join.
The event featured several conferences, including over 1,000 sessions and workshops, 72 hours of live broadcast, over 200 on-demand sessions, and many networking opportunities to connect with Trailblazers worldwide.
To speak to our experts and leverage these new products in your business, email us.