Posted on :

October 21, 2022
Industry :

Technology

Service :

Digital Strategy

Type: Blog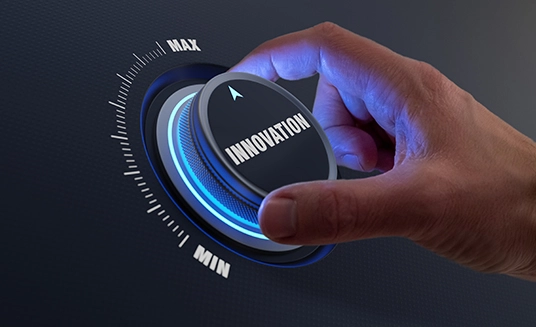 A downturn may mean dark clouds to many, but not for the leaders who take the right strategic moves. History suggests that companies that invest in innovation through a downturn outperform peers during the recovery. In fact, many of the dynamics presented during a downturn are perfect ingredients for disruption from which new innovations and business models emerged. For example, Airbnb was born in 2008, right in the middle of a financial crisis.
Common traits shared by through-crisis innovators:
For incumbents and digital natives alike, the traits below differentiate through-crisis innovators from others:
They stay connected with what the market wants: Innovators are problem seekers. They speak with customers often and uncover their unmet and unarticulated needs.
They invest in prototypes, not presentations: Innovators follow a build, test, and learn approach. They have a product mindset and invest in rapid prototyping to learn by doing.
They innovate-in-a-box, rapidly: Innovators aim to cut the bureaucracy of large organizations by working in small autonomous teams. They accelerate innovation with intrapreneurial spirit.
What can you do during a downturn?
There's no denying that downturns put pressure on companies to find efficiencies, optimize performance and improve KPIs. At the end of the day, every company will have to work to deliver on its value proposition, no matter the economic environment. To emerge as leaders, companies can focus on three areas.
The first area is fixing the "here and now" where digital investments have been made with the hope to deliver on the value proposition well and more so, consistently, but the true value of the investments is elusive. Fixing this through rapid innovation sprints ensures that you deliver your value proposition very well and consistently, every single time. It's critical to reverse setbacks or drop-offs in adoption and engagement and restore lost revenue.
The second area involves extending your core business to drive new revenue. Customer expectations change more quickly now, and especially during a downturn. Fortify your market share by building new value propositions within your core business. Align your strengths to predict changing customer expectations and address those expectations rapidly with human-centric product experiences.
The third area is to fundamentally relook at your core business and find opportunities to move horizontally or vertically across the value chains you serve. Remember, the future belongs to platform business models. Find opportunities to leverage network effects and platforms and partner with the right strategic businesses to remain relevant to your customers across the value chain. Doing this will future-proof your business.
The only constant in life is change. It's easy for business leaders to freeze and focus on survival during trying times. Don't freeze! Seize the silver lining. There is no more perfect time than a downturn to double down in one or more of the above three areas. Find opportunities to innovate human-centered platforms and product experiences, and turn today's ambiguity into tomorrow's opportunity. Lead with innovation and set the stage for a faster turnaround when things get back to normal.