Posted on :

December 5, 2018
Industry :

Digital and High Technology

Service :

Hyperautomation

Type: Blog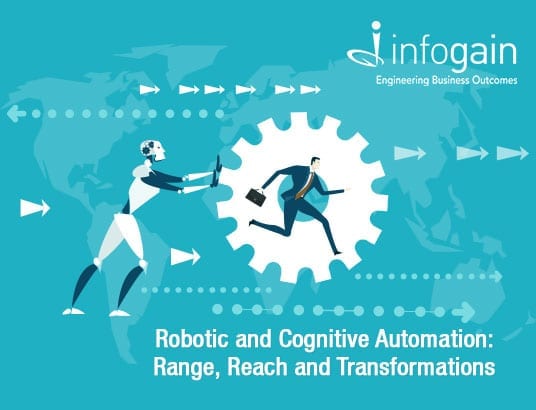 Infogain and Automation Anywhere held a joint Roundtable on November 14th in Santa Clara, CA to discuss strategies and real-world examples of how Robotic Process Automation (RPA) implementation boosts business outcomes in remarkable ways.
Key topics of the roundtable included:
How advancements in RPA technology drive Robotic and Cognitive Automation that replicates human actions and judgement at tremendous speed, scale, and quality at a lower cost.
RPA led enterprise transformation, enterprise adoption, and industry trends.
Strategies for defining an RPA roadmap from 'Rule' based operations to 'Cognitive'.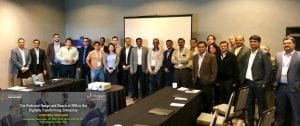 Keynote: Digital Workforce Transformation
After 20 years of automation technologies, a majority of business processes are still manual. Why? Anubhav Saxena, EVP, Partnerships, Strategy & Operations at Automation Anywhere, said the reason is that the traditional automation approach is not sufficient.
A more efficient approach, and the vision of Automation Anywhere, is to enable human intellect to achieve greater things by:
Taking the robot out of the human
Putting human-like intelligence into the bot.
Saxena compared today's workforce to the workforce of the not-too-distant future-a digital workforce for the modern enterprise with key elements of RPA, cognitive and smart analytics. He discussed Automation Anywhere's Intelligent Digital Workforce Platform and gave an example of a digital accounts payable clerk from the platform's Bot Store:
Outcome Driven Intelligent Process Automation
RPA has proven its ability to deliver meaningful results and is leading to an era of intelligent automation through the integration of AI/ML. Gans Subramanian, Infogain's VP & Global Head, Digital Experience & Insights, presented the mind-boggling benefits of RPA highlighted with real-world examples: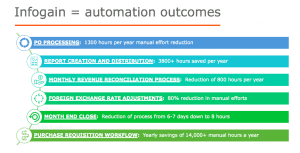 RPA Bots:
Are designed to work faster than humans
Can work 24x7
Do not commit typos
Create cost savings
As a result, enterprises are now looking at intelligent automation for accelerating their digital transformation, given that now RPA is capturing significant process performance data.
Subramanian outlined Infogain's RPA solutions which span the entire spectrum,
from setting up an integrated center of excellence to building an Agile automation factory.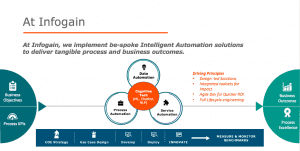 The Bottom Line
Robotic and Cognitive Automation replicates human actions and judgment at tremendous speed, scale and quality, and lower cost. Business benefits include:
Lower cost of operations with cost savings of 25-30%
Enhanced precision and improved productivity by up to 80%
Uninterrupted business flow with non-intrusive, disruption-free RPA integration and implementation
Automated operations that minimize manpower dependency
Accelerated business value creation
Infogain delivers the expertise, tools, and frameworks to accelerate the digitalization process with RPA. Our holistic approach to automation includes end-to-end methodologies, process selection, ROI measurement, vendor recommendations, reusable automation frameworks, training kits, and launch plans.
Contact an RPA specialist here.