Posted on :

August 21, 2019
Industry :

Corporate

Service :

Blogs

Type: Blog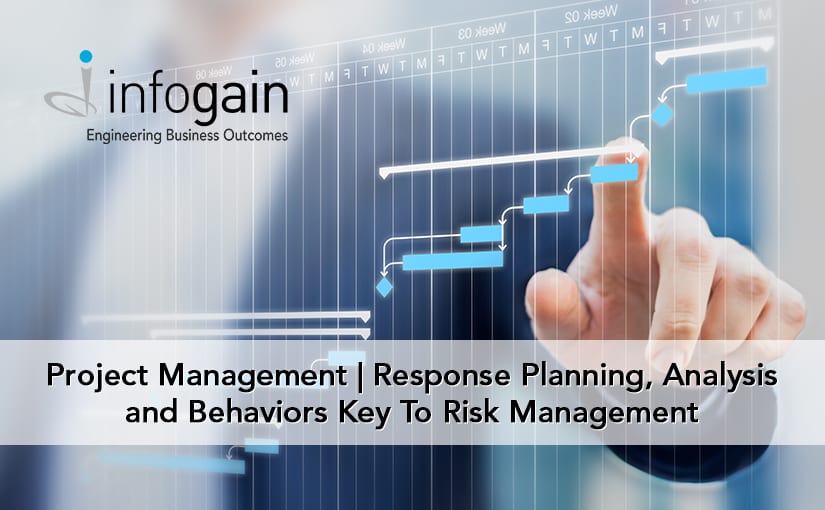 Authored by Mohd. Adnan Shamsi, Program Manager
We know that every project has certain risks associated with it. A 'risk' or 'project-risk' is an uncertain event or condition that could influence one or more project objectives. It is prudent to identify all potential risks at the time of kick-off to ensure delivery of the project. Risk management is crucial and imperative for project success. Early identification of risks and its management on a project includes planning, analysis, response planning and behaviors needed to control risks. The ideology is simple because when a risk can be identified at the early stage, it can be mitigated; ensuring successful project deliveries.
Assessing risks at the start of a project is efficient and gives managers better control. Risk Management planning helps determine each risk and its impact, and risks are relative to a project. Any risk that is detected will affect the productivity of a project.
Potential risks could come from:
Requirement Instability - Introduces new requirements halfway through a project, reviews plans at a slower pace, causing delay. They may introduce something that could impact the estimated schedule, delaying the deliverables. The customer may also be unhappy with the quality of planning, expectation management, communication, efficiency, budgetary control etc.
Schedule - Identify the project activities at granular level, arrange these with correct sequence and build right dependencies within these.  Any unfamiliar part of the product not in the plan will disturb the schedule. Additionally, missing important tasks, lack of baselines and unexpected vendor delays due to labour dispute, supplier bankruptcy, etc. can impact the project schedule.
Quality - Non-adherence to specifications can cause failure if the quality does not adhere to the required specifications. In addition, the quality of certain products or services may not equate with the fulfilment of a certain specification as determined by the customers' needs.
Effort - Inaccurate effort estimates can be risky, so it is important to focus on the intended improvement plan to eliminate/ minimize risks. Changes in line requirements during a project might lead to extra effort or delays.
Margin - Managing the budget is one of the most important aspects of risk-based approach and any impacts must be flagged immediately and managed. Lack of proper planning could lead to poor cost estimation and inaccuracies.
People - Non-availability of resources as per a resource plan will impact delivery. The available resources include inadequate skills or inexperience required for the execution of a project.
Based on the list of potential risks, a project manager must understand the key properties of risks, such as:
Strategy: Risks need to be identified early on and assigned an owner to lead its resolution. The risk must be accepted, avoided or minimized. Avoidance and reduction of risk means you can change the plan entirely and strategize according to potential risks.
Visibility: Risks are better identified when there is clear visibility on how a project is performing and what level of risk might be involved throughout the project.
Possibility: The level of each risk differs, with different dependencies and the magnitude of one risk may differ from the other. A project manager must focus on the possibility of risks and their occurrence.
Impact: A risk may not be certain, impacting the project at various levels like project, division, program or even organizational.
Costs: In case a risk occurs, its costs in terms of project, division, program and organizational level must be ascertained and necessary actions must be taken.
Once all risks have been identified and their properties determined, a 'Risk Assessment Plan' is readied for kick-off, which focuses on series of action that are planned to avoid the risks. The document addresses three key questions:
Who is the owner of the risk?
Should the risk occur, what is the estimated time needed for closure?
Regular checks or status updates.
The mission of risk-based project management is successful project delivery. Once the risks are identified, they can have owners across the organization from Executive to a Project Manager to a Global Delivery Head.
Risk planning is essential to successful project deliveries and with off-the-shelf tools and solutions such as Planview or SpiraPlan available, this can be done easily enough. Infogain drives business outcomes with our emphasis on high-quality, on-budget, on-time delivery of projects.
For questions and comments, or to speak to an expert, contact us
here
.