Chatbots Tech Talk Series
Posted on :

October 30, 2020
Industry :

Corporate

Service :

Digital Transformation

Type: Blog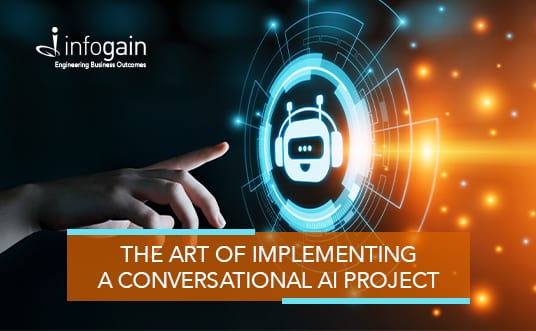 From single-purpose programs that respond to common consumer queries to advanced digital assistants that evolve as they process information, chatbot technologies are making a positive impact on customer service, employee productivity, marketing and more. In part one of Infogain's Chatbot Talks series, we answered your frequently asked questions about Chatbots.
Our second chatbot talk, The Art of Implementing a Conversational AI Project, was hosted by Upakul Barkakaty, Infogain's Director of Mobile and Chatbot Solutions, and took place on October 22nd with special guests Stephen Mateer and Michael Piotrowski of Kore.ai.
Kore.ai is an enterprise virtual assistant platform and solutions company enabling enterprises to automate and enhance digital interactions with their customers, employees, and partners.
Here are takeaways from the event:
Stephen Mateer provided an overview of Kore.ai, its mission, and outlined use cases for B2E and B2C.
Kore.ai provides a conversational AI-based no/low code enterprise platform to create virtual assistants with conversational and digital user experiences. The platform serves as a secure foundation for enterprises to design, build, test, host, and deploy AI-rich virtual assistants across 30+ different digital and voice channels.
Kore.ai develops domain trained pre-built virtual assistants for Banking, Insurance, HR, and IT Support:

Kore.ai's omnichannel 'build once and deploy anywhere approach' simplifies developing and deploying bots across multiple channels such as messaging apps, digital assistants, collaboration tools, and enterprise applications.
The Kore.ai VA Platform provides automatic handling of channel-specific APIs. It automatically accounts for authentication and authorization nuances between channels-- automatically adapting messages to match the formatting used by each channel.
Kore.ai's conversational assistants can be applied to a broad range of B2E and B2C industries and domains: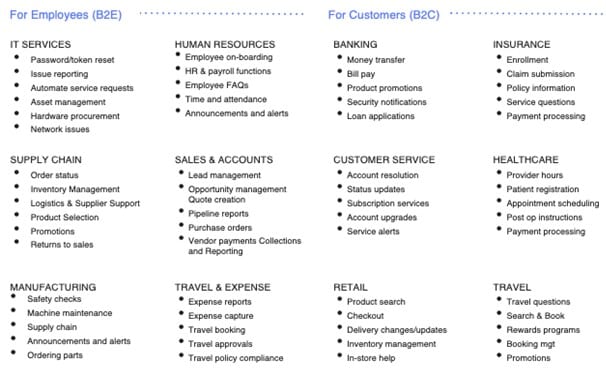 Michael Piotrowski gave a technical overview and a demo of Kore.ai's platform, which described knowledge ingestion, how to build a dialog, conversation design and task execution. He also outlined the advantages of their multi-engine approach for Natural Language Processing.
The webinar concluded with a discussion of metrics and must have requirements for selecting a virtual assistant:
How easy and intuitive is it to learn?
How long does it take to deploy?
What kind of support will you receive during and after implementation?
How easy is it to collaborate on VA projects?
How long does it take to build VAs using the solution?
What is the pricing and pricing structure in relation to your must-have features?
Upakul Barkakaty, Infogain's Practice Head for Mobile and Chatbot Solutions, is also a Chatbot enthusiast and can share 'Chatbot Criteria' to consider when choosing a chatbot.