Posted on :

October 29, 2020
Industry :

Corporate

Service :

Corporate

Type: Blog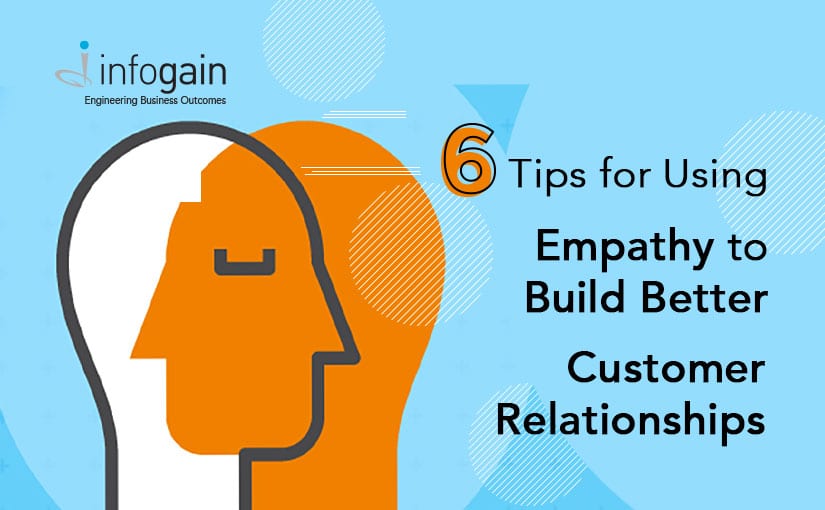 "Empathy" can be defined as the ability to understand and share feelings of another. It (empathy) allows one to understand someone else's situation, reasons, even their feelings/emotions. It is crucial in our personal lives, our social interactions; it surpasses all boundaries and is equally, if not more, relevant in the business world. It can empower any customer-facing role, be it a customer agent or a client partner or business head, to deliver excellent customer experiences.
The companies who recognize the importance of empathy to understand their customer needs can also benefit by applying it to various aspects of business, ranging from product development/engineering, managed services, or even call center training.
Over the years I have applied many strategies, methods, and tactics to keep my clients engaged. Here are some of the takeaways that have helped me forge some great relationships with my many clients.
1- Listen, Talk, Engage
One of the easiest ways to extend customer empathy is to think like a researcher. Observe how the customer engages with you and your team and get a measure of how they interact with your products and services.
The objective is to understand the customer better and then fine-tune your offerings to meet their specific requirements. The idea is simple. Put yourself in your customer's shoes so that you can better anticipate and meet their needs.
2- Convert everyone into customer support
This is perhaps the most important way to cultivate customer empathy. Every member of the team needs to think of themselves as customer/client support. This initiative alone will turn your customer into a loyal and repeat customer.
3- Empathy Map
An empathy map is an integral part of the design thinking process but can also be very useful to gain insight into a customer's mind, targeting the customer's emotions:
What does your customer think and feel?
What do they hear?
What does your customer see?
What does your customer say and do?
This exercise will help identify some very important factors that could be crucial in discovering your customer's pain points areas as well that they perceive as successes.
4- Practice proactive empathy
Most customers provide early indicators when they observe and feel anything that's not in-line with their expectations. It is essential for us to proactively engage with the customer, understand the phrases-- early indicators, as I call them--and act with full confidence. In most cases, practicing pro-active empathy is very effective.
Customer empathy can easily be felt and understood if we interact with customers on a regular basis. I have personally traveled and worked with customers in more than 22 countries and was able to relate with every single customer, create an empathetic connection, and a rapport to deliver services to their satisfaction.
5- Review and score customer experiences
Quantifying and capturing the pulse and the metrics that measure our customer's empathy is extremely effective and leads to the highest level of customer satisfaction. When we measure what we do, it becomes real. It's a lot like 'knowing vs doing' gap.
We believe we know what our customers want, but when we start measuring, reporting, and reflecting on our actions, it changes the way we connect and deliver quality services. At Infogain, we have defined an innovative way to measure and record everything with our 'Delivery Excellence & Tracking (Dextra) tool.
6- Examine Your Biases
We instinctively carry biases about our customers-- whether we are aware of it or not. We unconsciously make assumptions about people based on their age, color, culture, and religion to name just a few. Acting out of bias makes us treat some customers differently than others, and we must work on this with sincerity and break this pattern. We need to keep examining our bias in every conversation, be it project status, giving good or bad news to customers, or even if it is about business and growth conversation.
Remember, "Empathy Sells."
In summary, customers are at the core of our businesses. If you understand your customers better, it's easier to anticipate their needs. And I believe that 'we are in business because our customers are buying'. Being empathetic is one of the most important levers to engage and connect with our customers cultivate loyalty.
Infogain is a digital platform and engineering company with expertise in design-led approaches that drive significant improvements in customer retention and new customer growth.
For questions and comments, or to speak to an expert, contact us
here
.