The company is growing its global footprint to bring digital services closer to its clients
Posted on :

October 19, 2023
Industry :

Corporate

Service :

Corporate

Type:

Press Release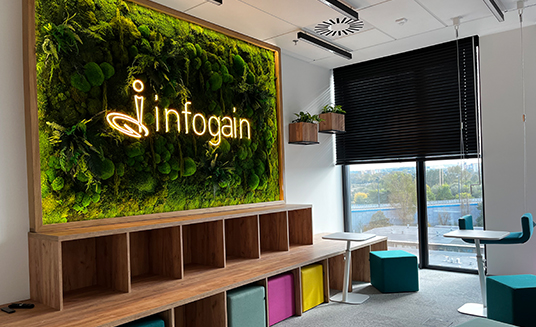 Los Gatos, CA and Kraków, Poland, October 19, 2023: Infogain, a Silicon Valley-headquartered leader in human-centered digital platforms and software engineering services, today announced the opening of its new office in Kraków, Poland.
The new center is the latest step in Infogain's strategy to bolster its nearshore presence and support the digital transformation initiatives of its customers. This center will support Infogain's business growth globally by tapping into Poland's best-in-class talent pool for expertise in software engineering and digital platform development.
"We are delighted to announce the opening of our new nearshore center in Poland. This state-of-the-art center represents a significant step forward in our commitment to our customers and provide our services in closer proximity to our global clientele. Our nearshore delivery model has already demonstrated its effectiveness and this expansion will amplify our agility and ability to engineer business outcomes for our clients," said Ayan Mukerji, Infogain's Chief Executive Officer.
Infogain has been taking an active lead in the city's IT ecosystem. The company supports several initiatives of the Association of Business Service Leaders (ABSL), as well as sponsors and participates in industry events like Devoxx Poland and student job fairs.  Giving back to society is a pillar of Infogain's corporate strategy, and the company is a supporter of charitable causes, such as Noble Gift and Poland Business Run.
"I congratulate Infogain on its new center in Poland. We are optimistic that Infogain's commitment to investing in Kraków will substantially contribute to Poland's technology sector's ongoing advancement and growth. We offer our best wishes to Infogain as they continue to expand their presence and forge a global footprint," said Jerzy Muzyk, Deputy Mayor of the City of Kraków.
Infogain is one of the first tenants moving into the newly constructed modern workspace at The Park Kraków. The spacious office on the fifth floor has a view of the Bagry Lagoon and is ideal for Infogain's fast-growing team. The building follows Environmental, Social, and Governance (ESG) principles, offering greenspace areas, vehicle-free areas, and more. This aligns with Infogain's own ESG policies of reducing our carbon footprint and creating sustainable change through volunteering and partnerships on various social causes.
"Kraków offers an exciting opportunity from the technology talent perspective for Infogain and the new location is a great attraction. The new space is ideal for increased collaboration, ideation, and co-creation with clients and partners," said Krystian Sperka, Vice President and Managing Director, Infogain Poland.
About Infogain
Infogain is a human-centered digital platform engineering company based out of Silicon Valley. We engineer business outcomes for Fortune 500 companies and digital natives in the technology, healthcare, insurance, travel, telecom, and retail/CPG industries. We accelerate experience-led transformation in the delivery of digital platforms using technologies such as cloud, microservices, automation, IoT, and artificial intelligence. Infogain is a multi-cloud expert across hyperscale cloud providers – Microsoft Azure, Google Cloud Platform and Amazon Web Services.
Infogain, an Apax Funds portfolio company, has offices in California, Washington, Texas, the UK, and Singapore, with delivery centers in Seattle, Dallas, Montevideo, Kraków, Noida, Bengaluru, Pune, Gurgaon, and Mumbai. To learn more, visit www.infogain.com.
For more information, contact:
Infogain

Piyali Guha

+91 9739015925

Archetype 

Suryansh Gaur

+91 9711306903