Microsoft Azure customers worldwide now gain access to three NAVIK AI solutions to take advantage of Azure scalability and agility
Industry :

Corporate

Service :

AI and Machine Learning

Type:

Press Release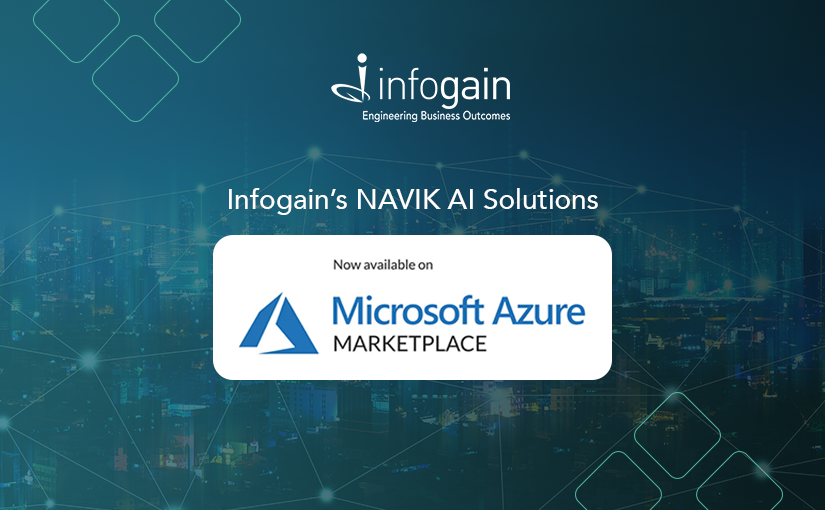 Los Gatos, California, May 18, 2023: Infogain, a Silicon Valley-headquartered leader in human-centered digital platform and software engineering services, today announced the availability of three AI-powered business solutions on the Azure Marketplace, an online store providing applications and services for use on Azure. NAVIK customers can now take advantage of the productive and trusted Azure cloud platform, with streamlined deployment and management.
NAVIK is an AI platform that addresses the breadth of AI solution needs, including data infrastructure, data engineering, and data analytics requirements. NAVIK's modular components include data integration repositories and pipeline scripts, a library of highly trained algorithms built on state-of-the-art machine learning models, and pre-built UI components. Using NAVIK, Infogain can rapidly design, develop and deploy AI-powered solutions to meet the unique needs of its clients.
ASK NAVIK powered by OpenAI on Azure delivers all the capabilities and promise of a state-of-the-art generative AI solution, but in a package that will work safely and effectively inside a business organization. Each ASK NAVIK implementation is designed to meet the needs of a particular business use case. Models are trained on the client's business data, wherever it may reside. ASK NAVIK combines OpenAI's large language models and Azure's enterprise and supercomputing capabilities into a client's data estate.
Infogain NAVIK Sales AI platform generates sales efficiency and uncovers new monetization strategies. Infogain helped a Fortune 100 beverage company make smarter assortment recommendations by creating an AI-driven solution that combines deep neural nets, collaborative filtering, and ensemble models. Field sales teams use the tool to improve effectiveness and drive business growth.
Infogain NAVIK Marketing AI platform is a powerful B2C campaign automation and hyper-personalization tool focusing on customer-directed customization through AI integration. Infogain designed and built a holistic analytics solution for a multi-billion-dollar wireless network operator. It combines customer profitability goals with customer lifetime value model results and feeds the output into an optimization algorithm, generating campaign lists with targeted offers for each micro-segment.
Anil Kaul, Chief AI Officer at Infogain, said, "We designed NAVIK to put the power of advanced AI solutions including machine learning models directly into the hands of business users, suppressing human bias and enabling better decision making. Azure's scale, native machine learning operations, and enterprise security capabilities will help us rapidly accelerate this vision."
Jake Zborowski, General Manager, Microsoft Azure Platform at Microsoft Corp. said, "We're pleased to welcome three NAVIK AI solutions from Infogain to the Microsoft Azure Marketplace, which gives our partners great exposure to cloud customers around the globe. Azure Marketplace offers world-class quality experiences from global trusted partners with solutions tested to work seamlessly with Azure."
The Azure Marketplace is an online market for buying and selling cloud solutions certified to run on Azure. The Azure Marketplace helps connect companies seeking innovative, cloud-based solutions with partners who have developed solutions that are ready to use.
About Infogain
Infogain is a human-centered digital platform engineering company based out of Silicon Valley. We engineer business outcomes for Fortune 500 companies and digital natives in the technology, healthcare, insurance, travel, telecom, and retail/CPG industries. We accelerate experience-led transformation in the delivery of digital platforms using technologies such as cloud, microservices, automation, IoT, and artificial intelligence. Infogain is a multi-cloud expert across hyperscale cloud providers – Microsoft Azure, Google Cloud Platform and Amazon Web Services.
Infogain, an Apax Funds portfolio company, has offices in California, Washington, Texas, the UK, and Singapore, with delivery centers in Seattle, Houston, Montevideo, Kraków, Noida, Bengaluru, Pune, Gurgaon, and Mumbai. To learn more, visit www.infogain.com.
For more information, contact:
Infogain

Piyali Guha

+91 9739015925

Archetype 

Suryansh Gaur

+91 9711306903