Industry :

Hospitality

Service :

Corporate

Type:

News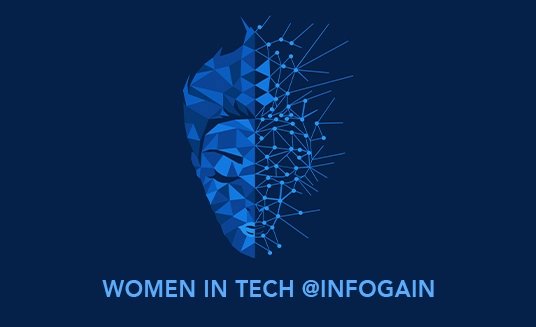 The following is an interview featuring Neeru Giri, that appeared in IT Voice on 2 May 2022. Follow the link to read the original article. 
Neeru Giri, Vice President, Delivery Infogain shared her views about the organization, women in technology and the future ahead in an exclusive interview with team IT-Voice:
Prateek: How is Infogain making the workplace more inclusive?
Neeru Giri: Infogain, at large, is a human-centered organization with a culture that promotes growth and opportunities for women employees – and it flows from the top. The management trusts us with what we bring to the table. In fact, our male-female ratio is relatively good across teams – including the senior leadership. We are encouraged to take up more responsibilities and succeed and at the same time, supported to cater to our personal needs as well.
Also, awareness makes a very big difference. There are internal sessions that are aimed at providing an open culture where we can communicate, reflect, and share our stories to evolve further.  For example, I recently participated as a panelist at Infogain's International Women's Day session.
We have numerous women leaders in client-facing roles and across departments. And the management is stepping up to further increase this number for senior roles, while also encouraging and accommodating sabbaticals and time off for focusing on personal wellbeing.
Prateek: Why do you think it's important for more women to join the tech industry? 
Neeru Giri: Several media reports have highlighted that when women are positioned in leadership roles, the organizations improve financially as well as culturally. Today, there is probably no job where women have not contributed – and succeeded. I feel we, as women, are born leaders and when nurtured in the right environment, we can lead with a more balanced approach. Participation of women in tech can help restore balance and speed up innovation.
Strong leadership comes from thoughtful actions and values-based decision making, and diversity in leadership means bringing a more diverse and holistic view of the challenges at hand and providing effective solutions accordingly.
Prateek: With 22 years of experience, what has been your learning so far as a woman in IT? How much do you think the industry has changed since you joined? 
Neeru Giri: I'd say there has been a significant amount of change since then. When I started, there was no focus on diversity and inclusion. Back then, we were 21 girls in a batch of almost 500 students. During my initial days with HCL, we were 2 women in a training batch of 17. We in fact, searched for women leaders/seniors, who we can look up to for guidance.
But that scenario is now changing, and the opportunities are increasing multi-fold for women. Today, they are taking up engineering courses in record numbers and pursuing careers in IT. A lot of times, I even witnessed a 50:50 ratio. The growing adoption of inclusivity in the big tech companies has given a ray of hope to women employees to come forward and work towards better. People now are inclined towards tech and innovation because there has been a change in perception on what women should do, they are well informed of the career options they can explore.
Prateek: What culture change do you think is needed for women to grow in leadership roles in the tech industry?
Neeru Giri: According to a recent study by Mercer, an American asset management firm, women are still underrepresented in leadership roles in India. While female participation is comparatively better for entry level roles, it shrinks significantly for managerial and executive roles. This may be because of several organizational and societal perceptions. The culture change that I think can help improve gender parity in managerial roles and boardrooms is firstly the mindset to take the ownership, accountability of things/important tasks and decision-making. That happens when we, as individuals, are adaptable to change but at the same time, confident enough to call things as they are.
As organizations, it is important to step up our efforts in the right direction, to provide equitable access to training, projects, and other resources for upskilling and more importantly having a structural and unbiased approach to early promotion.
Prateek: What according to you are the key strategies for effective project deliveries? 
Neeru Giri: For effective project management, I think the key strategy is better planning before the project starts. In general, key points that really help in the effective project management or project delivery service include:
Effective planning and estimation.
"Fail early", i.e., find and rectify faults in the system early in the development process.
Effective management of capacity / availability.
Right people with right skills in the right place.
Stakeholder analysis and communication plans.