Industry :

Hospitality

Service :

Corporate

Type: Blog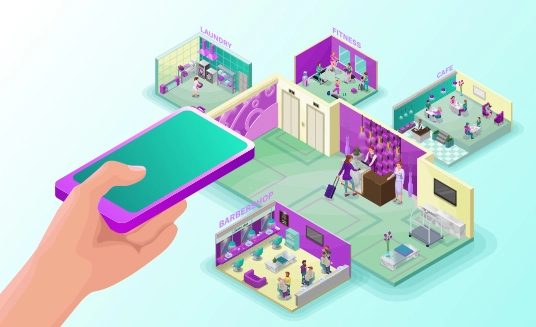 2021 didn't bring the hoped-for relief to the hospitality industry. On top of the ongoing pandemic decimating bookings and revenue, companies had to contend with labor shortages, changing customer behaviors and attitudes, and a sudden shift in what was – and was not – deemed acceptable in terms of hygiene and health precautions. It's no surprise that the industry as a whole turned to technology to make their organizations more flexible and efficient in an attempt to ride out the storm.
With hospitality expected to face a long, slow post-pandemic recovery – experts suggest it may be among the last industries to fully recover from the effects of COVID-19 – leaders and decision makers need to keep an eye on tech-related trends in customer experience, operations and management, and marketing and advertising as 2022 progresses. With that in mind, here are our picks for hospitality tech trends to watch over the year.
2022 Hospitality Tech Trends
Self-Service, Remote Check-Ins, and Other Tech-Enabled Conveniences
The App-based self-service check-in has been on the hospitality radar for a while; back in 2018, 90% of hotel execs thought this was a good idea. By 2020, 86% of customers indicated they'd choose to use an App to manage their stay. Not only are app-based check-ins a crowd pleaser, they're also good for the hotel management, who can reduce the number of staff needed on customer-facing areas like the front desk.
Going further, guests have expressed an interest in doing as much as possible via app (either on their own device or an in-room tablet). This includes things like booking spa appointments and ordering food. (Interestingly, some hotels are even using chatbots to help manage guest requests and orders – an additional labor-saving use of AI.)
In the future, we may see this trend go a bit further by the more widespread adoption of using biometrics like fingerprints as check-in tokens and keycard replacements. For now, though, the app reigns supreme and looks to remain that way throughout 2022. Thus, hospitality companies would do well to ensure their app is very user-friendly and attractive!
Health, Hygiene, and Safety Go Contactless
The same survey mentioned earlier noted that most respondents (in 2020) put off booking into a hotel or similar to avoid being exposed to COVID-19; furthermore, they felt like changes necessitated by COVID-19 would probably continue into the future. Expect, then, to see the emphasis on health and hygiene continue into 2022 and beyond.
Here, the idea of contactless payment is the technology of the moment. Guests can save payment methods into their phone (e.g., Apple Pay, Google Pay, etc.) or into the hotel app and use their device to settle all their bills. This will be a key way to reduce contact and increase customers' feeling of safety – at least until cleaning robots become standard in hotels.
Augmented Reality and Virtual Reality
In the customer-centered side of AI, we also look for technologies like augmented reality (AR) and virtual reality (VR). Onsite, hotel guests can use their smartphones to access AR and add a technology layer to their physical experience – i.e., to get more information on a particular item or offering. VR, on the other hand, can be used in the marketing experience, as a virtual tour of rooms, property, amenities, etc. With guests being reluctant to venture out, the immersive nature of VR can help them 'experience' what the hotel can offer and possibly move them to book a stay.
Improved Management Tools
AI-powered tools have already been used to hyper personalize marketing efforts and simplify daily operations at hotels and other venues. As mentioned above, decision-makers are already leaning into data-backed recommendations and systems. In 2022, look for these tools to become more connected – sharing data and working in tandem with other areas to provide a richer data pool and more effective results across departments.
Similarly, we've already seen Software as a Service (SaaS) tools become popular, especially for companies that don't have their own data science capabilities. We can expect this trend to continue in 2022 as everyone – large and small – in the hospitality industry tries to make the best of a less-than-optimal situation.
Technology: A Savior for Hospitality
Will 2022 be the year that the recovery starts happening for the hospitality industry? We sincerely hope so! In any case, companies in this area will need to continue investing in (and utilizing) technology to cope with their challenges. We're confident that the ones who do will also be the ones who stay afloat during this difficult time.