Posted on :

July 30, 2020
Industry :

Travel and Hospitality

Service :

Corporate

Type:

News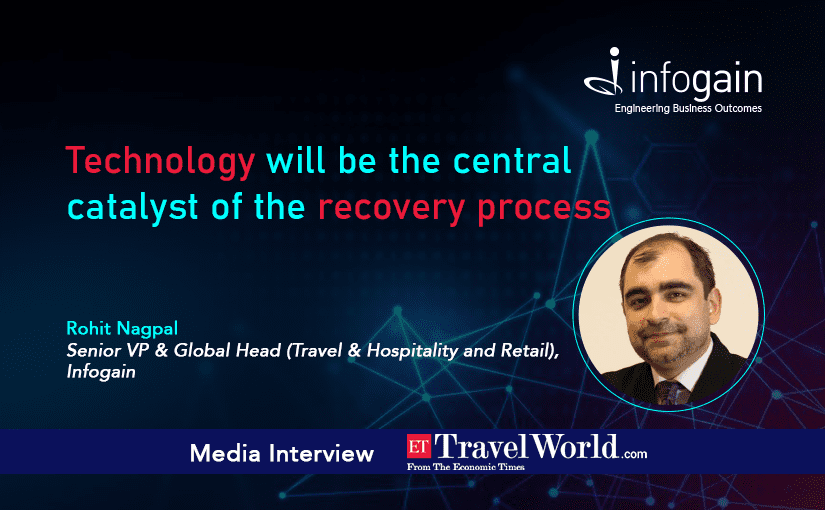 This is an exclusive interview with ET Travel World. Follow this link to view the original article
Infogain is a Silicon Valley-based global leader in software platform engineering services and solutions with deep domain expertise in travel, retail, insurance and high technology industries. Infogain's Travel & Hospitality practice helps travel companies become more agile, effective, and profitable through digital transformation. At a time when the travel and hospitality industry in the world is facing its biggest existential challenge due to the global pandemic, technology companies like Infogain have a major role to play in making the revival of the businesses smooth and seamless and aligned with the new expectations of the customers. ETTravelWorld spoke to Rohit Nagpal, Senior VP & Global Head (Travel & Hospitality and Retail), Infogain to find a path to the future. Excerpts:
How much does the Travel, Tourism, and Hospitality industry contribute to Infogain's overall portfolio? What kind of focus do you have on this sector in supporting its revival?
Travel & Hospitality is one of the five key industry focus areas for Infogain, wherein we offer travel tech software for product development, content distribution solutions for Online Travel Agencies (OTA). Airline and hospitality are micro verticals for us from an engineering and digital transformation perspective.
We believe that technology will be a central catalyst of the recovery process, and understanding the behaviour of guests and engaging them with modern technologies is critical. The integration of new-age tech through various stages of the customer journey will facilitate the recovery of the sector. We are currently engaging with our clients and advising them on ways to restore a semblance of 'normal' during the Covid-19 era.
How different are the challenges of Travel, Tourism, and Hospitality stakeholders compared to your portfolio of clients in the Retail and Insurance space?
The Covid-19 pandemic is a health and humanitarian crisis that has forced businesses to rapidly adjust to a radically different environment. Various industries are being impacted in different ways, and each is being forced to adapt to a unique spectrum of customer experience and supply-chain issues. As experts in digital platform and software engineering, we have been working closely with our clients across travel, retail, insurance, healthcare, and high technology industries to observe that technology is critical to their growth and development.
One of the biggest impacts we are observing across industries has been the changing consumer behaviour. Customer sentiments and preferences have shifted online, creating a mandate for personalisation and experience-based selling, bringing in digital accelerators and innovation in speed to market, and creating a value-driven servicification approach.
We have also observed that companies have been more open to rethinking their strategy by outsourcing IT service management, allowing them to access higher process maturity with IT operations while at the same time gaining more flexibility to focus on core areas.
The Travel and Tourism industry is considered a high-touch industry conventionally. The post-Covid norms demand the industry to become contactless. Being a technology enabler, how does Infogain comprehend the perils of the industry in the new makeover?
The current situation is temporary, and the industry will revive and begin its growth once a vaccine is introduced and available. However, this will change the experience and the expectations of an experience by a customer. Therefore, customer communication will be crucial. Travel and Hospitality companies would need to communicate with the customer with consistent messaging, rapidly iterating on redesigning the end to end customer journey.
Technologies such as artificial intelligence, machine learning, the internet of things, analytics, and automation will help create and maintain a contactless experience as the new normal sets in. Every action in the customer journey will have: guest check-in with biometric identification; voice or face recognition and periodic mobile notifications about neighborhood health status; and greater use of mobile apps and voice assistants during the stay and visual recognition in elevators to comply with reduced capacity requirements. Robots and RCV's can provide room service with mobile notifications for guests. Drones are scheduled to spray disinfectants. Even post-stay, AI and ML enabled systems will advise both hotels and guests of infection based on data.

How are companies such as Infogain trying to address the new challenges before the industry, considering you have a bouquet of products and solutions for all verticals of the Travel and Hospitality industry?
Infogain continuously innovates and creates new business solutions and experiences through our strong engineering experience in T&H. With our recent acquisition of digital experience strategy and design experts, Revel Consulting, and Microsoft Azure Expert MSP Silicus Technologies, we drive fast track movement of digitalisation through a cloud-first approach.
Infogain's Travel and Hospitality practice helps travel companies become more agile, effective, and profitable. We view digital transformation as a business model transformation and help our customers in building a larger share of the market, improve profit margins, increase customer loyalty, lower operational costs with optimised operations.
What is your advice to Travel and Hospitality entrepreneurs when it comes to new investments in digital and other technology so that it makes sense in the long term?
While we will advise a cautious approach to investment, we also believe that investment in tech and certain solutions will help companies to evolve and remain viable. The industry is being forced to transform at a pace that will create certain gaps, too, and this will provide opportunities for some companies to invest in and create long term value. For example, some companies will invest more than others in technologies that will deliver the contactless experience, including touchless check-in with biometrics technology (voice and facial recognition), wireless, Bluetooth, RFID, and NFC powered check-in, touchless payment technologies, electronic key dispensing and LoT enabled elevators.
There are many industry-specific solutions available through big players like Sabre, Uber, or startups like Akia, which can help the player stay ahead of the curve. Working with domain led SI players will enable them to achieve both optimal integrations and to create a secret sauce of customisation and differentiation.
What is Infogain's focus on the Indian market, specifically?
India is a growing market for us. In the past couple of years, our portfolio has grown with clients from across industries. One of our focus areas is to work with global distribution companies, OTAs, payment systems and fintech companies.