Posted on :

July 26, 2017
Industry :

Human Resource

Service :

Human Resource

Type:

News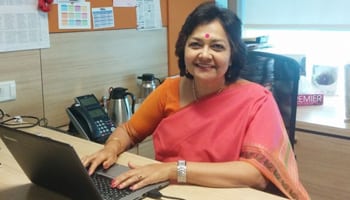 We have featured a short interview with Keyuri Singh, VP-HR and Infogain and she is sharing some talent management insights:
3 ways by which organization can focus on talent development?  
It is critical to make talent development an integral part of the Company Strategy. Today in many organisations, talent development is still viewed as attending training programmes. Given the talent crunch in the market, it is imperative that organisations grow their own talent, instead of focusing on external hiring. This can happen only if the whole company believes that this is the critical to organisation success, and everyone focuses on talent development through a combination of training, on the job learning, continuous feedback, coaching, etc. The 3 ways in which organisations can focus on talent development are:
Leaders should reinforce the value of learning. They should inspire their team members to be on a continuous learning journey and provide encouraging feedback to those who use their learnings in a project/ assignment. They should encourage team members to leverage problems as opportunities for real world learning and development.
Alignment between organisation goals and individual aspirations– Training should not be completed just to meet training goals set for employees , it should l be part of  a comprehensive plan which both helps the employee develop in the right direction and helps the company meets it goal. This alignment, in the form of a career development plan, which is co-owned by an employee and his manager, is critical to talent development.
Build sustainable processes to support development. Building a coaching culture where managers are trained and expected to coach and develop their team members.  This should happen through a rigorous process where managers understand the strengths and development needs of an employee, and provide continuous feedback and support on how to improve their performance, with resulting real time learning and development. Career planning is another process which helps employees know how they are expected to develop and grow, and what career paths are open to them, based on their competencies and aspirations.
Your advice to manage talent crunch  
The best way to manage the talent crunch is to hire early and grow your own talent. Many companies have done this very successfully –Unilever, GE, TCS etc, by hiring fresh engineers or MBAs and then guiding them through a rigorous training and development plan, resulting in steady growth, with a structured career path. A succession plan makes sure that there is always an "almost ready" internal  backup, with  no need to scrounge around for last minute replacements. There is also a need to plan in advance so that you have enough time to scout the market and get the best people, without short changing yourself with getting someone who is "available" and not the best fit- especially in terms of value/ attitude and culture.  It is important too for companies to make sure that they have the right culture and the right employer brand – so as to attract the right talent, especially since today all prospective employees look at Glassdoor before deciding to join the company.
Example or your advice to organizations to structure benefits to motivate their employees 
It is important to understand the drivers for employee motivation in an organization and structure benefits accordingly. For example, in an IT company where there are many millennials, it is important to focus on instant rewards and feedback since they are the   "instant gratification generation".  A strong reward programme may be more effective in such an organization than a very good medical insurance or retirement benefits.  Since another key driver for millennials  is learning and growth , having benefits like certification reimbursement or  tuition reimbursement would be useful benefits 
Profile:
Keyuri is currently the Vice President – Human Resources at Infogain (previously Blue Star Infotech Ltd.), where she has been playing a role of a strategist and advisor to the Board, Leadership Team, Departments and other functions. She has led a continuous cultural renewal and organisational shaping during her years at Blue Star Infotech She focuses on Business-HR alignment, Change management, HR Strategy, HR Policy, Learning and Development, and Performance Management. She is also responsible for the Sales & Operations Planning Process. Her responsibilities for overall recruitment and training and development ensure that the organization gets the best people suited for the roles across the company. She combines her knowledge of Business and Finance with her people capabilities to help organisations become more successful by enabling people to work at their true potential.
She has over 25 years of multi-disciplinary experience in Consulting, Finance & Accounting and HR. Her management consulting experience spans across Business Solutions, Human Resources, and ERP Systems Implementation, with companies like Grow Talent, Hay Group, PDI, PricewaterhouseCoopers and A F Ferguson & Co. Previously, she spent several years in industry as CFO, Supply Chain Head and Business Planning and Systems Head in multinationals like Rohm & Haas and Hindustan Ciba Geigy. Her experience has helped Keyuridevelop skills in the areas of people management, building/ optimizing organizational processes, business development and project management.
Her strengths lie in her ability to communicate with people across all levels and functions in an organization, excellent execution skills with the ability to foresee and resolve problems and difficult situations. She enjoys the process of understanding what motivates people and helping them develop to their full potential. Keyuri has done her B Com as well as CA from Mumbai.
News Originally Posted on: India CHRO Forum