Posted on :

July 26, 2017
Industry :

Retail

Service :

Digital Transformation

Type:

News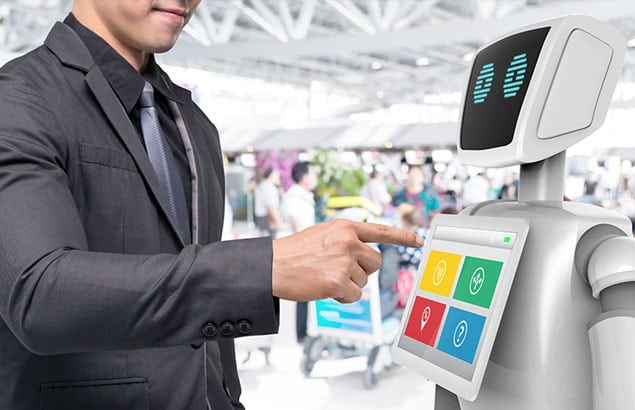 SMAC has revolutionized the way Retail sector operated and has changed every aspect of the business from supply chain management, warehouse & inventory management to customer interactions. In fact, the emergence and the success of e-commerce industry can be closely linked to this disruptive technology. Whether we take brick and mortar stores or online shops, digital technologies have changed the way service was delivered and consumed, it has also brought in a big change in the mindset of the customers. Customers now have a plethora of options and are looking for personalized experiences and convenient options like delivery at doorstep, quick exchanges, and same day delivery. While mobile apps is the trend for online shoppers, we also see tabs or screens provided in shops to improve in-store shop experience to make it easier to search through the shelves, look for desired products or place the order through the app, while it gets delivered at home. Analytics is playing its key role in targeted marketing, so that retailers can target the right audience with the right product. With the growing deluge of customer data captured through multiple channels of interaction – retailers can know a customer's preference and target him with the right products. Social media is influencing your customer's preference and building their perception about your product or service. The buying pattern has changed completely, customers today read product reviews, connect with other buyers to get their feedback, and compare prices on different websites before they buy a product. The customer today is as informed as the sales guy at the shop and it is difficult to win the customer.  Cloud forms the backbone to run social, mobile and analytics by storing and computing huge data and enabling access from anywhere for informed decision making.
Impact of AI and Chatbots on the Retail Sector
Retailers are still struggling to develop a suitable digital strategy that can increase revenue, improve operational efficiency and build customer loyalty; the market is disrupted with the next wave of changes in the form of intelligence and automation. Traditional retailers are struggling to survive and stay relevant, online e-commerce stores are struggling for winning business models to sustain in the long run. Cutthroat competition, thin margins and ever demanding customers are pushing retailers to find innovative ways to retain and acquire new customers. Intelligence and automation will bring in new levels of personalization, will save labor costs and will make decision making more efficient. Customers will now receive recommendation on products based on their tastes and past purchases, robots can help them navigate through the stores and assist them to pick-up the right thing. Similarly chatbots can be their assistants on websites, sending them recommendations and discount coupons after assessing their past purchases. Visual search where you just need to upload an image of what you have liked and the app recommending products from the retailers' inventory is catching-up. It would also be much easier to track inventory, keep the right stock, order right product, set- the right pricing – many of them will be automated and thus decision-making will be more efficient. Amazon's Check-out free grocery store or Walmart's Robotic Shopping Carts are much talked about, though AI or Chatbots is still in its initial phase and it will take some time to deliver the real benefits to Retailers.
We are witnessing impressive growth of e-commerce around the world. It is one of the most fast-paced industries and it is predicted that the double digit growth will continue and the estimated sales will top $27 trillion in 2020. India is the fastest growing e-commerce market and is set to overtake the US market.  According to Worldpay projections, India will be the world's second largest e-commerce market by 2034 and is predicted to reach $63.7 billion by 2020. Though brick and mortar still constitutes 94% of the sales and Walmart is still ahead of Amazon, the world's largest retailer is still e-structuring to stay relevant. Last year it closed 259 stores worldwide.
Moreover, the trend today is Omni Channel Retailing to provide seamless experience to customers through web, mobile applications, by telephone or physical stores. It is essential to give an integrated shopping experience to win customers today and a physical store helps to build closer customer relations.  Amazon opened its first brick and mortar bookstore in Seattle University last year.
Infogain's Role in Retail
Infogain is a complete end-to-end IT service provider to large and mid-market retailers. We offer a portfolio of services designed to help you deal with change and plan for the future. With delivery capabilities in e-Commerce, Merchandising, Retail POS/ORPOS, Retail Integration, Omni-channel, mobility and shared service support, Infogain enables retailers worldwide to compete in the digital world.
An Oracle Gold Partner, Infogain provides integrated Oracle retail solutions and has more than 20 Oracle Retail Product Implementations in the US, Europe, Middle East, India, China. Our long partnership with Oracle and expertise in Retail technologies helps retailers achieve increased value on their Oracle investments.  The company's dedicated 400+ retail experts and 2,000 developers provide end-to-end Oracle solutions and long-term support to help retailers deliver a superior customer experience.
News Originally Posted on: CIO Review India