Posted on :

December 27, 2018
Industry :

Digital and High Technology

Service :

Analytics & Insights Services

Type:

News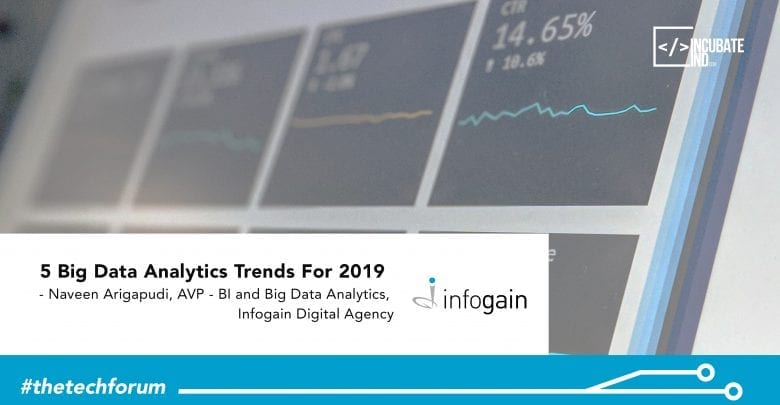 An authored article by Naveen Arigapudi, that appeared in IncubateIND's tech forum.
The promising evolution of Big Data and Analytics
Hyperscale data generated by digital connected devices and real-time Customer Experiences are driving a dramatic shift in analytics environments and driving actionable outcomes. Which technology trends should CIOs and CDOs be leveraging to boost their data driven initiatives?
Here are the Top 5 Big Data Analytics Trends in 2019 and beyond:
Augmented Analytics
Augmented analytics, an approach that automates insights using machine learning and natural-language generation, is the next wave of disruption in the data and analytics market. augmented analytics automates as many processes as possible, giving business users access to real insight and act on data quickly and accurately.
Gartner analyst Rita Sallam calls the approach "the next disruption in Analytics and BI".By 2019, 50% of analytics queries will be generated using search, natural-language query or voice, or will be auto-generated.
Self-Serve Analytics Platforms and Citizen Data Scientists
The prevalence of data science and self-service analytics platforms such as Alteryx and Alpine Data will continue to give rise to citizen data scientists, those business users from cross-functional teams across enterprises who use data for everyday business decisions. These users can perform advanced analytics without having the skill set of a data scientist and with minimal dependency on IT. This frees up trained data scientists to be involved in more critical data analysis.
Edge Computing
Edge Computing, which allows information processing at the device or gateway level rather than within the cloud or a data center, has been a part of the technological space streaming network performance for quite a while now. McKinsey estimates that of the $500 billion in growth expected for IoT through 2020, approximately 25 percent will be directly related to edge technology. Edge computing will continue to help improve data compression and transfer in the connectivity layer of the technology stack, reducing network bandwidth and making a wider range of IoT applications possible.
Emergence of Enterprise Data Catalogs
The Enterprise Data Catalog serves as a single place for an organization to contain its assets. It's an AI-powered data catalog that provides a machine- learning-based discovery engine to scan and catalog data assets across the enterprise—across cloud and on-premises, and big data anywhere. A recent report from Gartner, Data Catalogs Are the New Black in Data Management and Analytics finds that demand for data catalogs is soaring as organizations struggle to inventory distributed data assets to facilitate data monetization and conform to regulations.
Cognitive Technologies and AI
Cognitive technologies, a product of artificial intelligence (AI), has been evolving over decades, but the technology has improved dramatically in the last few years, especially in the areas of computer vision, natural language processing, speech recognition, and robotics.
According to research by IDC, between 2017 and 2021, global spending on AI-focused systems is expected to grow at a CAGR of 50 percent reflecting $200 billion in cumulative spending across an array of sectors including health care, retail, banking, and manufacturing.
(The author is the AVP – BI and Big Data Analytics at Infogain – a Silicon Valley headquartered company with expertise in software platform engineering and deep domain skills in travel, retail, insurance, automotive, and high technology. Infogain accelerates the delivery of digital customer engagement systems using digital technologies such as cloud, micro-services, robotic process automation, and Artificial Intelligence.)