Posted on :

November 4, 2016
Industry :

Healthcare

Service :

Digital Transformation

Type:

News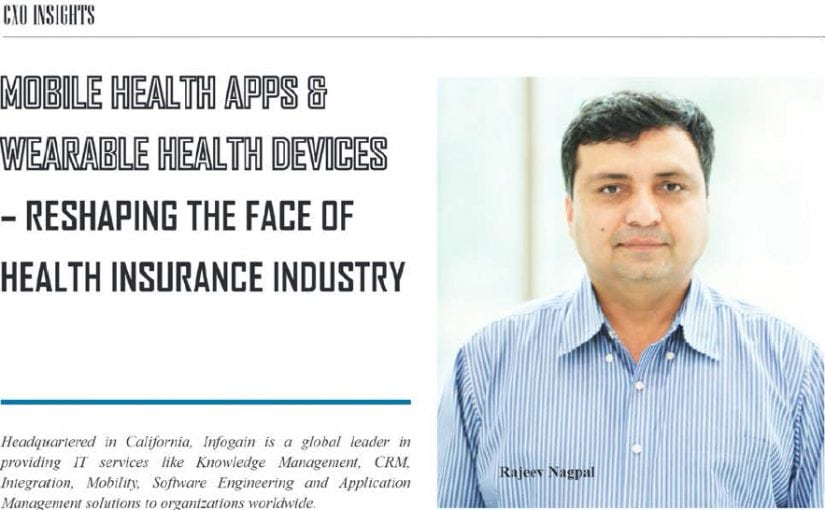 Authored by Rajeev Nagpal, Vice-President & Delivery Head, Insurance & Healthcare, Infogain
Mobile healthcare apps or wearable health devices, driven by Internet of Things (IoT) are greatly transforming the healthcare landscape by digitizing patient-physician relationship. IoT-enabled health devices can easily accumulate a wide variety of data pertaining to the behavioural patterns and lifestyle of people wearing them. The accumulated data is later transmitted via computers or smartphones to health insurance providers. This article focuses on the advantages of wearable devices and mobile health apps besides highlighting the challenges surrounding wearable fitness devices.
Mobile healthcare apps are known not only for saving patients' time but also their money and effort. Thus, health-focussed devices or apps are currently in strong demand and gaining immense popularity among patients suffering from chronic health disorders.
Health insurers too are taking initiatives to modernize the insurance processes by offering their customers with personalized mobile health devices or apps along with specific health insurance products.
Some Factors Driving the Growth of Mobile Healthcare Apps
Need of speedy, trouble-free, and real-time solution for health disorders anytime, anywhere;
Identifying treatment options online;
Growing requirement for remote diagnosis, monitoring and treatment of patients; and
Easy maintenance of health records.
Rejuvenating Health Insurance Sector via Digitization (IoT)
Health Insurance companies are leveraging Internet of Things (IoT) to provide policyholders with the confidence of taking risk management into their own hands. The unique data gathered from the usage of IoT will enable insurers to emphasize more on patient care by analyzing the trends and behavioural patterns of the policyholders. Moreover, mobile health devices provide insurance companies with real-time data that enable them to evaluate the current information about a patient and compare the same with historical medical information of the patient, so as to recommend precautionary measures.
Health Insurance Providers Embracing Wearable Mobile Devices with Open Arms
With more and more consumers becoming heavily dependent on healthcare devices such as fitness trackers, glucose monitors, and blood pressure cuffs; health insurance companies are widening their channel marketing strategy for catering to the needs of their policyholders. Health Insurance companies are leveraging mobile apps at an increasing rate for enhancing customer engagement. This, in turn, provides customers with outstanding health advantages besides enabling insurance providers to incorporate client's data into mobile applications so as to provide users with a robust customer experience.
Feeling the Pulse of Millennials
Through mobile apps, health insurance companies are mainly targeting young consumers between 18 to 35 years of age who count solely on their mobile devices for conducting all interactions with speed and expediency. The new generation of digital consumers are too impatient to wait, and they want everything they do to be trouble-free and quick. For example, health insurers have been providing easy- to-use health apps that allow users to quickly create a personalized account so that they can get comprehensive health information or consult physicians as per their symptoms by merely clicking a button.
How Wearables Data is Driving the Insurance Value Chain –
 A newer perspective with wearables – Type 2 diabetes
In US, 29.1 million or 9.3% of the population have diabetes. In adults, type 2 diabetes accounts for about 90% to 95% of all diagnosed cases of diabetes. The typical underwriting considerations for diabetic applicant include lab tests and HbA1c reading and medical records. Based on normal HbA1c readings, many diabetics can be approved for standard rates or with only small ratings.
Imagine a scenario where an applicant with normal HbA1c reading was offered a policy with standard rates. The insurance company has advised applicant to share the CGM – Continuous Glucose Monitoring data with them; and based on the values of blood sugar overtime and wearables data for exercise and weight control, the insurance company can consider lowering down the premium significantly. The CGM is a small wearable device that tracks glucose throughout the day and night and notifies about high and low, so one can take action accordingly.
 Transform Your Customer Engagement –
Accuracy of data – A concern for Insurance Industry
Currently, the wearables that offer just general advice and promote general wellness and do not pose much in a way of risk to users, are not considered as medical devices and are not regulated by the US Food and Drug Administration (FDA).  With that, the accuracy of data that these wearables generate largely depends on their manufacturers, device quality, and customer's usage patterns. Insurance industry, generally, considered as a conservative in nature and with its resistance to change, these concerns may slow down the adoption of wearable data by insurers.
 Rising Security Concerns— the Biggest Challenge
Though consumers have been showing a preference for mobile health devices, they also have certain privacy related concerns such as—
Invasion of privacy
Security breaches
Accumulation of customers' data without customers' consent
Selling private data of customers to advertisers and so on
 For example, studies conducted by experts claim that majority of consumers are reluctant to share their health-related information, including their diet regime, breathing  patterns, stress level, glucose level, exercise information, medication intake, or sleep schedule with their family, friends, or any third-party; however, they are willing to share these data with their physicians.
Moreover, if health insurers begin to follow the standards of auto insurance industry where the supervision of a policyholder's driving speed can severely affect his/ her insurance premium, activities that are detrimental to health, such as late night parties, watching late night movies, or a late night drive could significantly amplify the health premium of policyholders.
The Way Ahead:
Though health insurance industry has been slower in adopting technological innovations compared to other sectors, the scenario is changing slowly but steadily. A broad array of technological innovations will soon reshape the future of health insurance industry across the globe.
Though the trend of wearable health devices is in a nascent stage, it certainly has a promising future. In fact, turning to mobile devices is the next step towards transforming the health insurance industry into a fully digitized sector. In order to shape the modern health economy and to bring about a revolution in patient health management, it has become imperative for insurance companies to emphasize on consumer privacy by taking appropriate measures for protecting the personal data of consumers.