Posted on :

December 5, 2017
Industry :

Corporate

Service :

Corporate

Type:

News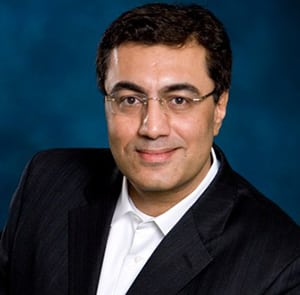 NEW DELHI: In tough and uncertain times it's perhaps easier for the small, nimble footed companies to change rather than for multi-billion dollar giants. In the $170 billion IT services business where the likes of TCS, Infosys, HCL, Cognizant, Wipro form the top deck, suddenly the playing field has levelled out with smaller niche companies competing with their larger counterparts for business. Clients are looking for partners to deliver niche projects rather than 2,000 people maintenance jobs, which dominated IT services business for long.
Sunil Bhatia, CEO, Infogain, believes the game has shifted away from a 5-day cricket match to a T-20 game, where the rules are different and you need a different strategy to win. Silicon Valley based Infogain, funded by ChrysCapital is a sub-$200 million enterprise IT services and consulting company. It acquired Blue Star Infotech about two years back. In an interview with ET, Bhatia discusses the changing IT landscape, artificial intelligence, machine learning projects and more. Edited excerpts:
What's Infogain's model?
Infogain is based in Silicon Valley and has been in business for 25 years now. We acquired Blue Star Infotech about 18 months ago and I took over as CEO last year in July. With help from private equity firm ChrysCapital we bought IT operations of Blue Star Infotech.
Our model is best explained by a cricket analogy. The game we are trying to play is T20. We think the Tier 1 companies are playing 5-day match and some of them are playing one-day game.
We have 4000 people and very large percentage of engineers are in our four centers in India. The largest is in Noida and our second largest office is in Bangalore; the other two are in Mumbai and Pune.
We have three development centers in the US at Austin, Phoenix and Milwaukee, each tagged to a large customer which is locally there and then we have a large presence in California market as well.
Which are those technologies and what exactly do you do for customers?
We have four verticals. High-tech is our pre-dominant vertical followed by retail, insurance and health and travel & hospitality. Within each of these we have micro verticals. Like, we don't do everything in retail sector and in travel & hospitality we don't focus on airlines, cruise but we work with hotels and casinos.
From technologies stack perspective, these days almost everybody is in digital. We are trying to differentiate by calling ourselves as digital engineers. We are trying to bring machine learning and automation, and putting a consulting layer in between, All the Indian tier 1 companies have tried this in past but nobody really succeeded. This consulting layer is trying to infuse as much as possible between the business and technology and this is our USP.
Can you give some examples of work in artificial intelligence (AI), machine learning (ML) domains?
We have deep expertise in insurance services. For example in case of an accident, in the past someone had to go out and look at the damage and it was a long cycle to fill a claim, which took at least two weeks. With ML, customers can simply photograph and upload them. The next step is where ML systems do image processing and evaluate those photos. So, the photographs come in and are processed by a computer using ML, which has learnt over time to assess the damage. So something which took two weeks to do now happens in two days. ML is short circuiting the process. ML is bringing the efficiency to the insurance company and its improving customer satisfaction.
So, insurance claim time has collapsed from two weeks to two days. But, how much work is still done by humans and can that part of the work also be automated?
The hard part done by human is adjustment of insurance claim amount calculation. The amount can be calculated by machine based on all the vast experience and all database which machine uses and over time it learns. Currently some of it is being reviewed by humans. But accuracy of ML is improving and very soon the need of any kind of human interference will significantly reduce.
Another example is robotic process automation, where banks and other financial institutions are starting to use chat bots, which is where you are interacting on a chat and it feels like you're interacting with an individual. This algorithm is smart enough to understand your language and able to give you approvals (say, for loans) where previously you would have had to use some kind of human judgment. Now for all the information directly entered by you into a chat, you will get answers and approvals. So, I think it is a brave new world where all these technologies are impacting businesses.
Infogain has delivery centers in India. But there are concerns about creating jobs locally where work comes from and tightening of visas etc in US and other markets. How does that impact your work?
In theory it's impacting everybody. It's keeping the CEO and the leadership team something to think about. But, there is talk and there is reality. The reality is the work is still coming out and even in the US companies realise there are not that much engineers. Yes, we are concerned about it but we are not really worried.
Are you looking for more acquisitions? 
Yes, we're looking for more acquisitions. We have top logos in the world as our customers and our challenge is to bring more & more capabilities to them. We are looking for acquisitions which can give us unique capabilities, which will add to our digital engineering skills.
IT services business is changing—from large deals requiring 500 or 1000+ people to smaller deals. How is Infogain responding to that change?
On the one hand all businesses are becoming software businesses. But, the traditional model has been of a tier 1 company with 200,000+ people. If you have so many people, you will sell people. But given the way the technologies are going, there is a genuine shift which is taking place. All big companies have recognized that a fundamental shift is taking place and the traditional model of having an army of people for service delivery does not work.
In many ways that shift is very beneficial to high innovation mid-sized companies like Infogain. The reason is that large scale, sheer numbers, headcount, large campuses full of people who can code etc are no longer a criteria for clients to pick their partners. No longer are there 500 to 1,000 people ERP type maintenance support contracts.
What is coming to India and IT companies today is high innovation, high intelligence but low manpower headcount business. It levels the playing field for us with the large companies. Today all deals are about innovation, understanding of technologies.
Hardly anyone says can you give me 500 people? Most of these newer technologies don't require 500 people. To do a ML project, you need 10-15 very smart people who understand the space and maybe 20-30 people for other programmers. 50-80 people deals is what's coming. It is great time for Infogain because technology prowess is fundamentally required to win the business and not number of people you can offer.
Today in all the deals we are competing with Accenture, IBM, Infosys and TCS. The reason we are at the party is that from a technology perspective we are comparative. They're slowing down because they are not getting thousand persons deals but we are growing as we're getting 50 persons deals. Infogain is growing at about 15% a year.
What's your strategy for 3-5 years? Would you sell out? 
We are not in the market to sell, we are in the market to buy. Eventually that point may come as we are owned by a PE firm. But we are only in the second year of what we see at least a five to six year journey.
We combined with IT operations of Blue Star Infotech and created value for the group. At close to $200 million we are in the medium size company category. In our industry something magical happens when you cross $150 million. You get the ability to invest in the consulting layer, do some things in automation and in machine learning. We would love to acquire companies which will add to our portfolio.
At what level is AI, ML at present? 
Lots of people are putting their thoughts into it. Lot of money is going into it but I think this is absolutely scratching the surface. People are saying the revolution it's going to bring will be just as significant for human kind as the advent of electricity, industrial revolution or even the internet.
What about impact on jobs? 
Technology change has been happening for more than a hundred years. Lots of old jobs will go away but lots of new job will come. Now what is happening in machine learning is layers and layers of people are going to be required into some new things which were possibly not there earlier. When Uber came, Uber drivers were required. When autonomous cars come, Uber drivers will go away and something else will come. My advice to our people is, be a learning machine. The way technology is changing, you have to be learning machine to survive.
News Originally Posted on: THE ECONOMIC TIMES