Posted on :

April 26, 2018
Industry :

Service :

Human Resource

Type:

News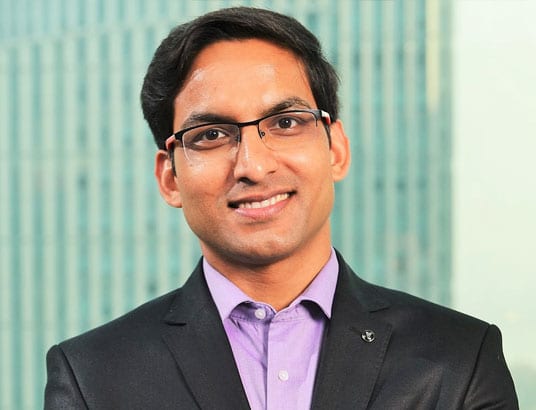 In our 2016 HR Technology study on digital transformation agendas of leading companies in India, we found out that unsuccessful change management was one of the top 3 challenges in HR Technology adoption and implementation.
Indian organizations are making a significant investment of resources in building and developing their HR technology solutions to solve critical business problems. Hence, it's critical that we look at the role of change management in the journey of HR technology implementation and adoption. The role of change management is further accentuated with the fact that in most cases, HR leaders will have to deal with a lot of ambiguity, uncertainty and willingness to move in the absence of complete agreement from key stakeholders.
In our efforts to find more about what senior HR professionals in the industry are doing, we reached out to Rajiv Naithani, Head of India at Infogain, a leading provider of technology solutions and services. Prior to Infogain, Rajiv has worked with Dassault Systèmes, GlobalLogic, Interglobe Technologies and HCL.
To be open to feedback and accept that some of the assumptions you made might fail is important. Be ready to make necessary changes to your approaches and continuously evaluate if the chosen approach is working. In the end, change management is all about communication and the more you listen, the more you are likely to learn and succeed.
PM: What makes HR Technology really tick and stick?
RN: In my opinion, it is driven by 2 things which I consider as critical to HR technology implementation success. First, the ability to retrieve data from the HR system is critical. If I am able to get relevant data and then analyze the same to get meaningful insights, for me HR tech can deliver a measurable return on investment (ROI). In most situations, we find ourselves struggling with finding the right data and then making sense from it, as most data is stored in multiple systems with multiple formats and it becomes difficult to run an integrated analysis on the same. I believe the promise of predictive analytics lies in unlocking the value from the data in disparate systems and converting that data into insights by generating contextual models which predict results.
Second, I think a seamless user experience is critical for any HR tech solution to survive in the market and deliver the value for employees. After all, the HR tech solution should solve the problem on both ends – the business and the employees. Earlier, the systems were more focused on solving the business or HR problems and less on how the employee is experiencing the solutions. However, now it is equally important to create an engaging user experience for the employees, for the success of any HR tech solution.
PM: Most HR Tech implementations struggle with user adoption. Can you share your experience and how you achieved higher user adoption?
RN: I will sum this up as identification of your stakeholders. Making efforts to understand their expectations early on goes a long way in ensuring that your HR technology implementation is successful. If you are sitting in the corporate office and taking a decision which is going to impact your staff in other regional offices, I would strongly advocate including their representatives in the decision-making process. By involving all relevant internal functions including the ones who are finally responsible for implementing the selected solution, you are able to get their buy earlier in the process which greatly aids the implementation and adoption process.
By having divergent groups in the room, look at the proposed solution you are likely to address. This will give you a perspective on most challenges the solution might encounter when it goes on the field.
I have been involved in HR technology implementations where the corporate office took the decision and when the functional leaders had to implement the solution, faced a lot of resistance and customization, causing delays and cost escalations. I guess you can avoid a lot of that by just getting them involved earlier.
The other stakeholder which is often missed or is assumed is the employee group itself. Many a time we in HR are blindsided by what we don't know about our employees and their expectations from a particular solution. I strongly recommend verifying your assumptions about the current challenges, expectations, and needs of your employee group(s). In one of my organizations, we decided to use a collaboration platform armed with industry best practices and their perceived relevance to the organization, however it failed to take off as the end users did not really see it the way we envisioned. We then had to work via task forces and incorporate feedback from them to improve the adoption. This caused delays and additional costs, which in hindsight I think could have been avoided by simply involving the target group in the decision-making process.
PM: Can you talk about any specific change management model successfully used in planning and implementing HR tech?
RN: While there are many change management models and theories, I personally like the GE Change Acceleration Process (CAP). To me, this model captures all critical components of any change management effort and can effectively be used in HR Technology implementation.
As a specific example, I wish to share that in one of my earlier organizations; we were to revamp our global performance management system. The challenge around this was to build a system which would cater to needs of all the people across the world. We had offices in four different continents and each had its own set of expectations and challenges. The process we adopted was to ensure we do it right in one go.
Few things that Rajiv Nathani's team implemented as change management process: Rajiv Nathani
We formed the global task force with representation from HR and business of each geography.
We diagnosed the challenges, needs, and expectations within the task force and also enabled the task force representatives to go back to their respective geographies and hold diagnostic interventions. This data helped us form the right hypothesis for the change.
We evolved the framework, process, and tool design on the basis of the data collected from such diagnostic interventions across multiple locations. When the prototype was ready, we solicited feedback from critical shareholder groups.
We involved cross-functional teams in the testing phase. This helped in two ways: first, we were able to address the tool issues and second, we were able to enrich the process and some part of tool upgrade with respect to UI for better user experience.
Communication played a key role in adoption. We had road shows, sessions, emails, events around launch and adoption. Consistent focus resulted in positive adoption and success of the tool.
PM: In your opinion, why change management does not get its due especially in HR tech implementation and what HR leaders can do differently.
RN: I think change management does not get its due, primarily because either HR is not fully onboard with the technology solutions being deployed; and/or HR believes that they understand employee challenges being solved by the HR technology solution. We must make efforts to understand the cultural, behavioral and process level aspects being impacted by the technology tool being implemented for it to be successfully adopted. If you make isolated efforts in this context, it is not going to work.
What HR could do differently is to stand their ground and talk with diagnostic data before accepting or adopting any new HR technology tool or, even a best practice. HR must become adept at designing and conducting such specific diagnostic interventions to capture data around pain points in existing processes while also understanding the associated behaviors which might need to change with technology adoption.
It's equally important that you keep the communication channels open, be transparent and share data about change and adoption with critical stakeholders.
Once you have done the above, you need to work by keeping the employee experience at the core of your design and decision-making process.
PM: With HR tech landscape bursting with solutions, as an HR leader how do you keep track and ensure you select the right tool?
RN: The market today is flooded with a lot of digital HR solutions of various kinds. HRMS is just being looked at as base platform, on which a lot of employee-specific apps are offered. Such apps not only provide efficiency but a good user experience. The biggest challenge for HR leaders is to look at the best solution which is relevant to organizational needs and is available within their budget.
Most of the HR leaders still prefer to build such solutions in-house, as they have doubts on support and flexibility in changes in too,l if it is bought from outside. While I read and listen to a lot of new and different HR technology tools, relevance to my organizational context and budgets are the 2 primary factors that will determine if I would invest my time further.
PM: How can HR shift from a Project based mindset to a culture of continuous change management; your views
RN: This is a wonderful question. I personally believe that any tool or initiative should be looked at from continuous change management perspective and should not be looked at from project-based mindset. We live in a world which is evolving every moment. In such a world we need to have the agility to make changes with time. The project plan around tool adoption should also enhance its scope by ensuring that after implementation, there is a periodic diagnosis. Associated change management is carried out within a specific time frame. This will ensure that the tool has its relevance and is continued to be upgraded to suit the evolving needs of employees and business alike.
News Originally Posted on: PEOPLEMATTERS