Posted on :

June 16, 2016
Industry :

Corporate

Service :

Corporate

Type:

News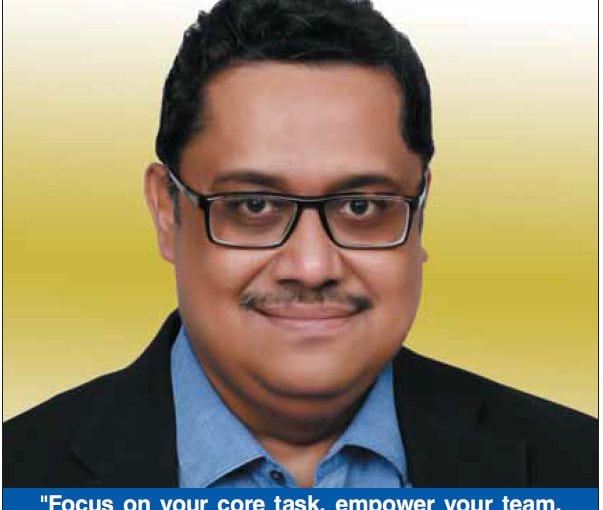 "Today is the age of customization and personalisation. So,you should know your customer before you develop a product for him or her. You should understand the challenges before presenting a solution to win the game."
Aloke Ghosh, the CFO of San Francisco, USA-head-quartered IT consulting company, swears by simplicity. The financial executive with over two-and-a-half decades of experience in the industry believes that technology can make both life and work simpler and lead to growth and progress.
Steering the financial segment of Infogain, Mr Ghosh is of an ardent view that empowering people can work wonders in any organisation. In fact, in his earlier stints with Blue Star Infotech, Tech Mahindra, Mahindra Holidays and Reliance Global Communications, Mr Ghosh maintains that he has always empowered his team and seen those organisations posting big gains.
It is the same principle of playing as a team that has placed Infogain among the leading IT consulting companies. Infogain, which last year received a Rs 403-crore funding from private equity firm ChrysCapital, provides front-end, customer-facing technologies, processes and applications that lead to a more efficient and streamlined customer experience for enterprises in the USA, Europe, the Middle East, Asia-Pacific and India. Offering a range of solutions to retail, insurance and travel and hospitality verticals, among other, Infogain specialises in areas, such as software product engineering, digital service automation and mobility. A Gold-level partner of Oracle, Infogain has a customer retention rate of more than 90 per cent over a five-year period.
As the CFO of Infogain, Mr Ghosh has put in place best global practices at his IT company. An associate member of the Institute of Company Secretaries of India and fellow member of the Institute of Cost Accountants of India, Mr Ghosh was selected as one of the country's top-100 CFOs by the CFO Institute for two consecutive years. Sharmila Chand catches up with the Infogain CFO to get an insight into his management skills and business acumen.
Your five management mantras
Be simple and honest to your work: Be honest to your work, give your best, and I believe results are bound to come. The more genuine you are in your interactions with clients and team members, the more they believe in you.
Be a people's person: Value people at every level. Having strong people skills is very important to excel in any industry. Your ability to lead people, motivate, inspire and drive them plays a key role in your success. At the same time, you should be able to easily gel with people and work with any team or people at any level in the hierarchy.
Take personal responsibility: Take responsibility for your actions and decisions and have the courage to own them up. People who fail to take responsibility or get into blame games whenever they see trouble can't grow in their life.
Build your close network: Whether personally or professionally, I think a close and strong network can help you sail through tough times and provide you the much-needed support whenever required.
Work-life balance: Value your work, but value your family as well. Spending quality time with family can act as the biggest stress-buster and can help you go back to work with renewed energy and enthusiasm.
Turning point in your life
I have worked with many global corporations in leadership positions, and there are many crucial turning points in my career. The one that I think has really paved the growth path is my tenure with Tech Mahindra for six years. The company grew exponentially during that phase, which gave me immense exposure to multiple roles, helping me grow professionally. I also played a crucial role in Tech Mahindra's IPO. I worked with some of the most prominent industry leaders who mentored me and helped me grow in my career path.
Secret of your success 
Patience and my ability to think clearly in a cool mind even in critical situations.
Your philosophy of work 
Focus on your core task, empower your team, and delegate responsibilities.
Any person you admire 
Steve Jobs, a great visionary of our time who taught us how to think differently and bring value to our customers
Your favourite books 
I love to read books of Jhumpa Lahiri and Amitabh Ghosh as I can relate a lot to them. Both of them are Bengali authors and write about the dilemmas of Indian migrants to the US or the UK.
Your fitness regime
I take walks and go to gym.
Your five business mantras
Listen to your customers: Today is the age of customisation and personalisation. So, you should know your customer before you develop a product for him or her. You should understand the challenges before presenting a solution to win the game.
Adopt technology to simplify things: Technology can be the biggest enabler for an enterprise and can help you stay ahead of your competition. We have such advanced technologies today which help you get insights about customers, give you much accurate information about the market, competitor and thus enable you to take far better business decisions.
Building a strong leadership team: Having right people in right positions is crucial for any organisation. A strong leadership team can put the right strategy in place, know what would work best and help an organisation grow manifold.
Integrity: Integrity is crucial for an organisation's as well as an individual's success. Every decision, relationship and action should be guided by ethics and company values. Integrity builds trust both within organisations and with the people they serve.
Open work culture and empowering employees: An organisation should allow open communication among its employees and empower them to make independent decisions. The leaders should be transparent about their decisions and communicate them to their team members. An organisation which values its people and allows them to work freely builds a wider loyal employee base.