7 ways hotels and other hospitality brands can use technology to enhance and optimize their business in 2023
Industry :

Corporate

Service :

AI and Machine Learning

Type: Blog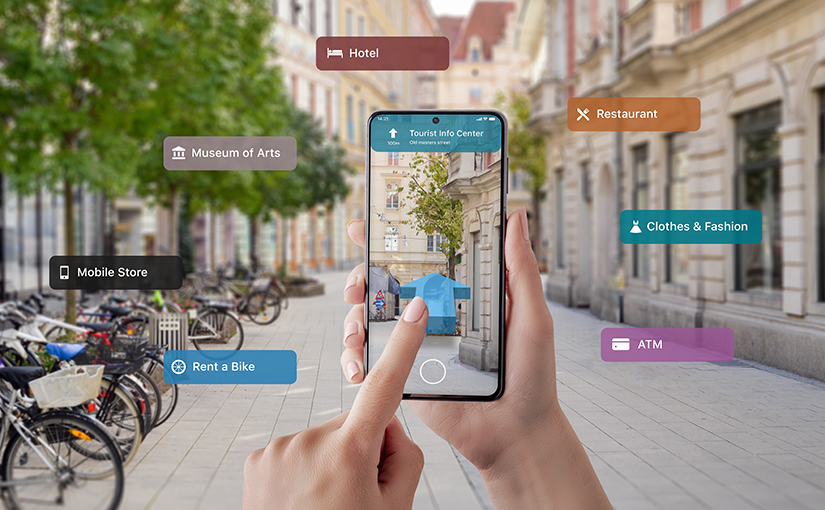 If the past two years have highlighted anything about the travel and hospitality sector, it's resilience. When COVID-19 hit, hospitality companies were still transitioning into digital- and data-led paradigms and adapting to non-traditional competition; during the pandemic, travel all but stopped in many places, leaving property owners and managers scrambling.
Now that travel is picking up again, that same flexibility and willingness to adapt will be key – this time, in continuing to deploy technology to meet guests' expectations and streamline operations. With that in mind, let's see what trends will be leading the way in the hospitality industry in 2023 and beyond.
7 Tech Trends That Are Shaping Hospitality in 2023
1. Smart, Voice-Controlled Rooms
Guests are increasingly used to using voice-controlled lights, devices, and equipment in their homes; it makes sense to also offer these options in their hotel rooms. Why? Because ease and convenience are paramount to travelers right now. In fact, this will be a reoccurring theme for much of this article.
Brands that look after the comfort of their guests in all ways, right down to the in-room tech, will be a step ahead. This can mean investing in voice-powered app 'assistants' to ease the check-in process all the way to installing in-room smart speakers, TVs, thermostats, and lights that can be controlled via voice (or an app).
Of course, there's another angle to voice-controlled devices, and that's voice search. Customers are using voice commands to look up information on hotels, restaurants, and other hotspots. So make voice search a priority in your marketing, particularly in your website and online booking process.
2. Contactless and Mobile
Some of your clientele will still be cautious about in-person contact due to health concerns; others will love the convenience of contactless check-ins and payments. Contactless and mobile interactions really gained ground during the pandemic – although they were already stirring up a lot of interest before. Look for this trend to continue but view it in the light of a new way to improve the customer experience. Such interactions are great ways to personalize your contacts with the customer, and they're also very good ways to learn more about guests' preferences. There are a lot of opportunities (and data) available here for smart brands.
3. Automation & Chatbots
Chatbots and their ilk have been widely adopted as a solution to customer service woes; they make individualized attention to customers easier and faster. But automation offers rewards to the hotel operator as well as the guest; it allows processes to be optimized, waste to be reduced, and onsite personnel to work more efficiently. Look for companies to find more ways to introduce automation into everyday processes as a way to make the most of their time and resources.
4. API Integration
An API (Application Programming Interface) makes it possible for programs to easily share data. While this may not seem revolutionary, it has revolutionized how companies integrate their various systems (think payments, apps, website, booking and reservations, etc.). If you're still skeptical about the importance of APIs, just imagine manually transferring payment and booking data and you'll get the idea.
Not only do APIs simplify workflows, they also make omnichannel much more feasible. Nowadays, customers aren't simply looking for a seamless experience across online touchpoints; they want it to continue across all interactions, including when they're inside a physical property. Without APIs silently facilitating the flow of information between different apps, channels, and systems in the background, this goal would be much harder to hit.
5. AR and VR
Speaking of experiences, many properties are leaning ever more into augmented reality (AR) and virtual reality (VR). The applications can be relatively straightforward: a VR property tour may help customers decide to book a stay; onsite, they may use AR on their smartphones or tablets to view a map, learn about dining options, etc. Look for this feature to experience continuing growth over the next few years.
6. Tech-Driven Sustainability
Sustainability has become a top requirement for the hospitality industry. This can be done in many ways, from eco-friendly designs and building practices to reducing food waste. One trend that's particularly tech-forward is electric car charging. An increasing number of hotels, especially those close to major travel routes, are investing in car charging stations. These can be built into the property or provided by a third party as a standalone unit. As electricity gains momentum in the auto industry, look for vehicle charging stations to become an important feature for guests.
7. Personalization
Our last trend is a perennial favorite: personalization. We've written about using AI to enhance personalization efforts, so we won't go into too much detail here. And digital twins of customers promise to add another level to this quest. As more data becomes available and guests crave more personalized experiences, this will continue to be something of a holy grail in the hospitality industry.
Tech Is Key to Hospitality in 2023
As hotels, restaurants, and other hospitality brands recover from the COVID-19 pandemic, technology will be a valuable way to connect with guests and differentiate themselves from the competition. Many of the use cases have been around for a while, but advances in AI and other tech are ramping up the possibilities – and the opportunities – for companies willing to put the work into adopting them.
If you want our team of experts to help you jump start your analytics journey or implement AI scalably across the enterprise, contact us.