Posted on :

February 20, 2019
Industry :

Corporate

Service :

Digital Transformation

Type: Blog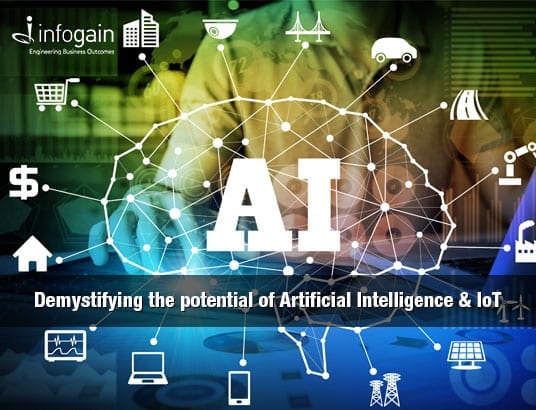 Recently Dr. Hemen Goswami, Vice President, Technology Solutions of Infogain took part in an expert panel at the 3rd Internet of Things Expo January 29, 2019, in New Delhi. Over 4,600 trade visitors from 13 countries were in attendance.
The event focused on the fast-growing IoT infrastructure in India and provided opportunities for industry thought leaders and influencers to discuss the latest trends and disruptions in IoT, AI, AR/VR, Robotics, Machine Learning & Blockchain.
Dr. Goswami's session, "Demystifying the potential of Artificial Intelligence & IoT" explored the future of IoT and the role of AI and IoT in various Industries.
Key Takeaways from Hemen's remarks include:
The Convergence of AI and IoT: The two are inseparable. The whole idea of AI is to get more actionable information from enormous data captured by IoT devices.
Edge Computing: From an enterprise software perspective, we need to bring a lot of computing power from the cloud paradigm to the edge of the device. Major cloud computing vendors have started providing computing nodes at the edge. Edge computing shall transform several IoT use cases, which require processing with low latency.
The challenges of IoT: IoT has a very complex multilayer architecture. What adds to the complexity is the scale. We are using IoT to connect billions of devices generating so much data. Managing and making use of this data is a tremendous challenge.
IoT is highly distributed: The sensors are distributed everywhere compelling the entire enterprise system to evolve. The distributed sensor architecture makes microservices based software platform relevant. Microservices based enterprise software platform allows agility, elasticity, and redundancy to the large distributed IoT infrastructure.
IoT Trends: Besides AI, blockchain technology will be integrated into IoT. Blockchain will make IoT ecosystem distributed and decentralized, providing additional security and autonomy.
Network Infrastructure: IoT ecosystem requires strong network infrastructure. The federal government has to create network infrastructure in remote places, in order to provide benefits of IoT to the rural population, in healthcare, sanitation, and education.
IoT is going to impact several industry verticals and human lives in no uncertain ways. We have already identified key areas, which are relevant to our customers in High Tech Manufacturing, Retail, Travel & Hospitality, and Auto/Medical Insurance sectors. IoT, in conjunction with AI and blockchain technology, shall create a massively large connected-device network to enable better decision and control. At the same time, it's imperative for governments, regulatory authorities, and industry leaders to collaborate for creating a common framework to make IoT interoperable, secured, and compliant with data governance and regulatory norms.
For more information, please contact here.