Posted on :

March 14, 2023
Industry :

Corporate

Service :

Digital Experience

Type: Blog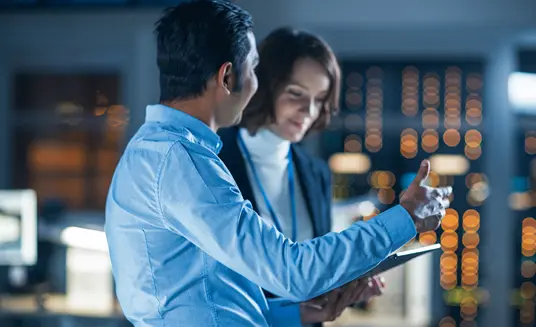 A few decades ago, personalization was a dream. Now even small brands can reliably target on a one-to-few basis, which isn't much as personalization goes because people and their intentions differ so much by nature. In years past it was enough to bring the brand closer to each customer, but now our job is to bring each customer closer to the brand.
Personalization has evolved beyond automating how you insert someone's name into comms. It now means serving them comms and experiences that show how well your brand understands and can meet their needs. Personalization is now relevance, and the shortest way there is to optimize the human + machine connection to leverage data and AI in smarter ways.
AI-enabled and data-driven experiences can enable brands to personalize one-to-one. That creates more intuitive, relevant, and useful experiences for customers, which drives more authentic, genuine connection, which ultimately drives conversion.
At Infogain, we see personalization in four dimensions.
Message: Do you talk about what you want people to do (which often reflects your internal priorities) or do you predict and address their short-, mid-, and long-term needs?
Audience: Do you focus on people who can actually purchase your products and are ready to buy?
Time: Customers make purchase decisions according to their own needs and pace. Do you provide relevant experiences wherever touchpoints occur?
Channel: Can people buy from you at any touchpoint? Do you offer the right experience for each touchpoint and channel while still conveying the strength of your brand?
Greater relevance increases the chance that customers will act across a number of measurable dimensions. Basically, a more relevant customer experience is a prerequisite to better business results and bottom-line impact.
Recently, customers have been able to improve results significantly across the board by delivering more personalized comms/experiences through Adobe technologies, including
Increased leads by 8%
Increased engagement 11%
Increased online signups 6%
Increased new orders 3x
Increase home page content engagement +200%
How can you enable the relevance that drives personalization?
Know your audience.
Creating personalized experiences requires a deep knowledge of what your audiences need, then designing accordingly. Adobe Target and Adobe Audience Manager are critical tools for doing this repeatably at scale.
Understand how the pieces work together.
Adobe Experience Cloud, with AEM at its center, can enable enormous increases in relevance and drive massive improvements in results. But you (or your tech partner) have to know how they work to derive that value.
Avoid stasis.
Customer needs and expectations evolve constantly, and your experiences need to evolve with them. Use Adobe Analytics to optimize the human + machine connection and move your org into a cycle of testing, learning, and optimizing.
If it's time for your brand to increase the relevance of your experiences—and the speed at which you deliver them—then email me at Epowlesson@infogain.com.