Posted on :

March 22, 2018
Industry :

Service :

Creative

Type:

News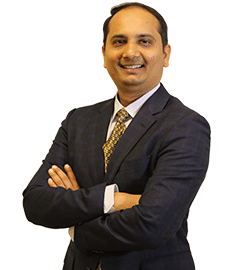 Authored By – Sumit Sheth, Head-Creative Imagineering
Halfway through the launch of the new iPhone 6s, VP Craig Federighi decided to take a selfie. While it seemed a little comic, Federighi was actually trying to show how seamless the process was with the incorporation of the new 3D touch feature. With a little press over the camera icon, he opened a pop-up with the option "Selfie Camera," saving him not only a few seconds but also making the process seem frictionless.
Friction prevents users from intuitively achieving their goals while on your interface, which might frustrate your user, forcing them to leave your site. Mastering friction control by combining design and technology gives you an edge over the competition. This is why organizations are taking strong measures to develop digital products with a meaningful, yet seamless experience.
Give your product a competitive advantage with a frictionless UX
To improve your UX, make user-interface (UI) the core of your business strategy. An impressive UX will keep your audiences engaged, increase conversion rates and reduce maintenance costs. For that reason, more enterprises are realizing the importance of investing in UX research and design so they can stay ahead of the pack. Here are a few tips for developing a frictionless UX.
Easy and relevant content: You have only a few seconds to impress users. Without proper content in place, a website will lose its relevance even with the best of design functions. Focus on the key message instead of beating around the bush. Excessive information often fails to express the key message. Avoid jargons and wacky language and use simple terms that are comprehensible to everyone.
For example, your website should highlight the services or products you deal in, and any special offer or deal that you might provide.
Faster loading speed: Have you visited web pages that take forever to load? You may blame your slow internet connection, but this is not always the case. A load time of more than several minutes would drive away users, especially first-time visitors. High-resolution images uploaded to a website often reduce its loading speed. Therefore, make sure you compress the images while designing an app or a web page to reduce page load time. Another strategy is to load text first and then images so that users have something to do with the rest of the content loads.
Simple navigation: What do you do when you land on a website with too many links, menus and submenus scattered on the homepage? Like most people, you leave the website. A disorganised website without a clear structure is difficult to navigate. With a number of websites at one's reach, it is easy to ignore such websites, which means losing potential customers. So what can be done? Simple, just place things where users expect them on the website.
For example, use sticky navigation for long scrolling sites. For websites with extensive content, use drop-down lists or collapsible menus.  Place the search bar at the top left or centre for better visibility. If the website requires the user to perform certain tasks, suggest the next step after completing each step to eliminate uncertainty.
Mobile-optimized content: According to a Google study, 65.9% of users abandoned their purchase through mobile devices because the content was too long, or difficult to read or understand. Therefore, it is essential to optimise your website for mobile devices in order to retain these prospective customers. Mobile users typically search for information like location, emergency info, phone numbers and time-sensitive info. Provide optimized, relevant and to-the-point content that is easy on the eyes and can be read quickly, even on the go.
For example, optimize images, codes, browser caching and redirects to improve page speed. Use minimal pop-ups as they might distract the user and are also frustrating to close on smaller devices. Standardize your name, address, city and contact number in the site metadata to optimize mobile content for local search.
Colour and design consistency: Each colour signifies a meaning; therefore, while designing your website or app, ensure to adhere to the UI colour principles for a balanced colour scheme.
Follow the principles of consistency and UI design guidelines to offer a consistent UX to your users. Simultaneously, maintain the layout, colour schemes, shape, and size of common elements so that visitors understand what they are looking at.
Data-driven UX design for efficient product design
To ensure the optimum utilization of apps, UI needs to be more data-driven to provide a customer-centric experience. Data-driven UI design is indispensable for enterprises making an effort to design a new app or improve an existing one. This helps create a positive UX by meeting the demands of your users on an individual level. By delivering a personalized UX, you not only enhance user engagement and your conversion rates, but generate a higher ROI, and gain actionable insights.
Customer feedback and implementation

It is necessary to obtain feedback from your users on a regular basis, in order to improve your product by identifying and fixing the technical issues faced by your customers.
For example, you can provide a feedback section or use chatbots.  UI designs are increasingly becoming conversation-based with chatbots. A conversational UI offers an intelligent interface that enables your user to communicate with a chatbot and place an order for food, flowers or other products while presenting a smooth experience to users.
The road ahead
All things considered, it seems reasonable to assume that UX design is critical for developing smart, eye-catching and engaging digital platforms. When users visit your website or app, you have only a few seconds to win their trust and build brand recognition. This is why investing in UX optimization is the need of the hour for both old and new websites and apps.
News Originally Posted on: PCQUEST