Posted on :

July 30, 2020
Industry :

Travel and Hospitality

Service :

Corporate

Type:

News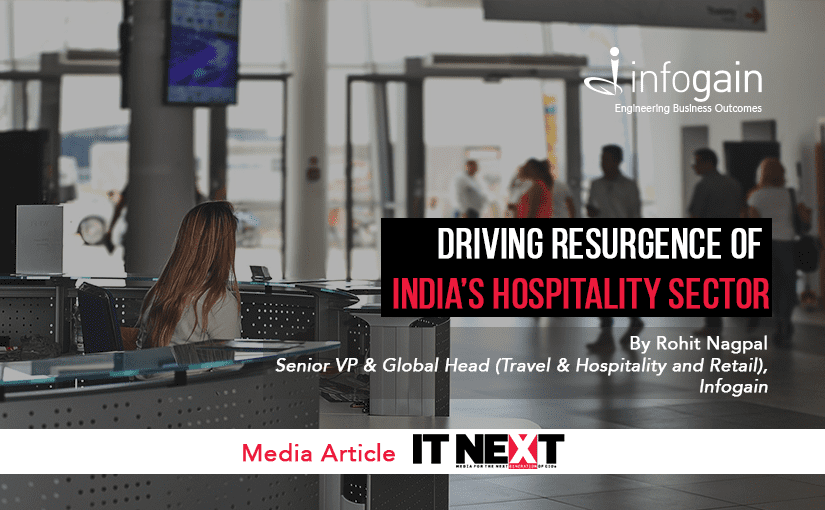 This is an authored article by Rohit Nagpal, Vice President, VP & Global Head - T&H & Retail at Infogain that appeared in IT Next.
To read the original article, please click here.
The Indian hospitality sector had a record year in 2019, with occupancy rates at a 40-year high. Occupancy rates have plummeted and are now at 10-15% as the sector continues to feel the impact of the COVID-19 outbreak and resulting nationwide lockdown.
According to JLL's Hotel Momentum India (HMI) report for Q1, 2020, the industry's key performance parameter, Revenue Per Available Room (RevPAR), declined by 18.5%. It is estimated that the overall revenue of the Indian hotel sector is set to decline by anywhere between USD 8.85 billion and USD 10 billion, reflecting an erosion of 39% to 45% as compared to last year. In addition to this, over the next year, nearly 40 million jobs in the country related to the sector will be impacted.
That said, the world is entering a new phase of the COVID era. As in the case of many disasters in the recent past, the hospitality industry is sure to rebound. We expect to witness a resurgence driven by reimagination and reformation.
Technology will play a critical role in the current turmoil in helping hospitality businesses reorient themselves and rebuild trust among travellers. With technologies like the Internet of Things (IoT), Virtual Reality, Robotics, and AI/ML, hotels can develop processes that deliver a unique customer experience. The integration of new-age tech through various stages of the customer journey will facilitate the recovery of the sector.
Here's a look at how hospitality businesses will need to reinvent every step in the customer journey, if they aren't already, to sustain in the post-COVID world:
1. Research and Booking
We are already seeing hotels and resorts share the steps they are taking to ensure safety, along with new offers and policies with customers, through their websites, mobile apps, and social channels. These mediums will also be used to highlight these businesses' pandemic response in the future. In time, hospitality businesses will also resume investments in digital marketing to spread the word about deals on booking of new stays or travel. For example, the Oberoi group of hotels in India and the Taj Dubai have detailed out their COVID-19 policies on their website.
2. Pre-arrival
To rebuild their trust equity, it will be important for hotels to make their guests feel comfortable and safe. The best way to cultivate such an environment is by proactive communication about secure transits, mode of travel and related details, and preferences of the guests before their arrival. If the existing Property Management System does not allow greater customization in capturing the additional data, a prudent exercise to record such info as part of comments in a format agreed within the hotel desk team. The information collected can be used to address the guests' concerns before their arrival. The guests could take assurance from this process and feel good about their upcoming stay at the property, which will help them start their travel with an already positive and excited frame of mind. Hotels could train their staff to utilize the PMS features towards safety. One example is utilizing commentaries when rooms marked for out of inventory or for housekeeping could help to ensure a safer room for the guests. From a back-end perspective, having a PMS integrated to Channel Management ensures needed visibility of the room inventory.
3. Arrival
With the highly contagious nature of the pandemic, hotels need to reinvent their operations in a manner that delivers a contactless experience to guests, especially when checking into the hotel. Hotels need to ensure guests get visual cues, such as floor marks indicating social distancing, thermal scans, and automated text messages with critical information as they arrive. It will be important to place voice- and gesture-enabled kiosks to greet guests and answer their queries. For identification, AI, coupled with visual technologies, will enable face recognition. All of these will provide travellers confidence as they begin their stay. A Quartz India article quotes Indian Hotels Company (IHCL) saying that IHCL hotels have also made the thermal screening of guests and employees mandatory. All check-in and check-out formalities will be processed digitally. Designs for common guest areas, such as lobbies, restaurants, and banquets have been altered with fewer tables available and suspended the self-serving buffets wherever possible.
4. Occupancy
Hotels need to ensure continued cleanliness and safety as travellers come and go. While this will increase maintenance time, this can be optimized with the integration of technology that can help monitor equipment, machines, and operations through sensor-generated data. It will be critical for hotels to reduce physical touchpoints with the use of mobile applications, electronic keys, and smart IoT elevators powered by NFC, Bluetooth, Machine Vision, and Robotics, to name a few. It will also be important for hotels to ensure that common areas like restaurants, gyms, and spas are monitored frequently and disinfected by ultraviolet sterilization at a dynamic frequency based on their use, as registered by the cameras and sensors.
5. Check-outs and departure
Hotels will need to check the temperature of guests and visitors as they exit the hotel, as well as inform guests who are checking out about procedures to be followed in the case, they develop symptoms over time. The check-out process itself can simply be done through facial recognition.
6. Post-stay
Follow up mailers and mobile notifications will be used for service feedback and to inquire about guests' health. AI/ML based systems will be used to advise both the hotel and its guests on the potential possibility of infection based on historical data.
Conclusion
As the dust starts to settle, people and businesses acknowledge that the show must go on. However, the time that the hospitality sector will need to fully get back on its feet has yet to be seen. It will be important for players from the sector to rethink, recalibrate, and communicate new standard operating procedures to build trust among potential customers.