Posted on :

March 20, 2020
Industry :

Insurance

Service :

Digital Transformation

Type:

News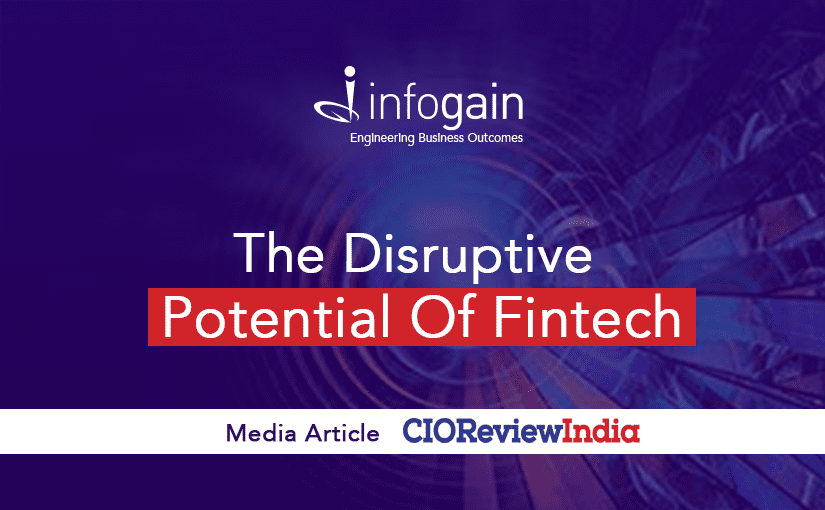 By Girish Kannalli, Vice President & General Manager, Insurance & Healthcare BU, Infogain
How the breakthrough technologies like AI, Blockchain, intelligent automation and IoT are reshaping the financial services space in India? Please talk about a few use-cases where these technologies have transformed the financial business processes and overall customer experience?
Technologies such as artificial intelligence, blockchain, intelligent automation, and IoT are reshaping the financial services space in India. AI, especially, has had a significant impact on the way one is deciding the next best action. Some of the common use cases of AI across Fintech are Credit Analysis, Risk Management, Fraud Prevention, and Enabling Personal Services. These are effectively helping the enterprises reduce the overall time to make decisions with minimal risks and effectively prevent fraud.
"The Fintech space in India is exploding with opportunities and the disruptive potential of Fintech firms can encourage new modernization of the traditional sector"
In addition, Intelligent automation has been leveraged significantly to cut operational costs and boost productivity. Robotic Process Automation is taking over the repetitive and mundane tasks; meaning that bots are faster, cutting down the time required to close such a job. AI enables companies to reroute their workforce to more meaningful activities.
Blockchains are secure, fixed (unchangeable), distributed ledgers of transactions, and are great candidates for trusted repositories of identifying information. Banks are using blockchain to improve their 'Know Your Customer (KYC)' and implement 'Anti-Money Laundering (AML).' Increased adoption of blockchain helps address the security concerns as well as reduce the overall transactional cost and speed of transactions by eliminating intermediaries. Clearing and Settlement, Cross Border Payments are good examples of other use cases where the finance industry to leveraging this technology.
Please talk about the operational and financial benefits Fintech solutions offer to SMB and enterprise customers?
The core theme or purpose of technology is to solve practical problems by using scientific knowledge in industry and commerce. Technology, in general, has increased the productivity of almost every industry in the world. There are many operational and financial benefits that Fintech solutions offers to SMB and enterprise customers, that we cover below:
One of the main driving factors for technology adoption is a solution, that when implemented well, will reduce maintenance and operations cost and prove beneficial in the long run. Reduction in the total cost of operations is a direct advantage.
Other direct benefits include reduced risk, quicker time to market, since Fintech Solutions can help enterprises take their products to market more rapidly. Another advantage is improved customer centricity and engagement. One of the main benefits that new tech brings is the ability to experiment and engage with customers better. Technology can further improve user experience by improving its adoption. Millennials are a good example because they represent a large target audience that uses many of the customer-facing applications.
InsuranceTech and WealthTech are also finding great acceptance with the growing Fintech space. What are the emerging trends in these segments?
Recently we were at one of the largest events in the insurance industry, 'InsureTech,' where it was interesting to observe that the technology that was dominating every conversation was Artificial Intelligence and Machine Learning! It's even more interesting to note that until recently, this industry had a reputation as one of the slow movers when it comes to adopting new technologies. However, that has changed, with this industry now leading technology. Ways that AI and ML can benefit this industry are covered below:
i. AI and ML is the need of the hour. It is instrumental in not just making certain processes more accurate, easier, and faster; it is also enabling predictions that are beneficial for the industry.
• AI and ML could help in discovering fraud detection.
• Managing workflow solutions for claims processes such as repairs and entering claims.
• Use of this tech in image or character recognition to help manage estimations based on a photo.
ii. This sector is riddled with processes that are long and manual processes that require their resources to focus on tasks that are repetitive and mundane. Intelligent Automation and RPA will take over these tasks and reduce costs, ensuring better use of resources.
iii. IoT will be instrumental in helping Insurance companies to effectively model risk, and underwriting policies. Data from smart sensors could be used to assimilate information that was not available until now.
iv. Data will acquire a new importance, as the industry learns to work with all the data. Also, the recent clearance of the Personal Data Protection Bill, 2019, will lead to better utilization of private data by public and private entities in the Fintech space.
What are the challenges that exist in the Fintech space in India?
India is a unique market, especially when it comes to this sector, while there have been some phenomenal trends that have been visible such as the adoption of mobile wallets, there are still a few challenges:
i. Lack of proper regulations with a comprehensive and separate guideline for the Fintech industry.
ii. Infrastructure and connectivity. Adoption would increase if the Fintech Industry moves to cloud-based systems. Cloud-based can deliver significant efficiency gains in processing lending requests, automating transactions, and assessing risk; however, these systems are "only as good as the connections to them."
iii. The majority of the Indian population lives in villages, and the use of these digital payment platforms are completed by people living in urban areas. This sector needs to generate more awareness in rural India.
iv. Fintechs will need to upgrade their infrastructure from a data privacy and client onboarding perspective.
v. The Indian consumer is conservative and price sensitive, and the Fintech industry has work to do in building this confidence. Furthermore, despite the Fintech Industry gaining prominence, it can still be a tough sell. For example, electronic wallets have gained in prominence, yet the Indian market still remains highly cash-intensive.
What are the future opportunities you see in the Fintech space in India?
The Fintech space in India is exploding with opportunities and the disruptive potential of Fintech firms can encourage new modernization of the traditional sector. This has huge potential to reduce costs and increase the size of the banking population. Leveraging API (Application Programming Interfaces) will enable greater collaboration between traditional financial companies and the non-financial companies to provide greater services to the customers (Beyond simple financial services). Fintech is creating huge opportunities for companies with capital to collaborate with companies who have customers to offer a broad range of services.
This is an interview with Girish Kannalli by CIO Review India, to view the original article, follow this link.