Posted on :

February 16, 2018
Industry :

Corporate

Service :

Corporate

Type:

Events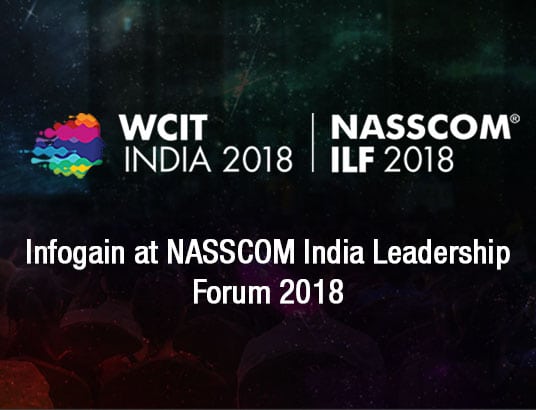 The India Leadership Forum (ILF) is NASSCOM's flagship platform which is a melting pot for ideas, innovation, strategy, business and the future. The event will provide 3 days of talks, showcase, networking, creating an immersive experience for delegates that are looking to combine Business + Technology + Leadership. The 26th edition of ILF 2018 is a limited edition and will host the WCIT 2018, creating an unparalleled experience for the delegates.
The World Congress on Information Technology (WCIT) is a premier international ICT forum. Bringing together over 2,500 visionaries, captains of industry, government leaders and academics from more than 80 countries. For the first time, the 22nd edition of WCIT will be staged in India.
Attendees from Infogain include Anup Khandelwal, Vice President – Business Development and Mukesh Gupta, Vice President – Delivery.
Event Details –
About Infogain
Infogain (www.infogain.com) provides front-end, customer-facing technologies, processes and applications that lead to a more efficient and streamlined customer experience for enterprises in the US, Europe, the Middle East, Asia Pacific and India. Offering solutions for the high-tech, retail, insurance, healthcare and travel & hospitality verticals, Infogain specializes in areas such as software product engineering, digital service automation, cloud, mobility, testing and business intelligence & analytics. The company has 9 delivery centers and close to 4000 employees globally. Infogain has a customer retention rate of 90%+ over a five-year period.
To request a meeting with the Infogain team, please contact us at Events.India@infogain.com.