Industry :

Corporate

Service :

Cloud Services

Type:

Events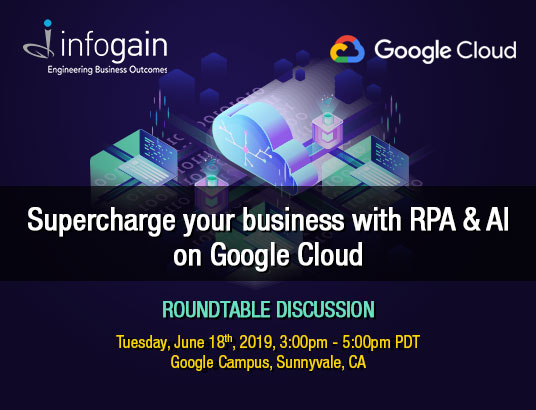 June 18th, 2019 | Infogain & Google Joint Roundtable
Google Cloud's Sunnyvale Campus
3 p.m. – 5 p.m. PDT
Infogain and Google will host an interactive roundtable discussion, "Supercharge your business with RPA and AI on Google Cloud", at Google Cloud's Sunnyvale campus on June 18th, 2019, starting at 3:00pm PDT.
This event is a fantastic opportunity to learn from technology experts, industry analysts and influencers about successful cloud strategies and technologies. Attendees will also have an opportunity to share their journeys, experiences, challenges, and success stories. We will also discuss:
How to identify quick wins: criteria for identifying workloads ready to move to the cloud
New application development – going cloud native right from the start
Leveraging machine learning, analytics, and RPA services already available on the cloud
Addressing security concerns: DevSecOps
Agenda Highlights:
Topic for the event: Supercharge your business with RPA & AI on Google Cloud
Moderator: Nishith Mathur, Chief Solutions Officer – Infogain
Presentation by Abhishek Singh, VP - Digital, IT Services and Industries, Everest Analyst
Presentation by Matt Thorson, Strategic Technology Partner Manager, AI & ML – Google
Presentation by Jay Sethi, VP Strategic Solutions - Infogain
Discussion
Networking Cocktails & Dinner
Space is limited, so register today.