Posted on :

March 19, 2021
Industry :

Travel and Hospitality

Service :

Corporate

Type: Blog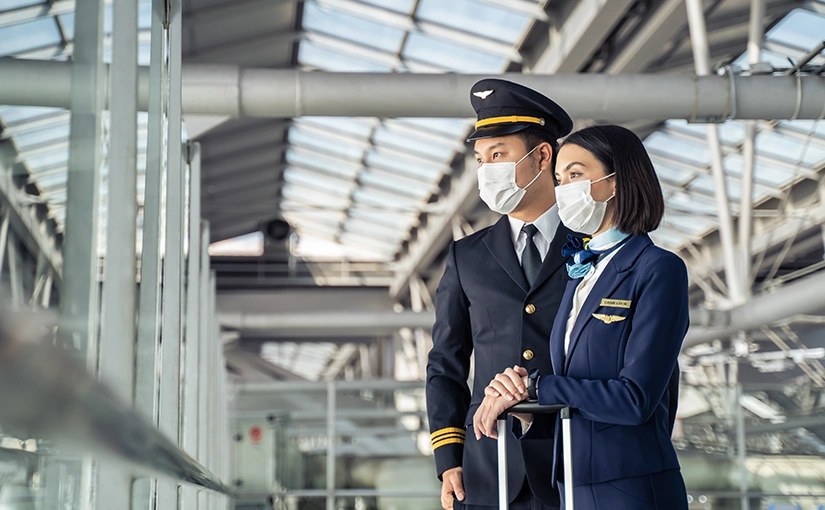 The COVID-19 pandemic has impacted every business sector and everyone's life, and one of the most impacted is the airline industry. As the pandemic continues into its second year, travel is still no longer a routine affair. Many people are continuing cautious behavior, for example pondering "Is this vacation needed or not?" before making any travel arrangements.
With this type of mindset, it has been anything but "business as usual" for airlines to run.  It is inevitable that airlines will incur increased operational costs since they need to maintain their quality of services at airports and inside the aircraft irrespective of the number of travelers.
Amid these cost constraints, airline crew members may need to play an increased role in ensuring customer satisfaction. Crews may find themselves with more responsibilities than ever before, while also ensuring safety and uninterrupted airline operations.
Here are a few thoughts on the crew member experience during the new normal in the airline industry.
Changes in general crew guidelines
Consider how many people you meet every day (maybe maximum 10-30), then think about a crew's regular workday as they interact with hundreds of people daily. In a world where social distancing is the new norm, the crew must be proactive in maintaining personal hygiene throughout the cabin for everyone's safety.
Hence, without any second thought, in current and any future upcoming pandemic situations, the crew must obey and adhere to many guidelines imposed by governments, airport authorities, unions, and their own airline. Some airlines have provided hygiene guidelines, to name a few:
The crew should wash/sanitize hands frequently. Sneeze or cough onto an elbow or using a tissue/fresh towel.
Ensure health apps are available and installed on the crew member's mobile phone to report updates on his/her health status.
Leverage available crew mobile apps to order safe transportation and receive helpful information about local pandemic regulations.
Avoid unnecessary movement in workspaces (i.e., airport, briefing room, conference room).
Maintain social distance wherever possible, refraining from visiting public places or using public transportation whenever possible.
Prechecks
Airlines have adopted additional criteria when recruiting and hiring potential candidates. For the current crew, airlines might include new training (both classroom and online) and additional best practice clauses in the employee's contract. In the interest of both crew and passenger, this training is essential and additional to current training. The crew will need to spend additional time and effort adapting to new approaches:
Training: Crew members must be prepared to undergo additional training and new standard operating procedures (SOPs) to handle pandemic situations. Training may include safety and emergency procedures in case of unforeseen circumstances or new medical emergency procedures during the pandemic. We have a wide range of technologies and tools available which offers this type of training and grading at a reasonable cost.
Qualification checks: With updated airline procedures, qualification checks for the crew must be planned and analyzed accordingly. This will ensure that an efficient crew is on board to handle any unforeseen situation better during the flight. The new qualification checks are relevant to Safety and Emergency Procedures (SEP) and government guidelines for the industry. Various technological solutions already exist in the market for this problem but choosing one with flexibility will save the energy and time needed to adopt the changes.
Documentation requirements: To be proactive with safety protocols, new documents such as medical history, regular medical checks, COVID test results, vaccination proof, etc. will always be required by the crew. The mobile app can be used to track, maintain records, and send reminders so that the crew can take corrective actions accordingly.
Planning
In the airline industry, planning will play a key role, and no matter how much planning, last-minute changes to the schedule are very common. This means airlines must expect the unexpected and design new rules/policies, and then implement them with the help of technology to handle any situations.
New rules: Rules that may become necessary include increased check-in/check-out time, changes in crew roster planning, working hours policy, safety and sanitization procedure, updated transit, and turnaround time, etc.
Enabling with Technology everywhere: It is easy to set new rules, while it can be difficult to implement them. Technology can help airlines in implementing the new policies by developing solutions to ensure safe and efficient airline operations. Some key examples where technology can be useful: Dynamic Crew roster, BYOD policy, mobile apps to track crew's health, chatbots to enhance crew interaction, enabling online training, simulating aircraft configuration, etc. The result will be enhanced safety, cost-savings, satisfied customers, and crew.
Post Ops
On any given day, an aircraft may carry numerous passengers suffering from various ailments, making it imperative to sanitize the aircraft after every landing whether in transit or on a layover. The sanitation process is not just limited to aircraft but also applies to everyone who traveled and what they carry on the plane. Thus, airlines must take necessary post-duty checks to intercept and eliminate any pandemic-related risks to the crew. These may include:
Mandatory health checks once the flight has reached its destination
Sanitization after every sector operation and maintenance of a data log
SOP to dispose of bio-hazard items such as trash bags, gloves, disposable towels, PPEs, masks, etc.
Airport Ops
What is the one factor which drives anyone to remain dedicated to a business? It is the TRUST between the company, employees, and customers. Similarly, passengers and crew trust airlines to ensure their safety during the pandemic by taking all the required actions. This includes adopting best industry practices in handling baggage of a crew or passenger, setting a cap on passengers that can be at the gate/Security, Check/Immigration, etc. at a time.
The airline industry will see a new normal after the pandemic, and crew members must prepare themselves to adapt to industry changes. Technology will play a critical role in making this transition fast and smooth, enabling airlines to gain customers' and crew members' trust while providing them with a safe and enjoyable experience in the new normal.
To conclude, it can be said that the new normal of the airline industry is already in motion. Trust and technology will go hand in hand to solve the problems cause by the pandemic.