Posted on :

April 21, 2022
Industry :

Telecom

Service :

Analytics & Intelligence

Type: Blog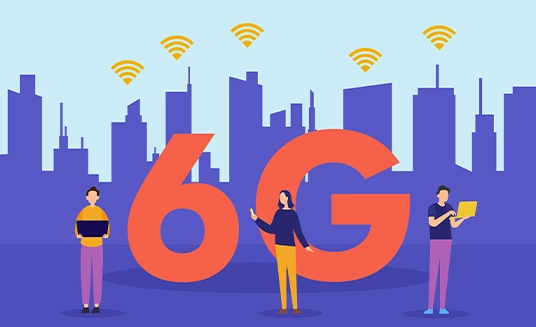 So long, 2021. For telecoms, it's been an interesting year: growth driven by rising consumer demand and business forays into digital transformation; challenges associated with rolling out new technologies and offerings; the ongoing race to provide the fastest network, the most reliable service, the best customer experience, and so on.
In 2022, we can expect to see many of these continue. In particular, telecoms are still dealing with the impact of COVID-19 and the puzzles of integrating (and keeping up with) advancing tech trends. So, let's see exactly what telecoms should be watching as we go into 2022.
3 Telecom Tech Trends to Watch in 2022
Pushing Connectivity with 5G, Wi-Fi 6, and Fixed Wi-Fi
After being delayed for a few years, we've finally begun to see the long-awaited wider rollout of 5G. With its much faster speeds, 5G can support more of the resource-intense usage that consumers crave, but it's far from the only connectivity option available to telcos.
Fixed wireless access (which uses a combination of mobile and wireless technology to essentially broadcast internet connectivity to customers) has been rolled out by some providers to cover homes in rural and underserved households. According to ABI Research, this will become the fastest-growing broadband segment – and its pairing with 5G promises to make it even more effective.
Similarly, Wi-Fi 6 (which is available in some devices but hasn't yet achieved widespread use) and Wi-Fi 6e (which will be able to use additional bandwidth not available to lower versions) promise enhanced connectivity, speed, security, and possibly even battery life for the devices equipped to use that protocol. While this doesn't directly impact what telecoms offer, it does signal a dramatic increase in how data will be consumed. Taken all together, we can see new horizons of speed and service in the realm of data connections.
Harnessing AI and IoT for Growth
Artificial Intelligence has been available to telecoms for years, and as its matured, we've seen its use cases rising. Look for AI to continue and improve its abilities in personalization, service analytics, network efficiency and planning, churn mitigation, and preventative maintenance in 2022. Telecoms will especially be interested in AI-driven customer engagement and support; once again, we'll see an existing and fairly established technology (this time, chatbots and virtual assistants) taking on some of the load and assisting human customer service reps.
Similarly, new opportunities related to the Internet of Things (IoT) will also arrive. In addition to using IoT data for personalization, telcos may start including IoT devices in their service plans and positioning themselves as a resource for consumers who are frustrated with a poorly connected, underperforming IoT experience.
Supporting New Cloud and Edge Computing Demands
Although remote and distributed teams were experiencing some growth before the pandemic, COVID-19 has definitely boosted the adoption of working from home – and its something that a significant segment of the workforce is in favor of continuing.
While this has spurred the adoption of Cloud-native apps and architecture, it's far from the only driver; Cloud-based infrastructure, platforms, software, etc. are often more flexible, faster to deploy, and less expensive than their traditional counterparts. Telecoms can support this growth both ways by providing the speedy and reliable data connections needed to host, support, and run Cloud computing. Once again. expect demand in this area to rise, with telecoms reacting accordingly.
This is especially interesting when you factor in the possibilities of edge computing and SASE (Secure Access Service Edge) networks. According to Cisco, "Secure access service edge (SASE) is a network architecture that combines VPN and SD-WAN capabilities with cloud-native security functions. […] The SASE model consolidates numerous networking and security functions traditionally delivered as siloed point solutions in a single, integrated cloud service".
Not only does SASE reduce the complexity of Cloud computing, it also provides better user experience. The drawback? SASE is still firmly in the future – for now. However, we've seen solutions that at least partially implement some SASE-like infrastructure; telecoms should watch this carefully as a potential future driver of increased demand.
Future of Tech-Mature Telcos
Fortune favors the bold, but business favors the prepared. As we go into 2022, keep an eye on these technologies. They are in different stages of maturation and adoption; companies that act quickly will reap the rewards of being ahead of the competition in a very competitive market.