CXO Insights
Posted on :

April 21, 2020
Industry :

Travel and Hospitality

Service :

Corporate

Type:

News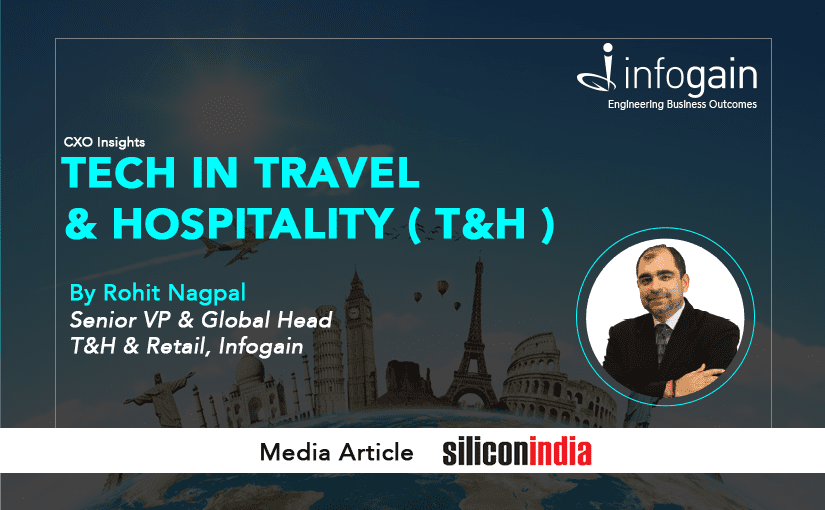 By Rohit Nagpal, Senior VP & Global Head - T&H & Retail, Infogain
Rohit is a well versed business leader with profound experiences in Travel/Hospitality and Software Product Technology domains. He also holds expertise in handling relationships with CIO's and CTO's of billion dollar corporations and medium sized organizations.
Q: How is technology affecting the T&H sector? Which emerging technologies have had the most impact?
Technology has had a significant impact on the T&H space. From helping the industry improve its operational efficiency, enhance customer experience, and improve the personalization journey, technology has had a key role to play in its transformation. Consumers are relying more and more on digital channels and platforms for all their travel needs, from researching and booking to arranging personal preferences and experiences.
Various technologies are leading the impact and meeting the needs of these on-the-move, always-on generations of guests and travelers, some of these are innovations in the areas of Business Intelligence (BI) Analytics, Augmented Reality, Robotic Process Automation, chatbots, and voice technologies.
Travel platforms such as Kayak have incorporated chatbots enabling themselves to provide travelers with information on flights, rental cars,  and itinerary options. Chatbots can be embedded into a travel provider's app, website, call center IVR, or messaging apps such as Facebook Messenger, WhatsApp, and Kik. These programs make use of artificial intelligence (AI), machine learning, and voice recognition to respond to customer queries. The travel app "Lola," for example, uses an AI-augmented functionality to help travel consultants offer the perfect trip. IoT Technology is also gaining prominence in the travel and hospitality industry, with hotels implementing IoT for seamless customer experience. For example, hotels provide customers with a device or an app that connects to everything in their room, from the lights to the heaters and air conditioning, allowing control from one place.
Q: What are the most important factors that help attract more customers?
The most important factor is customer-centricity through personalization strategies. Organizations in the T&H space can add accessibility of travel services by adding social commerce (social commerce is selling travel experiences directly through social media networks such as Instagram, Facebook, and Pinterest.) to attract customers or prospective travelers. Shifting towards an omnichannel strategy can also provide travelers with the same experience through the brand's website, mobile app, social media accounts, or hotel/airline, and whether they use a mobile phone, tablet, desktop, or laptop. A consistent experience across all devices and traveler touchpoints
Customers expect a frictionless experience across all channels, including options such as check-in online, choose-your-room, and checkout express.  Loyalty programs provide a framework for nurturing guest relationships, offering recognition, perks, and options to redeem rewards. Most importantly, they create guest profiles and transaction histories that yield the insights needed to foster what is demanded today: individualized guest interactions.
Q: What kind of clients do you service in the T&H industry?
Infogain services companies across the Travel & Hospitality ecosystem, our clients include travel management companies, travel technology organizations, airlines and cruise lines, car rental companies, and other transportation providers. We also provide personalization and analytics services for Meetings, Incentives, Conferences, and Exhibitions (MICE), an industry that is currently underserved/overlooked by the travel players. Also serviced are our hospitality clients that include hotels, resorts, and the world's largest online marketplace for accommodations. Our team designed a UI/UX solution at a luxury travel organization that increased conversion rates & customer satisfaction, thus improving their Loyalty Program—link to the Loyalty Program Case Study.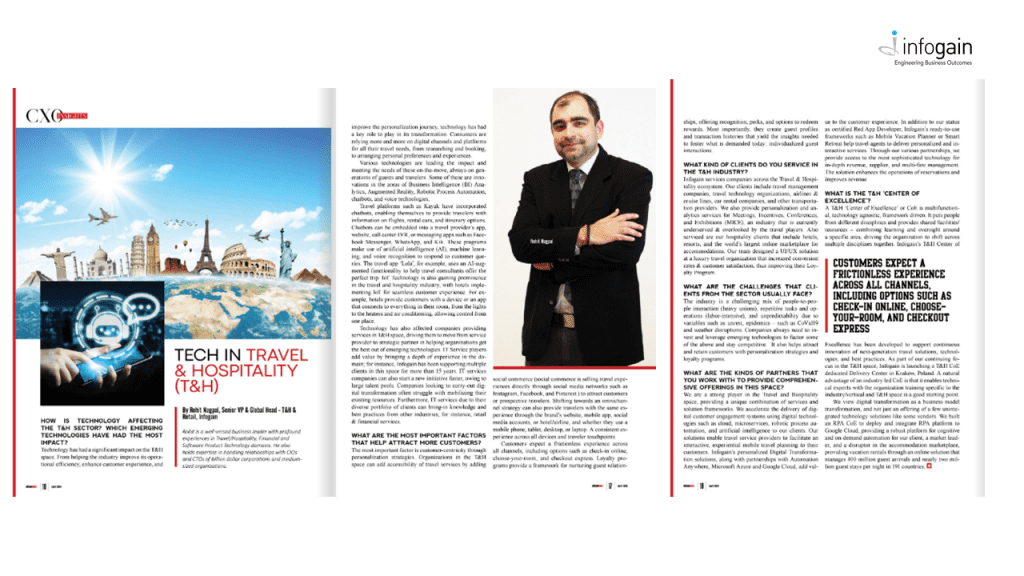 Q: What are the kind of challenges that clients from the sector usually face?
Also, the industry is a challenging mix of people-to-people interaction (heavy unions), repetitive tasks and operations (labor-intensive), and unpredictability due to variables such as unrest, epidemics – such as CoVid19 and weather disruptions. Companies always need to invest and leverage emerging technologies to factor some of the above and stay competitive.  It also helps attract and retain customers with personalization strategies and loyalty programs.
Q: What are the kind of partners that you work with to provide comprehensive offerings in this space?
Through our various partnerships, Infogain provides access to the most sophisticated technology for in-depth revenue, supplier, and multi-fare management. The solution enhances the operations of reservations and improves revenue
Q: What is the T&H 'Center of Excellence'?
A T&H 'Center of Excellence' or CoE is multifunctional, technology agnostic, framework driven. It puts people from different disciplines and provides shared facilities/resources – combining learning and oversight around a specific area, driving the organization to shift across multiple disciplines together. Infogain's T&H Center of Excellence has been developed to support continuous innovation of next-generation travel solutions, technologies, and best practices. As part of our continuing focus in the T&H space, Infogain is launching a T&H CoE dedicated Delivery Center in Kraków, Poland. A natural advantage of an industry led CoE is that it enables technical experts with the organization training specific to the industry/vertical and T&H space is a good starting point.
This is an interview of Rohit Nagpal that was published by Silicon India in their April edition, to view the original article, follow this link.